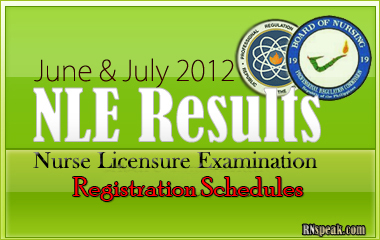 The Zamboanga July 2012 NLE – Registration Schedule was released Thursday by the Professional Regulation Commission (PRC). It will start on September 20 until October 8 2012. For those who were not able to register within given schedule, You may register after October 8,2012.
July 2012 NLE – Registration Schedules Zamboanga
SEPTEMBER 20, 2012 Thursday

SEPTEMBER 21, 2012 Friday

SEPTEMBER 24, 2012 Monday

SEPTEMBER 25, 2012 Tuesday

SEPTEMBER 26, 2012 Wednesday

SEPTEMBER 27, 2012 Thursday

SEPTEMBER 28, 2012 Friday

OCTOBER 1, 2012 Monday

OCTOBER 2, 2012 Tuesday

OCTOBER 3, 2012 Wednesday

OCTOBER 4, 2012 Thursday

OCTOBER 5, 2012 Friday

OCTOBER 8, 2012 Monday

ABAD, SHEENA LOU STA. TERESA to ALFAD, MOHAMMAD FARWIED PANDANGAN

ALFARO, BENMAR YEE to BALBIDO, MA. VERONICA CAL

BALBIN, LEILA BALILI to CARBON, MAY FRANCES CAMILLE MODINA

CARDENAS, TIARE CAMILLE LIM to DIMASAR, JEAN ORDONIO

DINAGA, KARINE FLORES to FRANCISCO, IVORY FRANDE DEJON

FRANCISCO, JESSA FRANCES VALEZA to ICMAT, FREDLENE STEPHANIE TRANCE

IDLANA, RHADZAFATNIE MANI to KNAIK, BILLY KLEINE TADUS

KONG, DYANEE TAIB to MALAPIT, JEZREEL CULMINAS

MALAREJES, MELANIE OFANO to NARAJA, CLAUDIO JR. RAUTRAUT

NATIVIDAD, MARTIN LUCAS VERCELES to QUIÑONES, RODICK JAMES GUEVARA

RABUYA, LEIZELI MAE BANILLA to SAN JUAN, MARIA GIZELLE VASQUEZ

SANA, CLARYSSE BEA BUDDAHIM to TANDIH, ALYSSA AMILASAN

TARI, HJA. FERHANA MADSALI to ZABALA, ZHEENA GALE
Note: Please bring your certificate (NSO &LCR) in case there is error in your name and birth date.Marriage contract (NSO & LCR) for married female registrant.