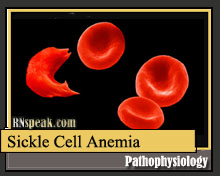 The condition wherein the body cannot properly utilize or produce normal amounts of red blood cells and/or hemoglobin is termed as anemia. There are a number of types of this disorder namely (1) Iron deficiency anemia, (2) thalassemia, (3) penicious anemia, (4) folic acid deficiency anemia, (5) hemolytic anemia and lastly, (6) sickle cell anemia. These types are either cause by a decreased production of RBCs or an increased destruction of RBCs. The latter is what causes sickle cell anemia.
Sickle cell anemia is an inherited disease of mutant hemoglobin (HbS). It is an autosomal recessive disorder. From the name itself, sickling of the RBC occurs. The RBCs become trapped in the capillaries because of its unusual shape thereby causing hypoxia.
Signs and Symptoms
Pallor
Fatigue
Low tolerance for exercise
Malaise
Fever
Sever pain
Hematuria
Priapism
Cardiomegaly, spelomegaly, hepatomegaly
Nursing Management
Limit activity to lessen oxygen demand on the body.
Administer fluids and encourage patient to increase oral fluid intake to prevent dehydration.
Apply heat/warm compress to joints to relieve pain.
Administer analgesics a ordered.
Monitor and facilitate blood transfusion. Watch out for any untoward signs and symptoms.
Sickle Cell Anemia Pathophysiology & Schematic Diagram
Incoming search terms:
Comments
comments