A proud  Siliman alumna Nurse Mylene Freires from Panabo Davao del norte became the very first Filipino to receive the prestigious Mary Seacole Development Award from the UK government.
The awards were created in honor of Mary Seacole, who made a significant contribution in the field of nursing in the 19th century by nursing British soldiers during the Crimean War, among others.
"To be given that prestigious award, I feel that I've actually done something to make us all Filipinos proud," said Mylene Freires, an advance nurse practitioner for venous access at Guy's & St. Thomas' NHS Foundation Trust in London.
Her project on the development of nurse-led Port-a-Cath insertion service for patients with sickle cell disease was picked amongst the proposals from various candidates working under the NHS in the entire UK.
Freires considers the Mary Seacole Award dear to her heart because of what she has given her fellow nurse practitioners. She advocated that the specialized procedure administered by doctors to sickle cell disease patients be performed by specially-trained nurses like herself.
"I believe one of the reasons I was selected for the award was my work did not just make a difference for the patients in making their experiences better but I also challenged status quo and managed to bridge the gap between medical and nursing professions," she said.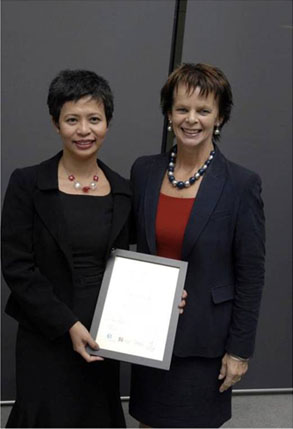 The Siliman University nursing graduate is not new in receiving awards and recognition. She was a Cancer Research UK grant awardee in 2008 and received a 3-year funding for a master's program in advanced practice.
She was also awarded a grant worth £12,000 by Guy's and St. Thomas' Foundation Trust to develop an information DVD on Central Venous Access. It is now being used by the NHS.
"I guess in everything you do you have to aim high. It's very difficult to work outside the country. Of course it is competitive in the Philippines but it is more competitive here because you are not just competing with Filipinos but you are competing with other races," she explained.
Freires did not envision to be in the nursing profession but when prodded by her relatives to study nursing for her university degree, she almost immediately liked her chosen field. Her overseas work in the UK started in 1999 when her friend asked her to tag along and apply with her for a job in the UK. She did and never looked back.
"When I started doing it, I realized it was actually my personality and my character fit within the characteristics of what a good nurse should be. Since then, I always wanted to do my best in everything I do. I always give my 100%. If I start strong, I'd end strong," she explained.
Today Mylene Freires feels challenged and likewise, intimidated that she became  an avatar of the principles and work ethics of Mary Seacole for the rest of her nursing career.