For most nursing students, the primary thing that gets into their mind is to be able to graduate for them to take the Nursing Licensure Examination. Apparently this would be the main goal for an aspiring nurse should be. Let's go forward and imagine this: after you graduated, you decided to take the NLE and luckily you passed.
You are so overwhelmed that this could be the start of all the achievements that you could ever have. Some of you may be so enthusiastic to claim your license and to use it for practice. As you go along, you start finding a hospital where you can able to start acquiring some experience. But then since the number of newly registered nurses like you continues to increase every year, you will have a hard time finding a hospital that will accept you to work for them as a volunteer nurse.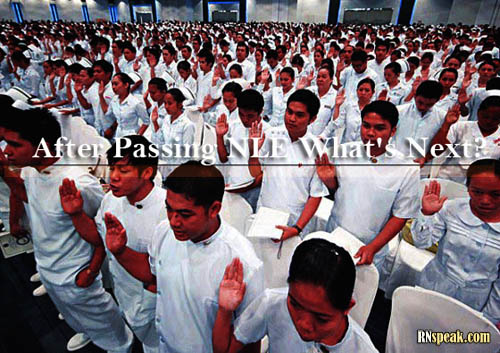 Being a volunteer nurse is the one I considered to be the sad part of being a registered nurse. Imagine, after all the hard work you've done in the school, and after all the sleepless nights you had just to fully prepare yourself to take the Boards, in the end, you have to start by offering your free service. Actually it is just okay (just think of it of you being an altruistic person) but then what makes it so disappointing is that it is totally unfair. I am expressing this sentiment of mine because I had a hard time acquiring some of my experience. Imagine, there are some who can easily work in the hospital just because they know someone (popularly known as "palakasan system") and much worse they can able to sign a contract even they don't have any license at all.
If you are one of those nurses who are not lucky enough to find a hospital for you to work on, maybe you can able to do some of these suggestions that might help you to easily apply to those institutions:
Be an Intravenous Therapist Nurse – there are a lot of ANSAP Accredited IVT Training Hospitals where they offer training for those who want to become an IVT Nurse. The basic requirement is your professional license of course and it doesn't need that you acquire some hospital experience. It is three days which includes a didactic lecture and a practicum (return demonstration).
Acquire BLS and ALS Training – these are good training to start on anyway some hospitals are very particular to these two aside from having and IVT license. This will not only make you as a more proficient nurse but it will add up to the chances of you being accepted.
Be a member of PNA (Philippines Nurses Association) – being a member of this reputable organization of nurses brings you a lot of benefits. To become a member, you just have to present any proof that you passed the NLE exam, a valid ID, and of course a membership fee of 400 pesos .
Enroll in a Graduate School – acquiring a master's degree in nursing either MAN or MSN will surely add up and improve your qualification as a registered nurse. Not all are willing to study again but believe me it will bring you an advantage anyway it is relatively cheap and the schedule of your classes will be flexible for you.
I guessed that's for now that I think will enhance your resume as a registered nurse. This will definitely be done in one year if you are really enthusiastic enough to improve yourself. Remember, aspiring for your dream needs some workup to do and being hopeless is not an option for you. Use your time wisely and grab any opportunities that will come to your way. One important thing, you should be able to know how to be able to construct your resume in a way that you will amaze your employer. You should always bear in our mind that patience and hard work is a must for you to succeed and of course to always believe in yourself and to Him.
I may not guarantee that after doing all of my suggestions will surely give you a job, but what can I only assure to you is that it will surely give you an edge over the hundreds and thousands of newly registered nurses out there like you.