Professional Regulation Commision (PRC) release the official Cebu registration schedules and oathtaking for June – July 2012 NLE Passers.
Cebu Registration Schedules and Oathtaking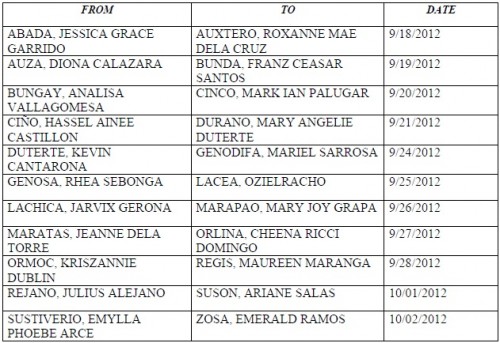 Requirements:
Photocopy of NSO BIRTH CERTIFICATE with original copy
Photocopy of NURSING APPLICATION FORM ( NAF )
Photocopy of PERMANENT EXAMINATION
REGISTRATION RECORD CARD ( PERRC ).
The Oath-taking can also be done on the day of registration at the PRC office,Registrants are all required to wear their Gala Uniform for the outhtaking.
Time of Oath-taking
8:00 AM – 8:30 AM
10:00 AM – 10:30 AM
1:00 PM – 1:30 PM
3:00 PM. – 3:30PM
For New Nurses from Cebu, who cannot register on their scheduled date, may register starting on October 3, 2012 onwards. Registration starts from 8:00 am – 4:30 pm.