PRC warns the public of the circulating 'fake news' that the Senate bill seeking to abolish the CPD or Continuing Professional Development Law has been approved.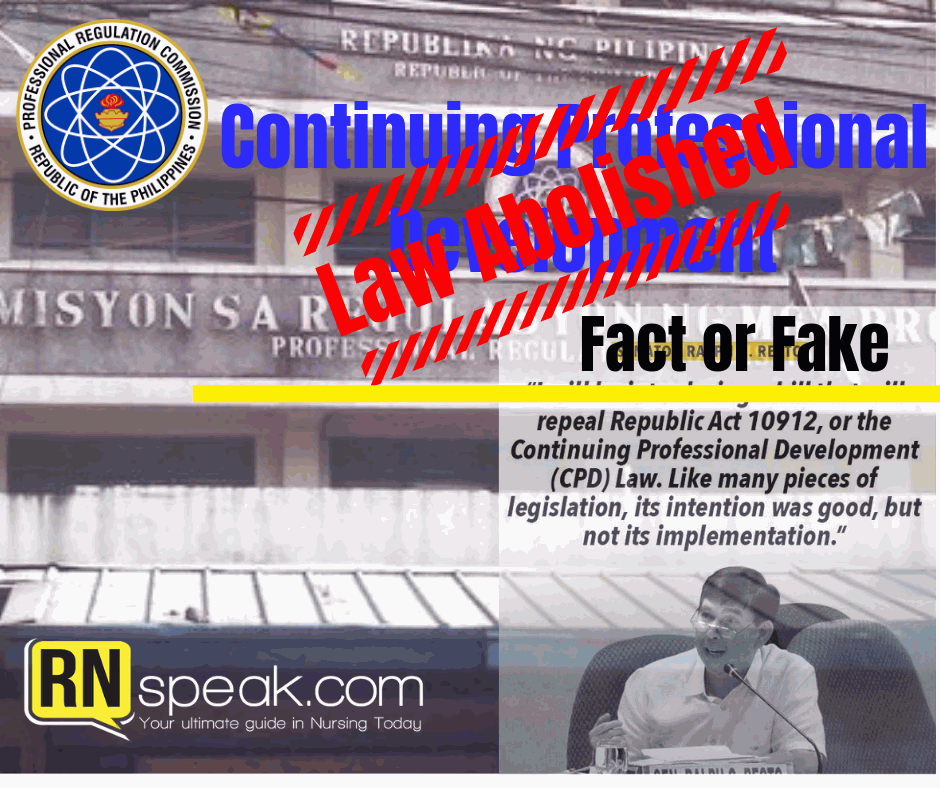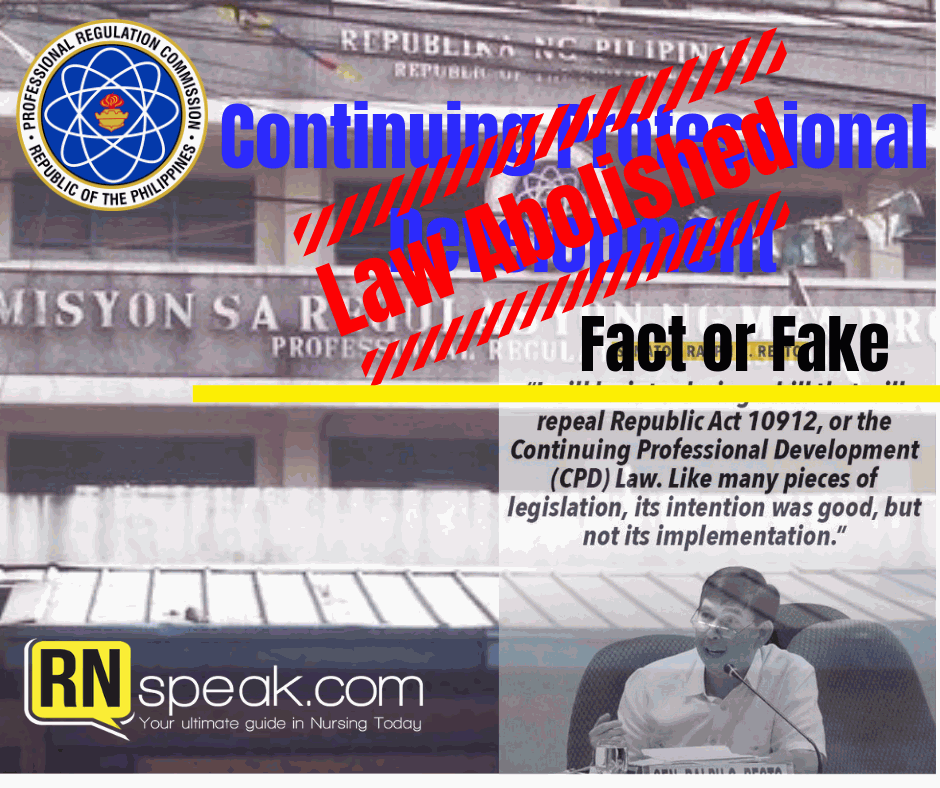 PRC clarified that the Senate Bill No. 2073, the act to repeal the CPD law initiated by Senator Ralph Recto, has been only filed and still has to go under certain deliberations and other procedures before amending it.
The CPD Act or Republic Act 10912 authored by Senator Antonio Trillanes  IV requires professionals such as nurses to take additional units of formal and non-formal training prior to the renewal of their Professional Identification Card every three years. This took effect last July 7, 2017.
With this, Senator Ralph Recto raised the need to repeal the law and prompted him to file Senate Bill No. 2073.
PRC released a statement, in relation to the CPD:
---
"Just recently, false news has been circulating in the internet claiming that the Bill has already been approved and the CPD Law has already been repealed/abolished. This is to clarify that the above mentioned is a newly filed pending Senate Bill and still has to pass through the required deliberation, including the counterpart measure in the House of Representatives before it could amend an existing law."
---
According to Senator Ralph Recto, like many pieces of legislation, the intention of the CPD law was undeniably good, but not its implementation.
Additionally, Senator Recto wants to find a system for professional development but without any disruptions, inconveniences, and the high expenses that the CPD Law presently causes.
The Senate had been bombarded by a lot of appeals from different professionals, especially nurses, about the difficulties they face as they try to get their required CPD units and getting their license renewed.
Nurses complained that they lack money and time to complete the CPD requirement as 45 units of training may cost P15,000 to P30,000.
Sean Herbert Velchez, a nurse and the spokesperson of AHW said, "How can a nurse earning five thousand pesos a month afford to attend seminars and training costing three thousand to seven thousand pesos each? How can a nurse in a far-flung community attend seminars offered by private training providers almost all of which can only be found in city centers? How can the jobless or those who chose to be housewives but still want to maintain their licenses afford these seminars?"
Is CPD really important?
CPD delivers benefits to each individual, may it be their profession or to the public.
Some of the pros of CPD are:
To ensure that you keep your own pace within the current standards in the same field.
To maintain and enhance the knowledge and skills needed to deliver as a professional to the customers, patients, and community.
CPD ensures that the knowledge you possess as an individual is up to date and relevant. As a professional, you are aware of the trends and changes in your profession. If you try to deny yourself of this information and changes, you will be left behind, as the currency of your knowledge and skills becomes outdated. After all, change is the only thing constant in this world.
CPD also helps you to continue to make a meaningful contribution to your team as well as become effective in your workplace. In every profession, it is important to be able to work not only as an individual but also as a member of a team. CPD could assist you to advance in your career and move into positions wherein you can manage, influence, and be able to lead others.
CPD trainings help you stay interested in the field of your career. Experience is a great teacher, but it may mean that we tend to repeat things we have already done before. CPD opens up to new possibilities, knowledge, and skills.
It also helps you appreciate the implications and impacts of your work.
As new knowledge and skills are learned, CPD allows us to advance our body and brains together along with the technology in our profession
CPD should not be underestimated as it is a career-long obligation for practicing professionals. Most of all CPD allows professionals to keep their knowledge and skills so we, as nurses, can deliver high quality of services to safeguard the public and meet the expectations of patients from us.
But… for struggling professionals, CPD is EXPENSIVE and NOT REALISTIC.
The seminars and trainings under the CPD law are very expensive and are not accessible to busy professionals.
Nurses who may earn 14,000 or 20,000 per month or for those who are only contractual employees may find it a burden as these salaries aren't enough for the family's budget. With the CPD law, nurses [along with other professionals] must look for other means to budget their salary in order to raise their families and keep their license altogether.
A cheaper alternative made by the association of nurses are cheaper. These costs 500 to 650 pesos per session however, these doesn't happen on a regular basis.
Also, for overseas workers, it may be difficult to access local seminars and trainings, so all they could do is to take online courses in order to comply with the CPD requirements. One has to spend approximately $40 to $50 for each online course.
And according to one overseas worker, when her representative brought the certificates from her online courses, they were asked to pay an additional P1,000.00 to get their certificates evaluated by PRC!
---
"I paid for online courses, then they'll ask me to pay P1,000 more for their review? The license renewal is only P450! I hope they don't make evaluation fees expensive. We pay dollars to universities offering online courses. Stop adding more expenses. If they can't provide online courses, and we already took our own initiative to attend some, stop asking for more fees in the Philippines." Elisha Gay Hidalgo, an overseas nurse, said.
---
She also added that this CPD act made only lives harder not only for them, but also for those who are currently unemployed. Hidalgo is one of the many who are requesting for the reevaluation of this CPD guidelines.
As Senator Recto seeks to repeal this CPD law, he added, "I am confident that together, we can find a system for professional development that will be embraced by all without the disruptions, inconveniences, and the high expenses the present one causes."
Therefore, the circulating news about the CPD Law already abolished is fake. Professionals, including nurses, maybe here in the country or working in another country, shall still meet 45 units of CPD trainings in order to renew their license.
PRC also added that we could still renew even without CPD units until the end of 2019, provided applicants must sign an undertaking that they shall complete their requirements within the next renewal period.
What do you think about Senator Recto's move on abolishing the CPD Law? Putting aside the benefits of these CPD trainings, will it be a good move to abolish this law? Tell us what you think.