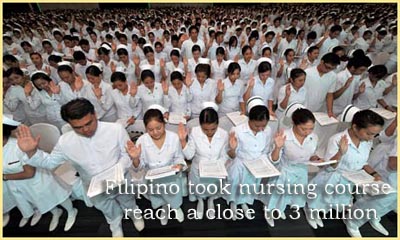 The Professional Regulation Commission(PRC) reported recently about the Filipino nurses population for the past 10 years.Data showed for almost decade that Filipino took nursing courses have already reach a close to 3 million and nearly 400,000 passed the Nursing Licensure Examination.
Member of PRC Board on Nursing Marco Sto. Tomas said that the number of nursing enrolles from 2000 to 2010 are already reached 2,668,046, on that decade only 491,900 graduated nurse were produced and only 365,625 passed the board exam.
"Compounding these scenarios were the financial crisis in 2008 and the realities of not having expanded or created new nursing plantilla positions in healthcare institutions, which resulted in the unemployment-underemployment situation among 169,922 nurses," disclosed statement by Sto. Tomas.
With the growing population of Nurses in the Philippines and by imposing the two years experience employment needed for countries abroad. The number of overseas deployment almost dropped from 130,703 during the 10-year period.
According to Sto. Tomas, the government came out with various programs to address the surplus of nurses, but there are still a lot of nurses who are left with no choice but to work for free just to gain necessary experience to quality overseas work.
Meanwhile , a new  group of nurses  set up a cooperative known as Nurses Vox Health Service Cooperative or Nurses Vox Coop Philippines a vital partner of the government where in to provide an alternative source of income for Jobless Filipino Nurses.
The project called H.O.P.E. (Hastening Options for Productivity and Employment) was launched last March 2, 2012, which also guided by Marco Antonio c. Sto Tomas as chairman of  Nurses Vox Health Service Cooperative (NVHC), the aim of this project is to initiate so-called" entreprenurses" or nurses who can set up their own business.