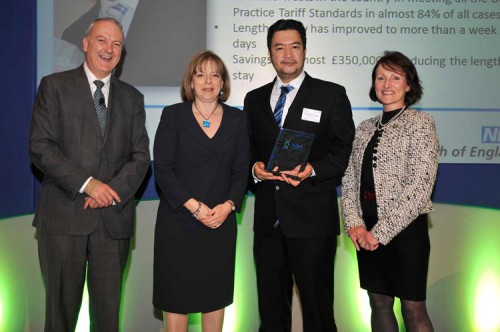 A proud Pinoy Nurse  Francis Fernado won a prestigious award in UK  for his care for vulnerable elderly patients at Salisbury District Hospital NHS Foundation Trust which headed a ten-member team for his project dubbed as 'Striving for Excellence in the Care of Elderly Patients with Hip Fracture.'
The Project was successfully presented for the service improvement for elderly hip fracture patients leading to specialist medical care and early rehabilitation of patients. It also offered a holistic approach for the physical, emotional and psychological treatment of elderly patients who suffered from hip fractures.
"I just felt very proud that a Filipino nurse has won the award for the first time and a nurse has won this for the first time. I also felt relieved that we could highlight the devastating effect of osteoporosis not only in the UK but also in the world and show the excellent preventative measures that we could implement," noted statement from an interview
By their innovative ways of meeting the Best Practice Traiff Standards for hip fractures for elderly patients. It resulted in reduced length of stays and re-admission and mortality rates as well as excellent responses from patients and their families.
For more than 1,000 entries for the quality award each year to recognize the work of clinicians who have led successful projects that resulted in both tangible clinical improvements and real differences in patients' lives. Mr. Fernado a first Filipino Nurse in the UK received the first prize award from Chief Nursing Officer in England Jane Cummings and NHS Medical Director Professor Bruce Keogh.
Apart from glass of trophy, He also receives a 5,000 bursary from the Clinical Leaders Network (CLN) to start a Fracture Liaison Service in his hospital.
Francis Fernando came to work as a nurse in the UK last 2000.A graduated Nurse in Wesleyan University in Cabanatuan City Philippines. His wife and three children have always been supportive of his career.
He always believed that Pinoy nurses are exceptional and talented.
"I'm a believer in the quality of work of Filipino nurses. Wherever they work they always give their 100 percent, they always work hard and they always think of their family," he explained.
"By nature, Filipinos are very caring, compassionate and are also very innovative as shown by this award. I encourage them to do better in their profession and uplift the image of Filipino nurses," Fernando added.