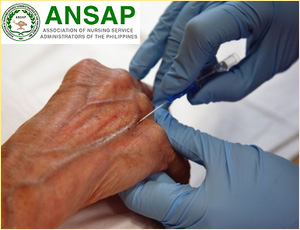 The official Intravenous Training Schedule of ANSAP -Association of Nursing Service Administrators of the Philippines for 3 days of Basic IV Therapy Training and IV Therapy Refresher Course for this year.
Reminder: Schedule is subject to change without prior notice
Basic Intravenous Therapy training (IVT) Requirement
Nurses who want to undergo IV training should have a current license from the PRC or Certificate of Board Rating for newly nurses.
Completion requirement needs to comply:
1.Attendance to a 3-day Basic IV Therapy Training program approved by ANSAP.
2.Completion of 3+3+2 requirements:
a.  Three (3) successful peripheral IV cannulation to patients
b.  Three (3) administrations of IV medication to patients
c.  One (1) administrations of blood or blood components to patients.
3.Submission of completed requirements within three (3) months from date of IV Training otherwise the 3-day Basic IV Therapy program shall be repeated.
Download the IVT Accomplished Requirement Form 3+3+2 Here
Just keep coming back to this site for the training schedule of ANSAP 2012
For the meantime here are the list of ANSAP Accredited Hospital Conducting IVT training you can contact the hospital for more detailed information about the IVT training in your area.
For  verification regarding the schedule above visit the Official website of Association of Nursing Service Administrators of the Philippines (ANSAP)