If you are planning on going to the United Kingdom, your IELTS result is the first requirement you have to pass. The International English Language Testing System (IELTS) is designed to measure your ability to communicate comfortably and efficiently using the English language. Always remember, you do not really have to be very strong in vocabulary, but the use of your English skill in effectively communicating will determine your IELTS score. There are two kinds of IELTS exams, the academic and the general test. If you are a nurse, most likely you would want to pass in the academic type.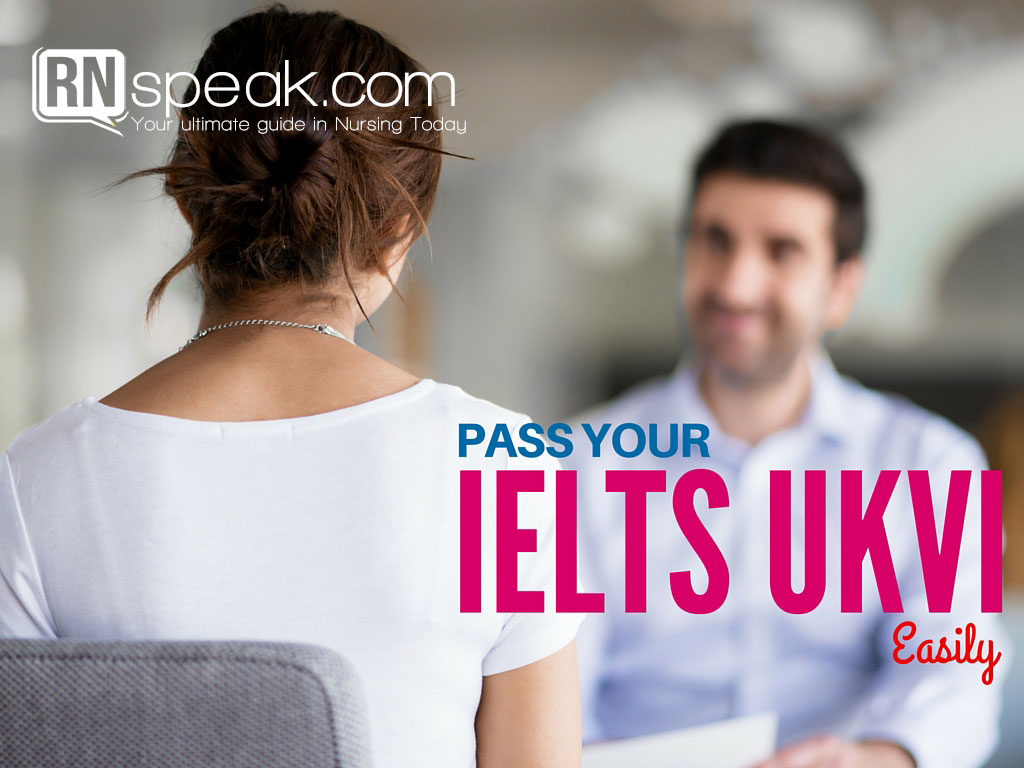 There are several factors that might affect you in the process of doing the skill. If you already have graduated and passed your RN exams most likely you are already pretty good in understanding basic English. But Understanding and comprehension is not the only factor for effective communication, that is why IELTS have several subcategories that you have to pass. These subcategories are Listening, Reading, Writing and Speaking. If you understand what are the needed skills for each category, you would definitely pass your IELTS.
Listening
In the listening category, the most common factor that affects efficiency is the ability to focus and multi function. Here, you will be trained to be familiar with accents and words that you might know the meaning but when said in a different accent might take away your focus. You also have to be fast in remembering important information when spoken to you. If you already have a clinical area experience, imagine yourself listening to a British doctor dictating all his orders over the phone, as nurses, you have to get everything precisely. Same with when your patients communicate with you, you have to pick up important information for assessment.
The exam will let you listen to a set of recorded conversations or even a monologue, and it is going to be played ONCE without earphones. You will then be answering a 40-question test in 30 minutes.
Tip: Find out your strength when it comes to listening, your instructors might give you tips and all, but every person is different. Are you pretty good in writing all the important information while listening, or you are good at listening attentively first and answer afterwards? Try all the techniques and identify which one you are good at, and practice like crazy until it becomes very easy for you.
Take Note: Be careful with spelling and grammar.
Reading
This is a 40-question test, you will be reading an article that might be out of a magazine, journal or a book. There are 3 parts, the first one is by acquiring and providing a certain information. The second part is more on descriptions and elaborations while the last part is understanding and reading a material that utilize a more complex language. The test lasts for about an hour.
If you are a book lover who can finish a single 400-page book in one sitting, this might be easy for you. The test might also include visual diagrams and illustrations. The articles here are mostly comprehensive and well structured.
Tip: Write side notes to help you remember where to find the most important details. Read fast but comprehend better. Practice makes perfect so read as much as you can, and sharpen your practice your comprehension skills. Just like the tip mentioned above, identify your strength here too.
Writing
Some test-takers find it hard to ace this part of the test. Let us first understand the mechanics. You will encounter 2 questions or situations. Most likely you will be given an illustration and you will be interpreting it in detail and give your opinion at the same time. It will also take an hour. Your first composition is usually composed of about 150 words while the other one is usually 250. Most of the test takers fail this test because they are much more conscious about their idea or opinion rather than their composition and technicality. Always remember that there is no right or wrong answer.
Take Note: Your score depends on your grammar, vocabulary, an organisation of your ideas and how you adhere to the rules. You cannot write less than 150 or 250 words as indicated. Avoid a lot of useless words in order to reach the word count. Be precise, straight to the point and on point.
Tip: Your idea does not really matter much though it also plays a good role in the composition of a good opinion. Your grammar, use of words and some content information is very important. Read your output over and over if you still have time to catch grammar errors, when it's 10 minutes left, transfer your answer.
Speaking
Some test takers fail here because they are losing their 'cool'. They become too uneasy and nervous that they lose focus. The key to passing this part of the exam is to RELAX. The interviewer will ask you to introduce yourself, and say a little something about yourself. The interviewer will record the conversation and will grade you later anyway, so think about it like a job interview. In this test, you will now use all your senses. Be attentive but comfortable at the same time. You do not need to copy an accent, just be clear careful with right pronunciations.
Tips: Usually this test is a day after the three latter tests, so sleep well the night before. A well-rested mind can perform well. Avoid 'ahhmm' and 'ahhh'. If you did not catch the question, ask them straight to repeat and say—'Im sorry I did not catch that'. This will give you enough time and prevent lags in the conversation. You do not really have to be funny, just fluent and comfortable. Dress for the part, when you are comfortable with what you are wearing, you will act the part. calm the nerves and let it flow.
I don't really want to make it sound easy for you, because whatever is the level of your English communication skill, when it comes to communicating comprehensively in both paper and verbal is entirely a whole new thing. There is no ultimate secret in passing the IELTS exam, and you cannot really give what you do not really have , unless you want to have what you really need.
The part of getting what you need to pass it entirely depends in your eagerness and determination to get it. IELTS is just another exam that you have to pass, just like all the tests that you did. If you fail, just do it again—better this time. I hope this article helped you in one way or another. Feel free to ask questions and suggest topics.