A nurse is a flexible person. He is able to adapt to any circumstance that may ensure during the hours of his shift. A nurse can and will use critical and rational thinking to always do what is right, all for the benefit and care of his clients. Having this in mind, a nurse must be equipped with the materials, medicines, and machines needed to render care, be it elective or emergent.
The nurse must also be able to move freely, without any restrictions with his movement whatsoever. Thus, the nurse must also be wearing a wardrobe suitable for his duty. Alas, a long-debated issue on hospitals is the wardrobe that nurses should wear at the wards or any other area: are you team white uniform? or team scrub suits?
Nurses in the Philippines, especially those stationed at the wards still wear the same, traditional white-colored uniform that was once used as the formal uniform for nurses. The color white has been connected with the virtues of cleanliness and purity and these nurses wear the uniforms sometimes as a means to portray these.
However, some would say that the white uniform will not allow precise movements as compared to wearing the scrubs. Also, there are people whose blood pressure elevates when they see healthcare workers in white, those afflicted with the so-called "white-coat hypertension". Children would also dread these uniforms as they have a perception that a nurse in white will prick them with a needle.
The white uniform is still used in medical centers worldwide. It gives clients a sense of purity and calmness, as traditionally, white symbolizes these traits. It also provides a sense of identity as the same design is worn by people in the wards. However, the cons of wearing whites cannot be ignored. Do you think that we should change the uniforms of nurses in order to solve these? Will nurses have to switch to brightly-colored scrubs?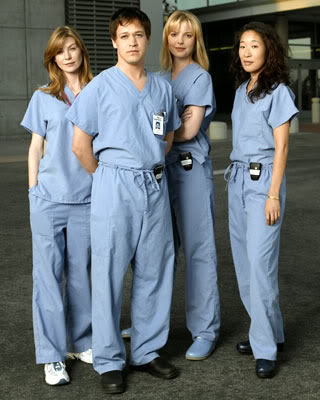 Scrub suits provide nurses with flexibility and freedom when it comes to movement. A scrub set is composed of a slightly loose V-neck top with 1 or 2 big pockets and pants. They come in different styles, designs, and colors.
As compared to the white uniform, the scrub is easier to wear, is neatly colored, is appealing to the eyes, has 1 or 2 big pockets for materials, and provides looseness needed for efficient and fast movement. Personally, I prefer wearing scrubs than white uniforms.
In other parts of the world, colored, cartoon-designed scrub suits are used at Pediatric wards to allay children's anxiety and make an effort to encourage children to participate in care. Scrub suits, however, do not provide the same uniformity as the white uniforms. Hospitals usually dictate just the color of the scrub and nurses are free to choose the designs.
Do you think this drawback will be enough to overturn the tide and favor the white uniforms? Scrub suits may also have the institution's name and the nurse's name tailored into the fabric for easy identification. The hospital may also provide guidelines with design so that uniformity is still maintained.
It has been long-debated that uniforms for nurses should symbolize cleanliness while at the same time providing the nurse with the freedom to perform his duty of caring without any restrictions.
As a nurse on duty, do you think that we should revolutionize the nursing profession by changing our uniforms? Do you think that we should stick with the white uniform for the aesthetic beauty, purity, and uniformity it offers? Or do you think we should all wear custom-made scrub suits for the flexibility, freedom of movement, and eye-appealing designs and colors that they offer? Is it about time to change from traditional to modern? Or is the traditional still the best? Feel free to comment on your take on this.
"The uniform does not dictate how good of a nurse you are. You alone are the nurse, and you alone will always be the one to dictate this…