"Bringing patients back from the dead", "frozen back to life", or "rising the departed": these are only some expressions they coined to describe the effect of a humble ice to patients post-cardiac arrest. But what is this method truly about?
In medical term, it is known as therapeutic hypothermia. It is an intentionally induced reduction of a patient's core temperature between 32-36°C. According to Holzer (2005) therapeutic hypothermia improves short-term neurologic recovery and survival in patients resuscitated from cardiac arrest of presumed cardiac origin. Klein (n.d) also describes that cooling the patient for 24 hours and slowly rewarming limits the effects of cerebral hypoxia and reperfusion, it slows cerebral metabolism and limits cerebral cell death and lessens cerebral edema.
The Ice-Method History
Therapeutic hypothermia has been famous for the past years after series of published stories and case studies regarding its remarkable result. However, this method was actually been practiced longer than you think!
The Edwin Smith Papyrus, the oldest medical text known to man, first described this method. It was also depicted by ancient Egyptians, Greeks, and Romans. According to an article by Leonid, et. al (2011) history books have recorded efficacy in the resuscitation of cold-water drowning victims. In the 1930s, Dr. Temple Fay, an American neurosurgeon, pioneered the use of hypothermia in the treatment of neurological disease. In Knight's (2013) presentation he mentioned that it was not until between 1940s and 1950s that therapeutic hypothermia's clinical reports were published.
Icy Pathophysiology
During cardiac arrest, important cerebral activities are compromised because of decreased cerebral oxygen delivery, and within minutes, glucose and ATP are depleted and cells begin to lose structural integrity, leading to mitochondrial damage and loss of calcium hemostasis. Increased levels of intracellular calcium and sustained stimulation by excess release of the excitatory neurotransmitter glutamate precipitate immediate cellular necrosis or eventual programmed cell death. Restoration of adequate oxygenation, which in the case of cardiac arrest corresponds to reperfusion, limits ongoing anoxic injury. However, it does not blunt continued cellular damage and death resulting from reperfusion injury, which occurs over the subsequent hours and days after successful resuscitation. Reperfusion can exacerbate cerebral edema, initiate destructive chemical cascades, and alter the inflammatory response with further tissue injury, exacerbate endothelial dysfunction, vasomotor dysregulation, edema, tissue-level hypoxia despite adequate arterial oxygenation, and subsequent neurological damage", Scirica (2013) and Klein (n.d).
The Role of Therapeutic Hypothermia
I have compiled several guidelines and protocols from different hospitals including from Cleveland Hospital, Deborah Heart and Lung Center, and University of Cincinnati Neuro Science Institute. Please take note that guidelines, protocols, and algorithms may vary according to the institution's preference. Make sure to follow your institution's guidelines and protocols in initiating therapeutic hypothermia.
Inclusion Criteria
Nontraumatic cardiac arrest with Return of Spontaneous Circulation
Cardiopulmonary Resuscitation initiated within 10 minutes of cardiac arrest
ROSC within 30 minutes of recognition of the cardiac arrest; MAP ≥ 60 for at least 30 minutes post ROSC with or without vasoactive medication
Initiation of Induced Hypothermia begun within 6 hours of collapse
Initial body temperature must be greater than 30°C
GCS < 6
Age > 18; Female < 50
Female patient is NOT pregnant
Requires intubation and mechanical ventilation
How to perform it?
Here are three very easy steps to remember:
Please see American Heart Association's Adult Immediate post-Cardiac Arrest Care and notice where Therapeutic Hypothermia is considered in the algorithm.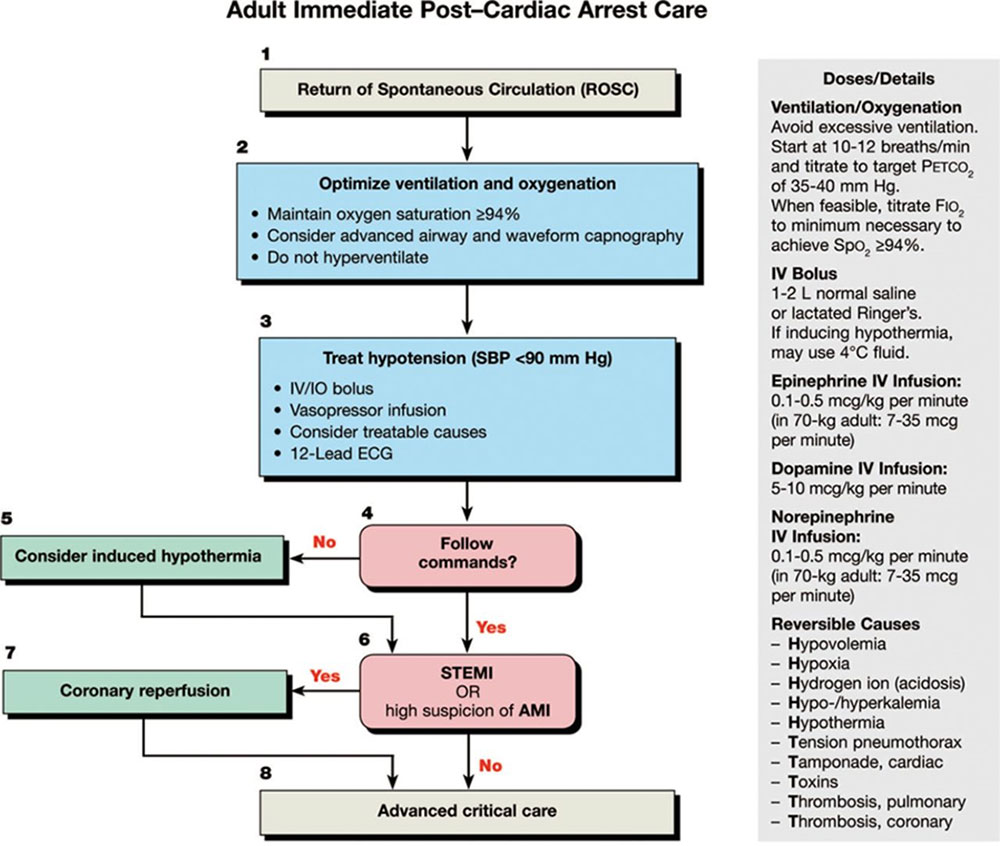 What do you need to prepare?
Prepare according to the induction method specified by the attending physician. Some may use a combination of two different cooling induction methods.
1. Surface cooling
Ice packs for the side of the neck, chest, groin, and axilla
Hypothermic blanket or surface cooling devices (e.g. Arctic Sun, Koolkit)
Heat exchange pads
2. Cold Intravenous Fluids
Normal Saline Solution, infused 30 to 40 mL/kg cooled to 4˚C over 30 minutes.
3. Endovascular catheters
Celsius Control System or Cool Line System
Also prepare:
For catheterization laboratory procedure:
Arterial line insertion if indicated or endovascular heat-exchange catheter insertion
Rectal or bladder probe for temperature monitoring
Cardiac monitor to assess patient's cardiac rhythm
Pulse oximeter
Sedation medications: midazolam, fentanyl, propofol, lorazepam
Medications for shivering: Meperidine (50 mg IV q 6 hrs), Buspirone (30 mg po q 8 hours)
Prepare insulin or insulin drip if needed
Prepare electrolyte replacement
Prepare antihypertensive medications to maintain desired MAP or Norepinephrine for hypotensive patients
Suction machine, because most likely patient is on mechanical ventilator
Things to remember:
Do not actively rewarm patients who are spontaneously hypothermic.
Avoid packing ice on top of the chest, which may impair chest wall motion.
Once a temperature below 34ºC is reached, remove ice bags, and the cooling blanket or heat-exchange device is used to maintain temperature between 32ºC and 34ºC.
I created a simple mnemonic for you to remember the facts and principles of TH easily: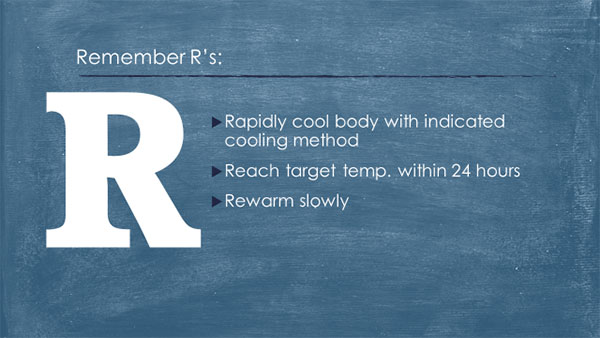 Things to watch-out for:
Shivering
Seizures
Arrhythmias: tachycardia, bradycardia, atrial or ventricular fibrillation
Mild acidosis and increase lactate
Electrolyte imbalance of K+, Mg+, Ca++ and phosphorus
During cooling phase: Replace K+ < 3.5
Replace Mg++ < 2.0
Replace ionized Ca++ < 1.0 or serum Ca++ < 7.5
Hypertension (ask the physician for desired maintaining MAP)
Decreased respiratory rate
Decreased motility, liver function, and insulin release
Neurologic deficits/progression
Hyperglycemia- According to Scirica 2013, hyperglycemia is common during TH as lower temperatures decrease insulin secretion and increase insulin resistance. Blood glucose should be measured at least hourly during TH to avoid hypoglycemia, especially in patients receiving intravenous insulin, and during rewarming, when glucose levels can fall precipitously.
Below is an algorithm example in initiating therapeutic hypothermia.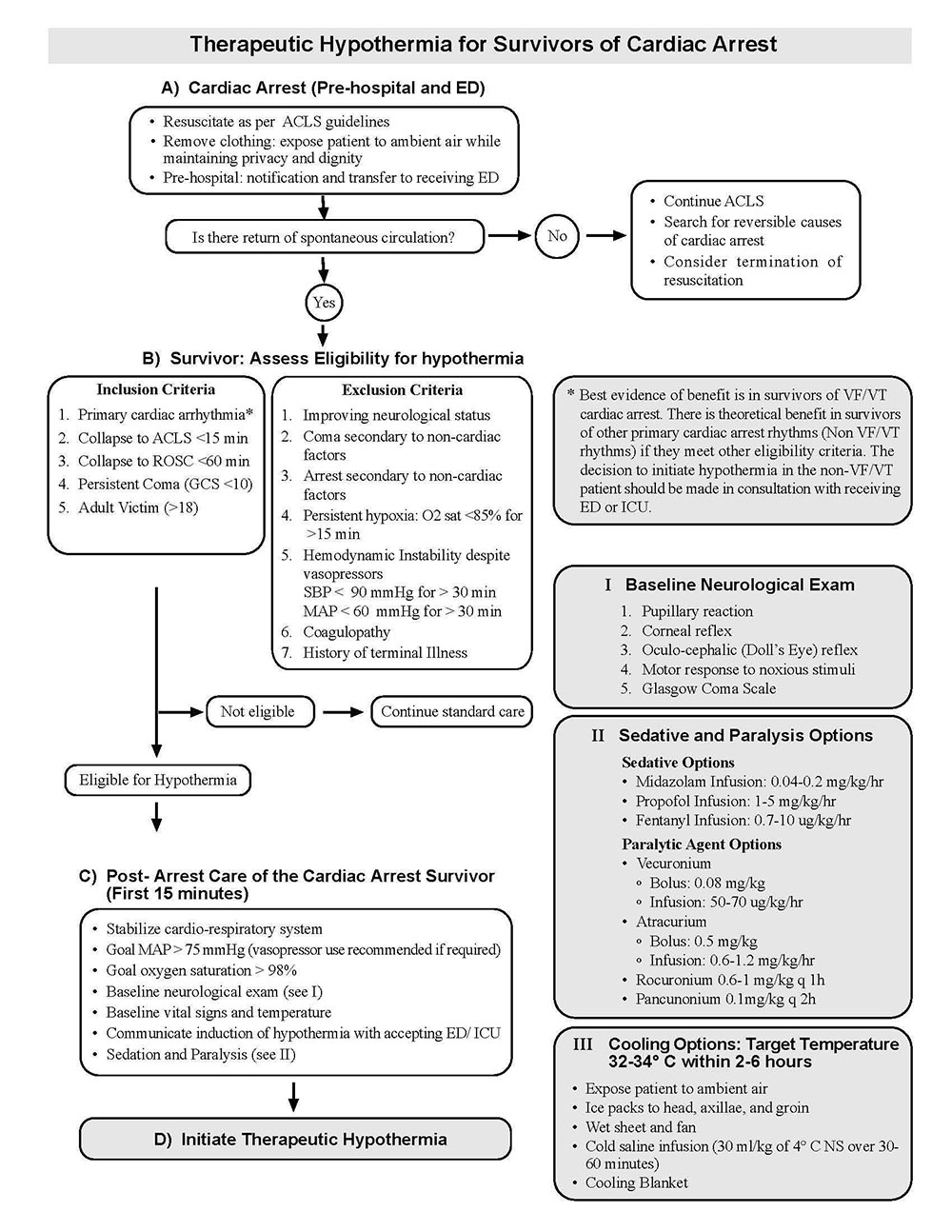 As nurses we have a big role in initiating therapeutic hypothermia. It is critical for us to know the very basic of chilling post-cardiac arrest considering the great benefits from this method. For the past years, there are several stories released on newspapers, journals, and online on how therapeutic hypothermia saves patients' lives.
If you want to read these inspiring stories, here are several links for you to consider:
Have an awesome code and chill!
References:
Adler, J., Peter, K., Talavera, F., & Bessman, E. (2014, April 30). Therapeutic Hypothermia. Medscape. Retrieved from http://emedicine.medscape.com/article/812407-overview#a5

Deborah Heart and Lung Center (n.d). Post Cardiac Arrest Induce Hypothermia Protocol and Procedure. Therapeutic Hypothermia Working Group. Collaborative Group on Induced Hypothermia for Neuroprotection After Cardiac Arrest. Lippincott Williams & Wilkins. Crit Care Med 2005 Vol. 33, No. 

Holzer, M., Bernard, S., Hachimi-Iddrisi, S., Roine, R., Sterz, F. & Mullner, M. (2005). Hypothermia for neuroprotection after cardiac arrest: Systematic review and individual patient data meta-analysis.

Klein, D. (n.d). Therapeutic Hypothermia After Cardiac Arrest: Best Practices 2014. Cleveland Clinic

Knight, W. (2013, Jan. 30). Therapeutic Hypothermia: What's Hot in Cooling. University of Cincinnati Neuroscience Institute. Neurocritical Care. Retrieved from https://www.heart.org/idc/groups/heart-public/@wcm/@gra/documents/downloadable/ucm_451301.pdf

Leonid I. Groysman, M.D.; Benjamin A. Emanuel, D.O. et. al (2011). Therapeutic Hypothermia in Acute Ischemic Stroke. Retrieved from http://www.medscape.com/viewarticle/744579

Nielsen N, Wetterslev J, Cronberg T… Friberg H. Targeted temperature management at 33°C versus 36°C after cardiac arrest. Swedish Heart-Lung Foundation; TTM ClinicalTrials.gov number. NCT01020916

Scirica, B. (2013, Jan. 13). Therapeutic Hypothermia After Cardiac Arrest. American Heart Association. Retrieved from http://circ.ahajournals.org/