Fresh out of board exam glory, think through your options carefully. How do you see yourself in 3 years? It has to be something concrete, practicable, reachable and most importantly, you're happy where you're standing in that vision of yours.
                Because… many nurses in the Philippines no matter how much needed is still mostly displaced.
The idea of a concrete long-term plan is what's missing in many of the youth, even those who have already gone through the rigorous days of College may still feel confused, though none as confused as many nurses who are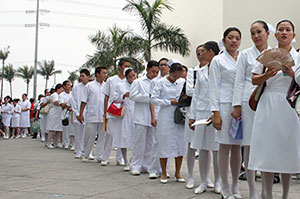 left with numerous but not immediately bright options.
Because Nursing has become a kind of "kurso ng bayan" in the recent years, perhaps every barangay in the whole Philippines has a resident who is a nurse or a nursing graduate. Many families who enrolled their children in Nursing Schools had simple speeches for their children – pass the board, go abroad and earn dollars or pounds. Not that it's not a good thing to say, it's a strong and motivating speech. The only thing wrong with it is not everyone who said that researched and planned it carefully and thoughtfully, considering all sorts of possibilities. And of course nobody knew then that migration would become as rigorous as it is now.
Nursing is one of the greatest professions there are. The focus of which is always on caring and helping others. But the sudden rise of nurse population came as a bit of a shock. The government was ill-prepared for the huge wave that came every year since perhaps 2002. It had nowhere to put them all, nowhere to help them get "paid experience" when requirements abroad needed it and the graduates needed it for themselves and their families. So many are still left hanging, displaced in all sorts of jobs they are allowed to have. Many entered into all sorts of business like networking, the military, became police officers, firemen, actors and actresses, singers, models, teachers, writers, call center agents, even embalmers. Others went to take another degree altogether after graduation. While some decided to stay home and start a family, leaving the bread weaning to their wives/husbands. Only a few stayed in hospitals.
The others, who had the original plan if not the resources as well as the drive to continue with intense studying, proceeded to Medicine. Now, doctors are on the rise. Still, others who were simply carried by the tidal wave that was the trend before but had other capabilities suitable elsewhere like the corporate world and the world dedicated for the protection of human rights and the likes went to Law School. Many of these people decided on further studies when they found no other choice for themselves in the world of nursing in the Philippines.
The true nurses by heart however, braved through the odds, the disillusionment, the frustrations and carried on volunteering and seeking available nursing jobs in hospitals, in schools, in companies and in the community. Many have been rewarded. Nurses who persevered in government and private hospitals despite of low salary or no salary at all in the beginning are now Staff Nurses, Head Nurses and Supervisors (mostly in private hospitals). The community nurses employed by the government under the Department of Labor and Employment and the Department of Health now have much coveted salaries.
Those who needed to find work as soon as possible after passing the board went to have at least 6 months experience and flew immediately to the Middle East countries where the demand for nurses are always high. Nurses are everywhere now. Where are you?
As for me, I'm at home. I am now a part-time writer, writing being a passion of mine. My nursing career is at bay. I didn't foresee myself anywhere when I graduated, which was a mistake. Nor did I try to persevere in the nursing profession in a hospital based setting although I did get a full 2-year experience. Where I'm going is a plan I just built in my head recently. That is why this article was written, to show you – nurse or nursing student – the reality of nursing in the Philippines and to hope that with this, you would learn to think ahead. Your future is in your hands.