RNspeak is a community composed of different nurse-writers with knowledge of various theoretical foundations and other facts related to the nursing profession and the medical field. Strenuous efforts have been made to ensure the accuracy of this website. However, the website is provided "as is" without any representations or warranties, express or implied, relating to this website's accuracy, or the information and content provided on this website.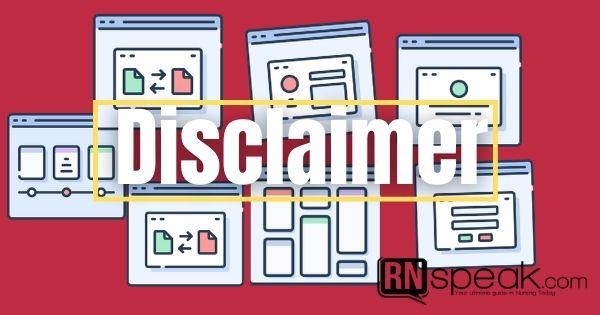 The contents of RNspeak are for purposes of information and education only. We do not render medical advice nor professional nursing services. 
The information provided through this Web site should not be used for diagnosing or treating a health problem or disease. It is not a substitute for professional care. If you have or suspect you may have a health problem, you should immediately consult your healthcare provider. RNspeak is waived of all liabilities connected with you and your health should you fail to follow these guidelines.
All articles in this site are meant for educational, recreational, informational, and entertainment purposes only. We don't claim full ownership of the videos, pictures, and some articles posted. All other trademarks are the property of their respective owners. Usage of any article, graphic, video, and data are backed with the appropriate accreditation.
RNspeak.com may provide links to other websites or resources. We have no control over such sites and resources. Therefore, you acknowledge and agree that we are not held responsible for the availability of such external sites and resources. We do not endorse, and we are not responsible or liable for any content, advertising, products, or other materials on or available from such sites or resources.
The views and opinions expressed in the various articles published at RNspeak.com are the respective authors' own and do not necessarily reflect those of RNspeak.com. Authors/copyright owners are fully responsible for and are legally liable for their work. 
RNspeak.com assumes no responsibility or legal liability, express or implied, for the content of any work of the respective author/copyright owner.