RNspeak is a community of nurse writers who share their knowledge about the nursing profession and the medical field. We have taken great care to ensure the accuracy of the information presented on this website. However, please note that this website is provided on an "as is" basis, without any representations or warranties, express or implied, regarding its accuracy or the information and content provided herein.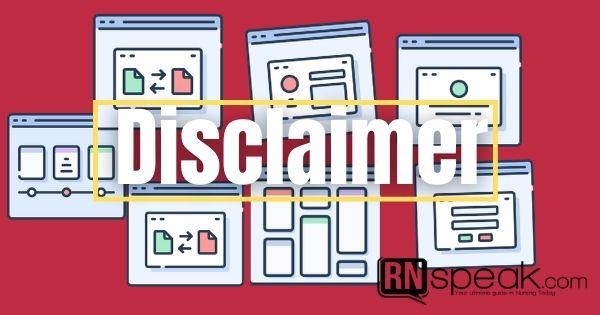 The contents of RNspeak are intended for informational and educational purposes only. We do not provide medical advice or professional nursing services. The information presented on this website should not be used for diagnosing or treating any health problem or disease. It is not a substitute for professional care. If you have or suspect you have a health problem, we strongly urge you to consult your healthcare provider promptly. RNspeak holds no liability for any consequences arising from failure to follow this recommendation.
All articles on this site are intended for educational, recreational, informational, and entertainment purposes. We do not claim full ownership of the videos, pictures, and articles posted on our platform. All other trademarks are the property of their respective owners. We ensure that articles, graphics, videos, and data used on our website are appropriately credited.
RNspeak.com may provide links to other websites or resources for your convenience. Please be aware that we have no control over the availability or content of these external sites and resources. Consequently, we cannot endorse or be held responsible or liable for any content, advertising, products, or materials found on or accessed through such sites or resources.
The views and opinions expressed in the articles published on RNspeak.com are solely those of the respective authors and do not necessarily reflect the views of RNspeak.com. The authors and copyright owners are fully responsible and legally liable for their work. RNspeak.com assumes no responsibility or legal liability, express or implied, for the content of any work by the respective author or copyright owner.
By accessing and using RNspeak.com, you agree to comply with these terms and conditions and acknowledge that any reliance you place on the information provided on this website is at your own risk. We recommend reviewing this disclaimer periodically, as it may be updated without notice.