Maternal morbidity and mortality has always been attributed with the health condition of the pregnant mothers. According to AbouZahr (2003), the health of mothers has long been acknowledged to be a cornerstone of public health. Increasing maternal morbidity and mortality rates called an alarming attention of the primary health care (PHC)—thus, the PHC initiated the Safe Motherhood Program. The Safe Motherhood Initiative focused on four pillars—the family planning, antenatal care, safe delivery and essential obstetric care (Alba et al., 2006).
The real statistics lies on every bed of the maternity ward of government hospitals wherein 2-3 post-partum mothers share in 1 bed. From the statistics right before our eyes reveal large numbers of sad realities such as ignorance about family planning, high risk pregnancies caused by too young or too old mothers, multi-gravida and other illnesses like hypertension, stroke and diabetes; poor compliance with antenatal care; and complications of home deliveries.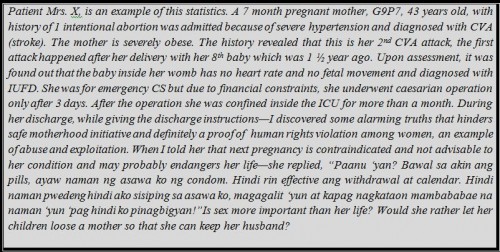 Advancing safe motherhood through human rights will require a diagnosis of laws, policies, and social norms (Cook, 1998). To minimize preventable morbidity and mortality among pregnant women, it is important to do more than just working on effective medical intervention. Efforts should also include the sad reality that in most cultures, women are given secondary social status and that they are disenfranchised in terms of having the power over maternal matters. In this area, the social dynamics of empowerment to safe motherhood come into play—the changes necessary to uphold and ensure the human rights of both the mother and the unborn child.
There human rights have, since time immemorial, been violated, with both the mother and the unborn child in the losing end. To finally avert this long-standing social mistake, policy changes that level the field—among men, women and child—must be put into effect. It is only when both genders become aware of and truly respectful of each other's particular needs and aspirations that authentic social justice is realized. Safe motherhood is not only an issue for women, but also the responsibility of men.
References
---
AbouZahr, C. (2003). Safe Motherhood: A Brief History of the Global Movement 1947-2002.British Medical Bulletin, 67(1),13–25.

Alba, M.O. et al. (2006). Primary Care of Women. Philippines: UP Open University, 55.Cook, R. (1998). Advancing Safe Motherhood through Human Rights. Planned Parenthood Challenges, 1, 3–5.