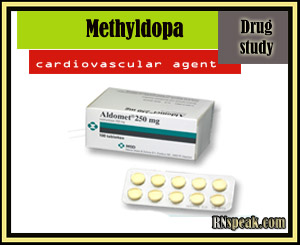 Methyldopa
Aldomet, Apo-Methyldopa , Dopamet ,Novomedopa
Methyldopate Hyrdocholoride
Aldomet
Classifications:cardiovascular agent; central-acting antihypertensive; autonomic nervous system agent; alpha-adrenergic agonist (sympathomimetic)
Pregnancy Category:C
Availability
125 mg, 250 mg, 500 mg tablets;  50 mg/mL oral suspension;  50 mg/mL injection
Actions  
Structurally related to catecholamines and their precursors. Has weak neurotransmitter properties; inhibits decarboxylation of dopa, thereby reducing concentration of dopamine, a precursor of norepinephrine. It also inhibits the precursor of serotonin.
Therapeutic effects
Lowers standing and supine BP, and unlike adrenergic blockers, is not so prone to produce orthostatic hypotension, diurnal BP variations, or exercise hypertension. Reduces renal vascular resistance; maintains cardiac output without acceleration, but may slow heart rate; tends to support sodium and water retention.
Uses   
Treatment of sustained moderate to severe hypertension, particularly in patients with kidney dysfunction. Also used in selected patients with carcinoid disease. Parenteral form has been used for treatment of hypertensive crises but is not preferred because of its slow onset of action.
Contraindicatons
Active liver disease (hepatitis, cirrhosis); pheochromocytoma; blood dyscrasias. Safety during pregnancy (category C) is not established.
Cautious use  
History of impaired liver or kidney function or disease; angina pectoris; history of mental depression; lactation; young or older adult patients.
Route & Dosage
Hypertension
adult:PO  250 mg b.i.d. or t.i.d., may be increased up to 3 g/d in divided doses
IV 250–500 mg q6h, may be increased up to 1 g q6h
geriatric:PO  125 mg b.i.d. or t.i.d., may increase gradually (max: 3 g/d)
child:PO  10–65 mg/kg/d in 2–4 divided doses (max: 3 g/d)
IV 20–65 mg/kg/d in 4 divided doses
Administration

Oral
Make dosage increases in evening to minimize daytime sedation. Some patients maintain adequate BP control with a single evening dose.
Intravenous 
---
PREPARE  intermittent: Dilute in 100–200 mL of D5W, as needed, to yield 10 mg/mL.
ADMINISTER  intermittent: Give over 30–60 min.
Incompatibilities Solution / Additive:  Amphotericin B, methohexital, verapamil.   Y-site:  Fat emulsion.
Adverse effects
BodyWhole:Hypersensitivity (Fever, skin eruptions, ulcerations of soles of feet, flu-like symptoms, lymphadenopathy, eosinophilia).
CNS:Sedation, drowsiness, sluggishness, headache, weakness, fatigue, dizziness, vertigo, decrease in mental acuity, inability to concentrate, amnesia-like syndrome, parkinsonism, mild psychoses, depression, nightmares.
CV:Orthostatic hypotension, syncope, bradycardia, myocarditis, edema, weight gain (sodium and water retention), paradoxic hypertensive reaction (especially with IV administration).
GI:Diarrhea, constipation, abdominal distension, malabsorption syndrome, nausea, vomiting, dry mouth, sore or black tongue, sialadenitis, abnormal liver function tests, jaundice, hepatitis, hepatic necrosis (rare).
Hematologic:Positive direct Coombs' test (common especially in African-Americans), granulocytopenia.
SpecSenses:Nasal stuffiness.
Endocrine:Gynecomastia, lactation, decreased libido, impotence, hypothermia (large doses), positive tests for lupus and rheumatoid factors.
Skin:Granulomatous skin lesions.
Nursing implications  

Assessment & Drug Effects
Check BP and pulse at least q30min until stabilized during IV infusion and observe for adequacy of urinary output.
Take BP taken at regular intervals in lying, sitting, and standing positions during period of dosage adjustment if physician requests.
Be aware that transient sedation, drowsiness, mental depression, weakness, and headache commonly occur during first 24–72 h of therapy or whenever dosage is increased. Symptoms tend to disappear with continuation of therapy or dosage reduction.
Supervision of ambulation in older adults and patients with impaired kidney function; both are particularly likely to manifest orthostatic hypotension with dizziness and light-headedness during period of dosage adjustment.
Monitor fluid and electrolyte balance and I&O. Report oliguria and changes in I&O ratio. Weigh patient daily, and check for edema because methyldopa favors sodium and water retention.
Lab tests: Schedule baseline and periodic blood counts and liver function tests especially during first 6–12 wk of therapy or if patient develops unexplained fever; periodic serum electrolytes.
Be alert to and report symptoms of mental depression (e.g., anorexia, insomnia, inattention to personal hygiene, withdrawal). Drug-induced depression may persist after drug is withdrawn.
Be alert that rising BP indicating tolerance to drug effect may occur during week 2 or 3 of therapy.
Patient & Family Education
Exercise caution with hot baths and showers, prolonged standing in one position, and strenuous exercise that may enhance orthostatic hypotension. Make position changes slowly, particularly from lying down to upright posture; dangle legs a few minutes before standing.
Avoid potentially hazardous tasks such as driving until response to drug is known; drug may affect ability to perform activities requiring concentrated mental effort, especially during first few days of therapy or whenever dosage is increased.
Do not to take OTC medications unless approved by physician.
Do not breast feed while taking this drug without consulting physician.