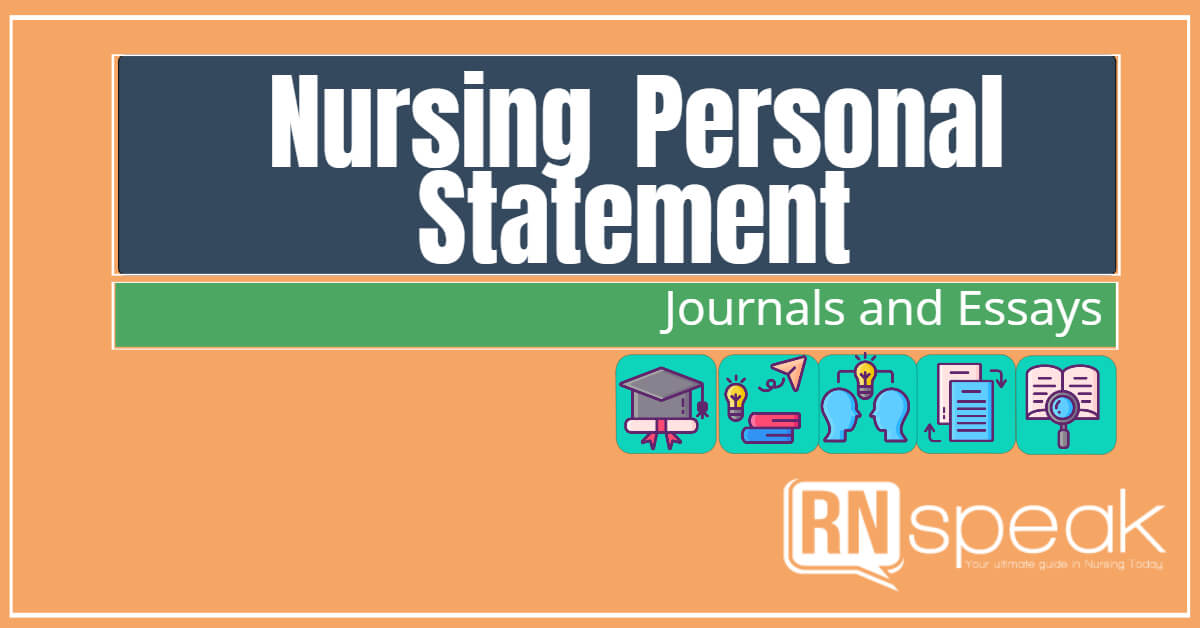 Are you an aspirant who wants to go to nursing school; a nurse applicant who wants to advance nursing career by enrolling to a higher level of education, training and specialization; nurses on completion of performance evaluation and credentialing updates; or applying for a job, promotion, or scholarship grants?
Writing a nursing personal statement is a usual requirement of the application process of colleges, universities and human resources department of the hospitals, organization, and health institutions. You may think it is just a simple essay and easy, but it is not. The nursing personal statement is not an essay composition of narrative threads of your life and work adventures vis-a-vis journal of your working experience and professional credentials. Ideally, it is a presentation in writing of how you uniquely qualified and be speak that you are an excellent candidate tailored fit to your adamant personal/professional goals and unparalleled potentials. Your aim in writing a nursing personal statement is to stand out prodigiously among other applicants. 
General Guidelines in Writing Nursing Personal Statement
The Nursing Personal Statement must be formal yet personal without involving the writing into a somewhat storytelling style. The essay should be written depending on the specific program or post you are applying to or varies according to the type of questions and required answers. Above all, your writing must represent yourself as a professional who is capable and qualified. 
The guidelines will give you an idea on the important points and attributes that a strong candidate should endue which evaluators are looking for to determine if you are a great fit for the program or post (Carpenter, 2020). 
Highlight strong educational backgrounds such as degree, license, certifications, pieces of training, achievements, and awards.

Level of specialization, mastery and expertise which can be represented by the years of service in the field. 

Acquired transferable skills that are important socially and professionally like teamwork, leadership, management, personal motivation, time management, listening ability, written communication, verbal communication, research skills, analytical ability, numeracy skills, personal development, and information technology (SkillsYouNeed.com, 2020). In nursing profession — critical thinking, efficient problem-solving skills and fast decision-making ability are the required skills to master of a nurse.

Exposure to volunteering works maybe a foreground of your inspiration and aspirations. 

Experiences and training that translate how verse and updated you are with relevant current health and medical-related trends.

Personal attributes (personality) such as determination, devotion, and motivation. These are excellent ways to show that you are distinctive from others. 

Relevant skills extend extra points for the applicants and sometimes a casting vote for a tie-breaker decision. This includes achievement outside traditional means but relevant to the post that you are applying for. In today's competitive world, Jack of all trades is a handy, versatile person who can do good work at various tasks with diverse skills set giving them the confidence and enough proficiency in whatever skills they are touting. From a "master of none"to a "master of all", whom can be an advantage for start-ups, a long-term learner, fit for leadership, and trusted when it comes to adaptability and flexibility (Vishwakarma, 2019). 

Other assets that may favour on your side are foreign language fluency and talent in speaking, which might makes you a valuable candidate as well as a highly sought employee. 

Make sure you are the right fit for the program/post. Familiarity in the program/post/job description, and why it is a good fit for you. This will reflects in your nursing personal statement essay and echoes your career-goals.

Demonstrate your genuine interest.
Tips in Writing Nursing Personal Statement (Essay topics)
In the case of writing short essays for particular questions, here are the following tips that will help you to write a persuasive essay for Nursing Personal Statement (Carpenter, 2020; Personal Statement Writing Services.Net, 2020):
Do not write in your own words. Follow the standards of writing a nursing personal statement.

Focus on the question and answer it thoroughly direct to the point. There is no correct answer when asking for an opinion. However, if your opinion does not correspond with the question, it is definitely wrong.

Be aware of the technical aspects in writing such as formatting guidelines, word count limitations, spelling and English grammar rules. 

To start up, the essay should have an introduction, body and summary or conclusion. Make the three parts have equal length and correlated with each other.

Ideally, a personal statement should have 500-600 words length (PersonalStatementWritingServices.Net, 2020). 

Avoid the use of contractions and vague language; make your statement in a formal manner. 

Bullet points and subheadings are not allowed.

Follow instructions carefully. Use a trusted format and template. Observe sequential orders in writing a nursing personal statement. 

Stop adding useless arguments and opinions.

Submit a well-composed work, consider it as your masterpiece.

Be sure to demonstrate that you are a good fit for the program/post as well as in the nursing profession.

Use the opportunity to exhibit your character and talents showing you are highly competitive and a potential big shot.

Nursing as a profession of empathy makes the profession unique. Hence, applying an emphatic stance to your writing is a tune-up.

Nursing personal statement is more personal than academic. Make it simple to understand.

Do not tell lies. Evaluators are experts in the field, and they can easily spot untruths and falsified information. Caught lies will not only turn your face red but will turn all your chances into ashes. 

Ask advice from successful nurses in the field for additional perspectives.

Editing and proof-reading properly after completion.
Common Errors in Writing Nursing Personal Statement
The aim is to steer clear of these three mistakes that might jeopardize your successful application. Ordinary nursing personal statement, unable to explain your interest in the field and miss out to elaborate career plan and goals are the three common errors you should avoid in writing nursing personal statement (EssayEdge.com, 2020). 
An ordinary nursing personal statement,which looks just the same as everybody else does is like listening to the same old stories. Personalize your statement by including your own experiences and special motivations without storytelling. Use clear, easy to understand, but strong languages that will describe you and represent you in a professional approach makes your essay more remarkable. 
Unable to explain the interest in the field.Remember to put your heart and passion in your writing. Explaining your interest in the field and how you came up loving it shows your personal and emotional sides. This part is written with an emphatic slant. 
Miss out to elaborate career plan and goals.Take an insight about your career path starting from plan followed by preparations; then, your goals and actions on how to attain it. Your career plot determines the levels of your intellect, time management, commitment, motivation, determination, efforts, and perseverance. 
The Opening lines
One of the difficulties encountered in all forms of writing, not only in the nursing personal statement — is how to start. It is more difficult to begin if you do not have any background and knowledge about the topic or focus of your write-ups. 
The killer opening should not have to be overkill. Bullock (2020) reiterated that overkill starts is a dangerous move because it will lead the applicant to overthink and going overboard, giving a fancy-pants impression. 
Make a remarkable impression by giving unique opening lines. Unique lines are reflections of your uniqueness. It is the representation of you in a holistic manner. In short, the opening is the overview of yourself and how you tailored-fit for the program/post. Begin by a brief introduction of yourself and your purpose (what are you applying for?). Discuss your enthusiasm for the subject and explain your genuine interest.
If you wish to include a quote in your opening lines, always remember that nursing personal statement is your voice. Meaning, you are going to begin with your own quote and not the quotes lifted from famous lines or famous person. The quote must be a representation of yourself, speaks about yourself, and your deep aspirations. Make sure it must be relevant to the program/post/job description you are applying for and be ready to explain how your quote links to you and your purpose of interest with the application.
The Body Paragraph
The body paragraph is the main part of a nursing personal statement where you highlights your credentials, skills, and goals. The purpose of this section is to present the substance in assertions to your introduction. This is the deliberation of your credentials and proofs, showing that you are a good prospect and a qualified candidate. In the presentation of this part, you can start with your focus in the field. This also includes proofs and shreds of evidence that you fit perfectly for the program/post. You may also discuss your transitions and how you dealt and manage well the changes and challenges experienced from both personal and professional undertakings. The brief and comprehensive deliberation of your qualifications may consist of one or two paragraphs. 
The Ending Lines
Ending line is not as easy as saying goodbye. A brief recapitulation of the entire essay and a strong conclusion gives the prompt for ending lines. Ending lines of your statement should be interconnected back with the opening part of your statement. Bullock (2020), suggested the "necklace approach" to connect the beginning paragraph with the final thought emphasizing vital reinforcements. Highlight your plans, career goals and your possible contributions to the organization and nursing profession that may entice and persuade the evaluator why they should approve or accept your application. For every goodbye, there are promises intertwined. These are the promises of your involvement and 100% commitment. 
In writing a nursing personal statement, take all the chances in favour of you and all the opportunities to keep you on top of your game. Personal and intellectual development, assets and skills, interests and your potential contributions can give you the competitive edge over your competitors. Moreover, it reflects of your commitment, dedication, devotion, excellence, passion and genuine interest will bring you to race. Ability to work under pressure surrounded by constraints and as yet adhere to high standards can get you successfully in. 
Turn the tide on your side, do not compromise your chances by submitting a rushed poorly written output, you should always be in top-shaped with top-notch standards. A well-researched and well-composed output is a reflection of your ability on how to manage effectively on high-level standards during difficult and stressful circumstances. 
Writing a nursing personal statement is not an overnight skill or an item which can come ready-made. There may be a standardized template, but an Obra needs intricacy and refinement from practice and training. You need to earn all the details and information you are going to write in your essay as expertise does not happen for a day; it takes years of hard work. 
References
---
Carpenter, R. (2020). How to Write a Nursing School Personal Statement: What to Include, Examples, and Mistakes to Avoid. Retrieved on 03 October, 2020 from https://www.servicescape.com/blog/how-to-write-a-nursing-school-personal-statement-what-to-include-examples-and-mistakes-to-avoid.
com. (2020). Transferable Skills. Retrieved on 04 October, 2020 from https://www.skillsyouneed.com/general/transferable-skills.html.
Vishwakarma, H. (2019). Who is a better Hire, Jack Of All Trades, or Master Of One?. com. Retrieved on 04 October, 2020 from https://medium.com/swlh/who-is-a-better-hire-jack-of-all-trades-or-master-of-one-953cf6d46fe5.

Net. (2020). Best Personal Statement Nursing School. Retrieved on 03 October, 2020 from

ttps://www.personalstatementwritingservices.net/personal-statement-for-nursing/

com. (2020). Avoid These Three Mistakes On Your Nursing Personal Statement. Retrieved on 04 October, 2020 from https://www.essayedge.com/blog/nursing-personal-statement-mistakes/

Bullock, A. (2020). How To Start A Personal Statement: The Killer Opening. Universities and Colleges Admissions Service. Retrieved on 04 October, 2020 from https://www.ucas.com/undergraduate/applying-university/writing-personal-statement/personal-statement-the-killer-opening

Indeed Career Guide. (2020). How to Write a Powerful Personal Statement. Retrieved on 05 October, 2020 from https://www.indeed.com/career-advice/resumes-cover-letters/how-to-write-a-personal-statement