On an annual basis, nurses and other health professionals must complete a minimum number of continuing professional development (CPD) hours. These CPD hours should be relevant to the nurse's practice and enable the nurse to maintain, improve and broaden their knowledge, expertise, and competence. Depending on where you are in the world, your CPD requirements will differ. In Australia, at least 20 hours of CPD is required annually for registered nurses. However, you should check with your country or state regulatory body to confirm the number of CPD hours you need to complete.
With advancements in technology and organizations using innovative ways for nurses to participate in and complete CPD activities, there are no CPD opportunities. As with most things in life, there are different strokes for different folks. Some nurses will prefer online courses, some will learn better in a classroom environment, whilst others will enjoy Using Social Media for Professional Development.
This article provides a list of 8 FREE CPD resources for registered nurses around the world. Encompassing a broad range of topics, there are sure to be CPD options to suit everyone!
Throughout the year, RNspeak has endeavored to bring you educational and factual articles about COVID-19, including:
With COVID-19 creating havoc across much of the world and with no end in sight, nurses need to be as prepared and informed as possible to tackle this deadly virus. Perhaps the most relevant CPD resource at the moment is the free online COVID-19: Effective Nursing in Times of Crisis course offered by John Hopkins University through FutureLearn.
This course explores how nursing can respond to the challenges posed by low resources and high societal uncertainty in the wake of COVID-19. This free online course considers a two-hour session once per week for two weeks, four hours in total. Anyone who joins this course will receive the full benefits of studying with John Hopkins University online for free. This means that you receive unlimited access to the COVID-19: Effective Nursing in Times of Crisis course (good for a refresher down the track), access to any articles, videos, peer reviews, and quizzes available as part of the course, and best of all you will receive a free PDF Certificate of Achievement to prove your success when you're eligible.
FutureLearn offers thousands of online courses covering various topics, including nursing and various other health-related areas. There is a mixture of free and payable courses available, so if this COVID-19 topic doesn't take your fancy, then be sure to see what else they have available.
Liberty University, an online university, offers this free resource via the iTunes U app on iPhone or iPad.
According to Liberty University, this resource emphasizes the critique, evaluation, and utilization of nursing and other relevant theories that apply to advanced nursing practice and a comprehensive approach to care. Other areas such as professional role development, interdisciplinary relationships, and issues relevant to advanced practices are also included.
The resource is split into different topics that run anywhere from three to ten minutes, adding up to approximately an hour in total.
BMC Nursing is online open access, peer-reviewed journal that publishes articles on all aspects of nursing research, training, education, and practice. This is a great resource offering online journal articles covering various nursing topics made freely and permanently accessible online immediately upon publication.
Most online journal websites require a paid subscription, so this free option is great for the hip pocket and removes the barrier of requiring registration.
If you want to read about the evidence of nonverbal communication between nurses and older adults: a scoping review, the measures of evidence-informed decision-making competence attributes a psychometric systematic review or any of one of the many thousands of other peer-reviewed, free journal articles, then the BMC Nursing online journal really is a great CPD resource for you.
You may not be aware, but Google Books is a great resource for nurses looking for CPD and who prefer reading either online books or printing out parts of the book.
Using the Google search engine, you can select the Books option and search for a specific book title or topic. Google books will then return a list of matching results. Keep in mind that not all books published through Google Books are free; however, many books display parts of the books for free.
A great nursing book available through Google Books is the 10th edition of 'Fundamentals of Nursing' By Patricia A. Potter, Anne Griffin Perry, Patricia Stockert, and Amy Hall. This is a key book required by many nursing schools and a great resource for research and CPD purposes.
Dementia care and dementia nursing management is an area where demand for nurses continues to grow, particularly in countries with aging populations. It is estimated that up to 50% of people aged 85 years or older will have dementia.
The University of Tasmania and Wicking Dementia Research and Education Centre have teamed up and developed the Understanding Dementia free online course. The course is three hours per week and runs over seven weeks. If you complete all three modules of the course: 'The Brain,' 'The Diseases, ' and 'The Person,' you will be eligible to download a free certificate of completion!
First published in 1959, most health professionals worldwide will recognize MIMS as an essential tool for prescribing and as a trusty clinical reference. MIMS Learning offers a variety of free online CPD resources for nurses and various other health professionals.
The Pain Management learning center offers CPD intended to help nurses and other health professionals deal with patient consultations involving pain. This resource is separated into five modules totaling approximately 5.5 hours of CPD and covering topics such as:
how to deal with neuropathic pain
vulval pain and;
the management of headache and migraine
Written by GPs and other relevant specialists and reviewed by an in-house team of GP advisers, you can rest assured of the content and accuracy of the MIMS Learning CPD.
Compassion fatigue, moral distress, and burnout are all real issues affecting the nursing workforce. This resource is a recording of a live event with content designed to help nurses develop their resilience and stay motivated in the face of constantly increasing demands.
This recording means that you can listen on your smartphone, portable device, or computer, making this an easy CPD resource to slip into your day, whether you be on the train to work or in the car on your way home.
Offered for free by the American Nurses Association, you will learn how to reduce the physical and emotional consequences of morally complex situations, build confidence in confronting morally complex situations to reduce moral distress and burnout, and gain advice, including expert tips and strategies building resilient teams.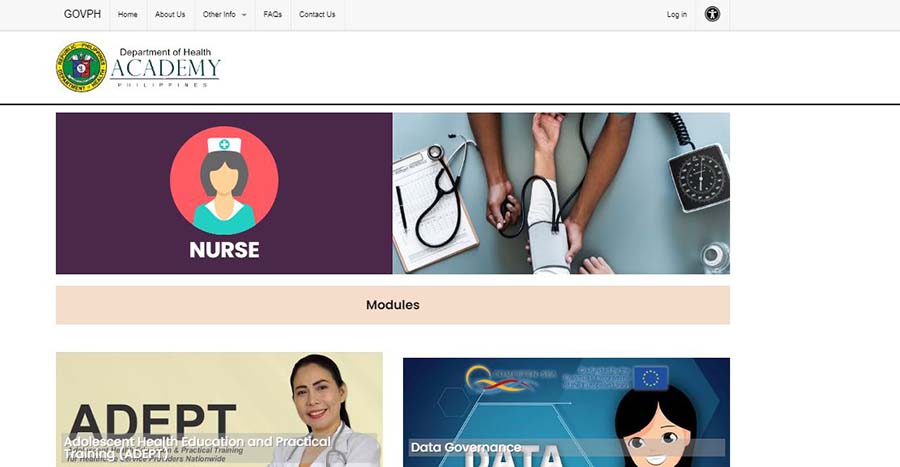 The DOH Academy offers up-to-date links to resources and hosts free e-Learning training for nurses and other health professionals in the Philippines. To access and participate in the DOH Academy E-Learning Platform courses, you will need to create an account. Once you have set up an account, you can also select to receive email updates about new training and health resources.
The free CPD modules available to Filipino nurses through the DOH Academy include:
Adolescent Health Education and Practical Training (ADEPT)
Data Governance
Introduction to Seven Major Recommendations to Prevent Tuberculosis Transmission
Universal Health Care (UHC) Module
Final words
No matter which country you are in, you will likely be required to complete a minimum number of CPD hours. Nurses need to maintain, improve and broaden their knowledge, expertise, and competence through an ongoing process of CPD. Whilst CPD can seem cumbersome; it doesn't have to be that way. With many CPD resources available, it is now easier than ever to find CPD to suit your needs.
If you have any CPD resources, you would like to recommend, please let us know, and we will check them out!