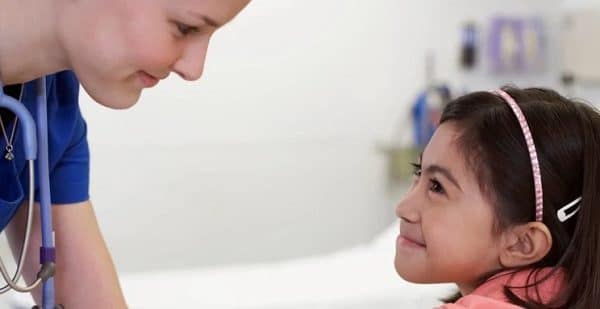 School nurses have the unique opportunity to serve the pediatric population in the school setting. The need for school nurses has increased over the years due to students having more complex medical issues that need to be addressed during the school day. Nurses work closely with students, families and school staff to meet the needs of these students. Having a school nurse on staff can lead to improved health outcomes for students, such as decreased absenteeism and improved academic performance (1). They can also help identify and address health disparities among students, especially those students who do not have access to care outside of school (2). This article addresses the roles and responsibilities of school nurses.
There are many roles and responsibilities that school nurses must implement to help provide a safe and healthy environment in the school setting. The day revolves around providing first aid care and health assessments. Students come to the clinic for various injuries, such as an abrasion from a recess injury. However, there are also more emergent injuries, like fractures or head injuries, that need a quick assessment and intervention from the expertise of a nurse to get the student access to care.
School nurses are also involved in writing individual health plans and coordinating care for students with acute and chronic health conditions. Nurses meet with families and school staff to coordinate care for the student during the school day. This includes discussing asthma action plans with teachers, collaborating with cafeteria management to produce carb counts for students with diabetes and informing staff about critical alerts. These responsibilities make educating and training staff on many health topics so important. The most common conditions would include asthma, diabetes, life-threatening allergies, and blood-borne pathogens.
Students can keep medications a school, both scheduled and PRN. School nurses are responsible for training qualified staff to administer medications if the nurse is unavailable, like field trips. It is a priority to emphasize the importance of medication safety and proper administration of the medication.
Health screenings are also an important role of the school nurse. They coordinate how, when, and who will be performing the screenings and also inform guardians when the student needs further evaluation.
Many students have obtained further care, such as obtaining glasses, from these screenings. It is so wonderful to hear from a teacher that the student is doing so much better in school because of "catch" and can have a better learning experience.
Promoting and Maintaining Preventative Care, Overall Health and Well-Being of Students
School nurses have the duty of promoting and maintaining preventative care, overall health and well-being of students. They help with health screenings throughout the year by facilitating vision, hearing and dental screenings. This involves contacting guardians if students need further evaluation by a physician or dentist. They may organize the day and be the liaison between the school, screeners and families.
Maintaining vaccination compliance is a vital role in maintaining the overall health of the students. Nurses can work with families that have fallen off schedule to help find ways to obtain the required vaccinations. This could involve having other nurses available at back-to-school activities or having a pop-up clinic throughout the year to administer vaccinations. Several families take advantage of this service and are grateful for saving them a trip or having to take time off work.
Contribution to creating a safe and healthy school environment
School nurses also have a hands-on role in creating a safe and healthy school environment by using their expertise to find areas of concern in the school and provide ideas on how to modify them. They may notice students getting injured in a certain area and provide ways to reduce injury. They may also promote allergy-free lunch tables to reduce allergen exposure.
Emergency preparedness is also key to a safe and healthy school environment. Nurses help prepare and respond to medical emergencies and natural disasters by creating plans and participating in drills with the school.
Health Education
School nurses provide guidance regarding medications, vaccinations, allergies, health conditions, health screenings and access to care. They may be the key that opens the road to getting medical attention. They help navigate the health system and break down barriers to understanding their child's condition. They may even contact physician's offices, with permission from the guardian, to obtain orders unique to students with type 1 diabetes or obtain asthma action plans. School nurses make contact based on what best suits the needs of that student. They can then walk through the interaction with guardians and answer any questions that arise.
A student with type 1 diabetes had a low blood sugar right before lunch. The nurse was able to call the nurse at the endocrinologist's office and obtain orders to treat the student quickly and not miss too much lunch and recess, which is most students' favorite time of day!
Managing and Responding to Medical Emergencies
Students have medical emergencies that need the expertise of a nurse to quickly assess and intervene for the best outcome for the student. Students may have Individual Health Plans in place that guide how the student will be treated. They can be based on the allergy, asthma, seizure action plan, or diabetic management plan. Standing orders may also be in place, developed by the physician overseeing the district, to intervene for a student having an anaphylactic allergic reaction or manage someone having difficulty breathing.
Accidents like fractures or head injuries also occur and need immediate attention. The school nurse must know how and when to act and who they can use to delegate responsibilities. This requires a lot of skill to quickly assess and make decisions.
Head injuries can definitely be more than meets the eye. A student fell backward on the playground and according to her teacher she seemed "fine" but had her see the school nurse because her head was bleeding in the back. The school nurse noticed that the student started to change significantly, performed neuro checks, and decided she needed immediate medical attention. The ambulance was called, and the parents were notified. She later was diagnosed with a concussion. This may have been unnoticed, or treatment delayed if the patient wasn't taken to the school nurse.
Collaboration
Collaboration is key to keeping students healthy and safe at school. Meetings involving guardians, teachers and the school nurse may happen at the beginning of the year to review the health plan for the upcoming school year or as changes to care arise. School nurses and guardians collaborate to discuss symptoms that a student may be having and what the next steps should be, such as going home for the day or distinguishing between allergy and cold symptoms. Teachers may express health concerns they are noticing for a student and may prompt the school nurse to act as a liaison to discuss the concern.
School nurses also work with school social workers to find access to healthcare or find basic care items for students. They also coact when there is suspicion of child mistreatment at home and may work together to contact Child Protective Services.
Collaboration with the cafeteria staff is essential for students with alternative dietary needs. They work together to ensure carbohydrate counts are accurate, daily meal plans and nutritional information is current. They may find appropriate places for a nut or wheat-free tables in the cafeteria. They also compare lists of students with alternative dietary needs to make sure students are not missing information and accidentally giving a student something they shouldn't eat. There have been near misses but the school nurse and cafeteria workers put protocols in place, shared with the rest of the school personnel, to prevent accidents.
Collaboration with school administration is key to making positive changes and enforcing policies. There are times when guardians may not follow policies and procedures that are in place for the safety and well-being of the students. The administration can help intervene as needed to help get the parties involved back on track.
There isn't a physical nurse station for nurses to gather and exchange ideas. School nurses may call or email each other to discuss certain situations or review policies. It can feel like a one-person band at times, but other nurses are only a phone call away.
Qualifications and Training
Many school nurses are RN's with at least a bachelor's degree and some districts also have LPN's.  The National Association of School Nurses (NASN) released a statement that discusses their belief that every school-aged child should have a registered professional school nurse that has a minimum of a baccalaureate degree in nursing (American Nurses Association [ANA] & NASN, 2017).
Many nurses have backgrounds in pediatrics, PICU and emergency department. Some use knowledge from their backgrounds in the "adult world" and enjoy the change of pace in school nursing. Several are parents and can use their parenting skills to help students through emotional situations, such as missing their parents when they are at school or just needing someone to listen to their concerns.
School nurses have the opportunity to join the National Association of School Nurses (NASN) and their state's association for school nurses. The NASN works with the National Board for Certification of School Nurses (NBCSN) to develop a voluntary certification by examination for school nurses According to nasn.org:
Certification represents a national standard of preparation, knowledge, and practice. To assist with this recognition, the NBCSN provides the opportunity for school nurses to set the standards for the specialty area through voluntary professional certification.
Each state has its own licensing requirements for school nurses and the NASN suggests that those interested in school nursing check with the NASN affiliate in the state in which they practice.
The NASN provides a Framework for 21st Century School Nursing Practice that provides guidelines for evidence-based school nursing practice. These guidelines are divided into five categories: Standards of Practice, Care Coordination, Leadership, Quality Improvement, and Community/Public Health. It is discussed further in ASCD & CDC. (2014). Whole school whole community whole child: A collaborative approach to learning and health. Retrieved from http://www.ascd.org/ASCD/pdf/siteASCD/publications/wholechild/wscc-a-collaborative-approach.pdf and ASCD & CDC. (2014). Whole school whole community whole child: A collaborative approach to learning and health. Retrieved from http://www.ascd.org/ASCD/pdf/siteASCD/publications/wholechild/wscc-a-collaborative-approach.pdf
Challenges and Solutions
School nursing can be very rewarding but also has its challenges. Many school systems do not have enough nurses for the number of students. The nurse may be working at several schools to "cover" the more critical students and delegate easier tasks to other school personnel. This puts stress on the nurse to have to go between schools and to ensure that the school personnel are properly trained and available. School staff have other tasks in the school and may feel conflicted about how to act in certain circumstances. The school system has limited resources, so a lot of creativity goes into balancing providing care and how it is executed. School systems are already pressed for allocating money for teaching staff so unique ways, such as using a referendum or having a relationship with hospital systems, might be a few ways to help. Other resources to consider could be the local, state and federal governments, health departments and foundations.
There is also a misapprehension of what the school nurse's role and abilities are by not only the school staff but the school community. Many believe that nurses are just handing out ice packs and Band-aids. However, there is so much more than meets the eye. Slowly but surely, society is observing what the scope of practice includes through interactions, educating, and advocating. Staff and guardians interact with school nurses daily and learn through those encounters.  Nurses can also educate staff and families about what roles they have and advocate for each other. They can work with the school community to find solutions to the ever-changing needs of the students.
Like many of their nurse counterparts, many school nurses are experiencing burnout. The pandemic took a toll with many added responsibilities, such as contract tracing and calling parents with issues related to Covid. This was additional to the traditional responsibilities expected. The guidelines are always evolving and can be confusing to nurses and the school community alike.
Many nurses report experiencing anxiety, stress and depression. This could be from several different factors, such as a demanding workload, being pulled in several directions at one time, or low compensation for time worked. The responsibilities are increasing, and nurses are being asked to add more to their plates. Several hospital and school systems are seeing the need for prioritizing mental health and have programs that can be accessed through insurance that can help with these issues. It is important to take care of the caregiver. Nurses should find healthy ways to relax at home and feel comfortable speaking up and advocate for needed breaks. Nurses should feel supported by management to take such steps.
School Nurses are Superstars
School nurses are the jack of all trades. They are health professionals that ensure that the students in their school system have access to physical and mental health services when school is in session. They collaborate with caregivers, teachers and school staff to advocate and serve the students to ensure the student's health needs are met and they are able to participate in school activities. They are responsible for assessing and treating injuries and illnesses, managing chronic health conditions, administering medications and promoting healthy lives.  Finally, they provide health education and counseling to students and staff and act as a liaison between the school and community health providers. They manage to juggle all these tasks, and then some, and still have fun with the students.
Research has shown that having a school nurse on staff can lead to improved health outcomes for students, such as decreased absenteeism and improved academic performance.  Additionally, school nurses can help to identify and address health disparities among students, such as by providing care to students who may not have access to healthcare outside of school (3).
In summary, school nurses are essential for promoting the health and safety of students in schools. They provide a range of services, promote healthy behaviors and lifestyles, and play a critical role in responding to medical emergencies and public health crises.
References:
Centers for Disease Control and Prevention. (2021). School Nurses Help Keep Students Healthy. Retrieved from https://www.cdc.gov/healthyschools/features/school_nurse.htm ↩ ↩2
National Association of School Nurses. (2021). COVID-19 Resources. Retrieved fromhttps://www.nasn.org/nasn-resources/practice-topics/covid-19 ↩
Maughan, E. D., & Bobo, N. (2018). The Impact of School Nurse Interventions: A Systematic Review. Journal of School Nursing, 34(2), 114-125. doi:10.1177/1059840517729931↩
Whole school whole community whole child: A collaborative approach to learning and health. Retrieved from http://www.ascd.org/ASCD/pdf/siteASCD/publications/wholechild/wscc-a-collaborative-approach.pdf and ASCD & CDC. (2014). Whole school whole community whole child: A collaborative approach to learning and health. Retrieved fromhttp://www.ascd.org/ASCD/pdf/siteASCD /publications/wholechild/wscc-a-collaborative-approach.pdf