I know a lot of you can identify with me when I say that days off from work are never enough. It doesn't matter whether you work an 8-hour shift for five days or a 12-hour shift because what it basically comes down to is the fact that you feel stressed out and tired all the time.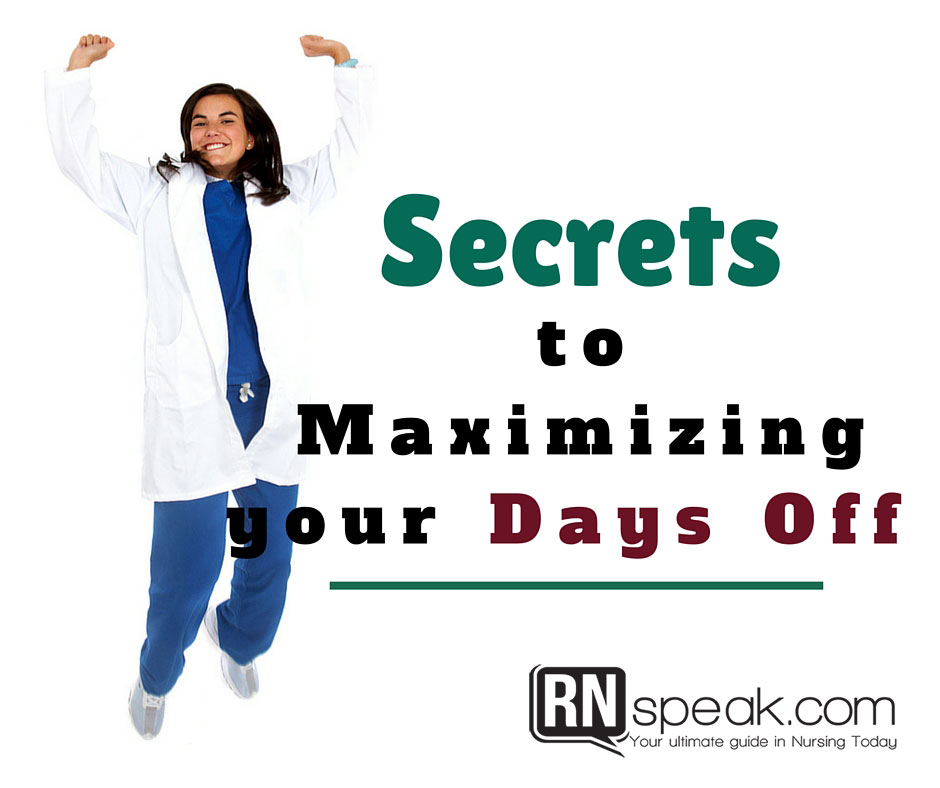 Some of my family and closest friends were alarmed because I had no social life and I was always jumpy outside of work. Their concern made me realize that I had to look into this issue. So I did.
Looking at my monthly schedule, I felt miserable. Why? I go on shifting hours every week for five days. Coming from a night shift and getting only two days off doesn't really sound—restful. In fact, most of us would groan and say we technically only get one day off since we'll sleep the first day away.
Since I couldn't ask my head nurse to change the schedule to suit my needs, I found a better solution and decided to optimize my given days off instead. As a fellow nurse, I feel it is my duty to share with you some things I learned on maximizing my days off.
1. Make sure you endorse your patient/s properly. That way, you won't spend your resting periods wondering if you missed out special orders and needs.
2. Turn off your phone. Yes, in this modern era, phones are necessity. However, if you become stressed when colleagues give you a text or call regarding your previous patients, I think this one is a to-go tip for you. According Dr. Volpi in Huffington Post, heavy cell phone use showed an increase in sleep disorders in men and an increase in depressive symptoms in both men and women. Those constantly accessible via cell phones were the most likely to report mental health issues. That is why you should follow tip number 1 to make sure your days off are breezy.
3. Learn to detach yourself from work. Days off are so-called because they are your days away from your patients. Stop thinking about your feisty patient or that morning sermon from the doctor and RELAX.
4. Find something new to do. Whether it's crochet, going to the gym, or creating a scrapbook, learning a new skill will give your mind something new to focus on. Aside from that, according to Gary Marcus, a cognitive psychologist, learning something new, whether knowledge or skills-wise will give you a sense of self-actualization.
5. Find out what relieves your stress. If it's eating, watching movies, or people watching, do yourself a huge favor and go for it. Your health will thank you for it in the years to come since stress can be a trigger for certain health conditions.
6. Long duty week produces a lot of negative energies that affects all part of your body system. So during your days off, spend time with positive people who bring out the laughter in you. According to National Geographic show the "Brain Games": a single smile can trigger a flood of endorphins in your brain… And just seeing another person smile, triggers you to smile too. So keep those faces painted with your amazing grin!
7. Meditate. Dr. Robbie Hartman, a psychologist and wellness coach says that meditation is a good way for the body to relax because it makes the brain more resilient to stress. You shouldn't worry about what to do when you meditate. It's actually as easy as closing your eyes while standing up straight or sitting down while repeating mantras and positive thoughts. The best part about meditation is you can do it anywhere as long as you're comfortable. You can sit on a park bench, by the beach or even inside your bathroom, if that works for you.
8. Live in the now. Enjoy what you are presently doing, may it be chores or being lazy. Don't let yourself ponder what's going to happen when you come back to work or what transpired yesterday. In order to fully enjoy what you are doing, you should be present.
9. Take time to spiritually rejuvenate each week. Some of us turn to a higher and divine being when we become too stressed and burned out. To rejuvenate spiritually does not mean forcing yourself to join a religious group and such, but it is a sense of heightened awareness when you lift up your woes. A medical research suggests that one of the greatest killers is stress. Observing the one day of the week whether to go to church, or detaching yourselves from any kind of work is one way to de-stress and freshen up for the whole week.
10. Utilize your vacation leaves for a trip with your family, or friends, or probably your partner.
11. Devote one day of the week to spend time with your family. Cook for lunch or dinner, and if you're not fond of cooking, you can just order out. Surprise them with DIY desserts.
12. If you're not an outdoor person, read a book that will detach you from nursing realities. Books always give me the reprieve that I need after a hectic and toxic week from work.
These tips are only a few of what helped me in optimizing my mini-vacations. The great thing is, these are just start-ups which will help you on your way to becoming invigorated before next week's work.
References
Hartman, R. 10 Relaxation Techniques That Zap Stress Fast. Retrieved from http://www.webmd.com/balance/guide/blissing-out-10-relaxation-techniques-reduce-stress-spot

Marcus, G. (2012, May 10). Learn Something New—Your Brain Will Thank You. Retrieved from http://thechart.blogs.cnn.com/2012/05/10/learn-something-new-your-brain-will-thank-you/

National Geographic (2016). Brain Games Season 5 Episode 11 "Positive Thinking"

Volpi, D. (2012, Aug.2). Heavy Technology Use Linked to Fatigue, Stress and Depression in Young Adults. Huffpost Healthy Living. Retrieved from http://www.huffingtonpost.com/david-volpi-md-pc-facs/technology-depression_b_1723625.html