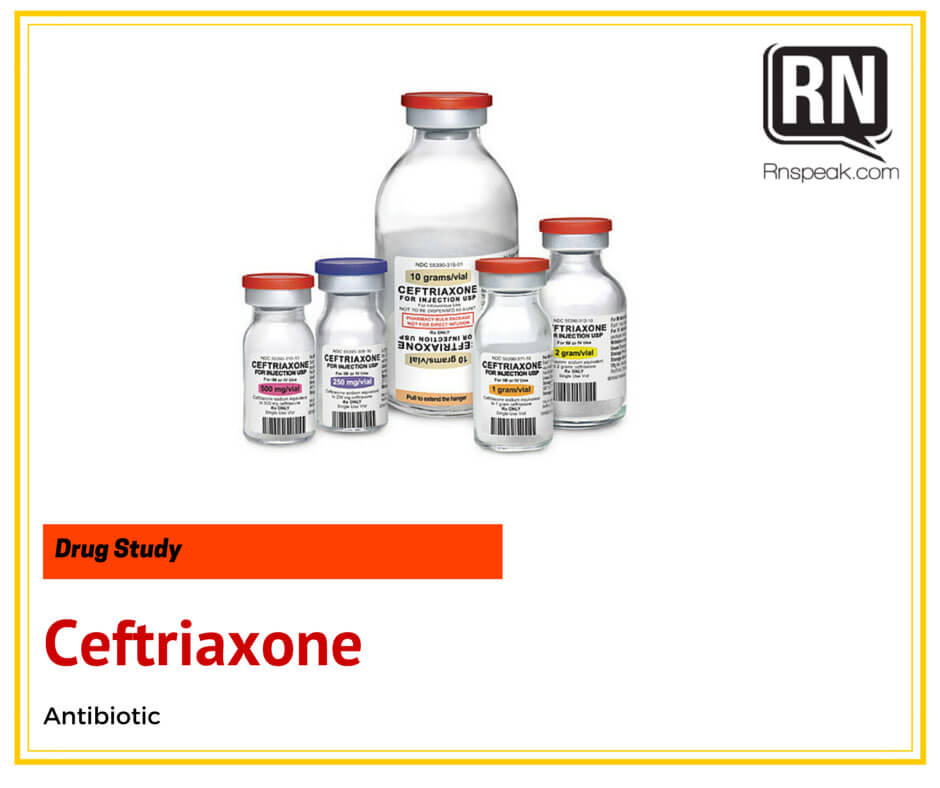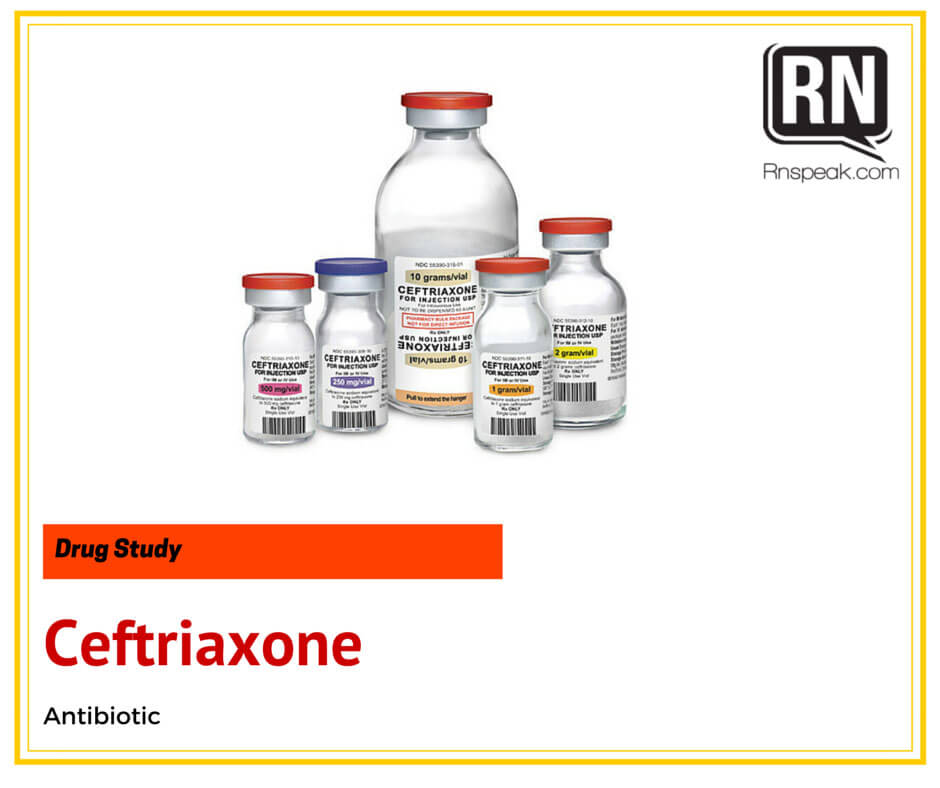 Generic Name:Ceftriaxone
Brand Name:Rocephin
Classifications:anti infective; antibiotic; third-generation cephalosporin
Pregnancy Category:B
Availability
250 mg, 500 mg, 1 g, 2 g injection
Actions  
Semisynthetic third generation cephalosporin antibiotic. Preferentially binds to one or more of the penicillin-binding proteins (PBP) located on cell walls of susceptible organisms. This inhibits third and final stage of bacterial cell wall synthesis, thus killing the bacterium.
Therapeutic effects
Spectrum of activity similar to that of cefotaxime including most Enterobacteriaceae, most gram-positive aerobic cocci, Neisseria meningitidis, and most strains of penicillinase-producing and non penicillinase-producing Neisseria gonorrhoeae. Has some activity against Treponema pallidum but none against most strains of Clostridia. Effectively treats bone and joint infections, gonorrhea and intra-abdominal infections, meningitis and lower respiratory tract infections, otitis media, pelvic inflammatory disease, Proteus infections, septicemia, skin and soft tissue infections, urinary tract infections, and is used for surgical prophylaxis, reducing or eliminating infection.
Uses 
Infections caused by susceptible organisms in lower respiratory tract, skin and skin structures, urinary tract, bones and joints; also intra-abdominal infections, pelvic inflammatory disease, uncomplicated gonorrhea, meningitis, and surgical prophylaxis.
Contraindications  
Hypersensitivity to cephalosporins and related antibiotics; pregnancy (category B).
Cautious use  
Lactation.
Route & Dosage 
Moderate to Severe Infections
adult:IV/IM  1–2 g q12–24h (max 4 g/d)
child:IV/IM  50–75 mg/kg/d in 2 divided doses (max 2 g/d)
Meningitis
adult:IV/IM  2 g q12h
child:IV/IM  75 mg/kg loading dose, then 100 mg/kg/d in 2 divided doses (max 4 g/d)
Surgical Prophylaxis
adult:IV/IM  1 g 30–120 min before surgery
Uncomplicated GOnorrhea
adult:IM 250 mg as single dose
child:IM 125 mg as single dose
Administration
Intramuscular
Reconstitute the 1 g or 2 g vial by adding 2.1 mL or 4.2 mL, respectively, of sterile water for injection. Yields 3.50 mg/mL. See manufacturer's directions for other dilutions.
Give deep IM into a large muscle.
Intravenous     
---
IV administration to infants and children: Verify correct IV concentration and rate of infusion with physician.
PREPARE intermittent: Reconstitute each 250 mg with 2.4 mL of sterile water, D5W, NS, or D5/NS to yield 100 mg/mL. Further dilute with 50–100 mL of the selected IV solution.
ADMINISTER intermittent: Give over 30 min.
Incompatibilities Solution / Additive:  aminoglycosides, aminophylline, clindamycin, lidocaine, metronidazole, theophyline.  Y-site:  aminoglycosides , amphotericin B cholesteryl complex, amsacrine, fluconazole, filgrastim, labetalol, pentamidine, vancomycin, vinorelbine.
Protect sterile powder from light. Store at 15°–25° C (59°–77° F). Reconstituted solutions: diluent, concentration of solutions are determinants of stability. See manufacturer's instructions for storage.
Adverse Effects
BodyWhole:Pruritus, fever, chills, pain, induration at IM injection site; phlebitis (IV site).
GI: Diarrhea, abdominal cramps, pseudomembranous colitis, biliary sludge.
Urogenital:Genital pruritus; moniliasis.
Nursing implications  
Assessment & Drug Effects
 Determine the history of hypersensitivity reactions to cephalosporins and penicillins and history of other allergies, particularly to drugs, before therapy is initiated.
 Lab tests: Perform culture and sensitivity tests before initiation of therapy and periodically during therapy. Dosage may be started pending test results. Periodic coagulation studies (PT and INR) should be done.
 Inspect injection sites for induration and inflammation. Rotate sites. Note IV injection sites for signs of phlebitis (redness, swelling, pain).
Monitor for manifestations of hypersensitivity . Report their appearance promptly and discontinue drug.
Watch for and report signs: petechiae, ecchymotic areas, epistaxis, or any unexplained bleeding. Ceftriaxone appears to alter vitamin K-producing gut bacteria; therefore, hypoprothrombinemic bleeding may occur.
Check for fever if diarrhea occurs: Report both promptly. The incidence of antibiotic-produced pseudomembranous colitis  is higher than with most cephalosporins. Most vulnerable patients: chronically ill or debilitated older adult patients undergoing abdominal surgery.
Patient & Family Education
Report any signs of bleeding.
Report loose stools or diarrhea promptly.
Do not breastfeed while taking this drug without consulting a physician.