Did you know that sub-Saharan Africa has the smallest number of nurses compared to any other part of the world? Did you also know that this small number of nurses has to take care of close to three-quarters of all persons living with AIDS in the world? In 2013, AmFAR (American Foundation for AIDS Research) assessed that 70% of all individuals living with Aids are in Sub-Saharan Africa.
This number incorporates 91% of all the infected kids on the planet. Despite the fact that this number has fundamentally expanded in the last year, the number of new infections is gradually diminishing.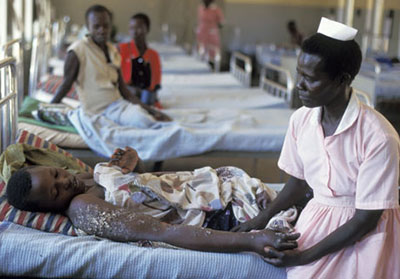 The above fact paints a picture of the immense task the nurses need to face in Sub-Saharan Africa. The discovery of antiviral (ARV) medications was a welcome relief for every person living with AIDS. However, it additionally implies that the human services suppliers particularly medical caretakers have more individuals to deal with. The ARV medications help to boost their immune system Thus, prolonging the lives of every patient.
Sub-Saharan Africa is not the best place for any attendant to work yet out of empathy and devotion to their kin and to the profession many nurses willingly take the ultimate sacrifice. However, this does not imply that things are simple for them. Earlier research published on the "Worldwide Health Sciences Literature Digest" showed that nurses in sub- Saharan Africa faced the following issues.
Poor Training. Unlike in the developed countries, the nature of instruction in numerous Institutions has kept on falling behind. As a consequence of this, the attendants in sub-Saharan don't get the right training that is required for them to perform their obligations. Imagine having to train in a laboratory that essentially an empty hall with few test tubes and burns and burners.
In most training institutions in Sub-Saharan Africa, the syllabus utilized is generally not cutting-edge and can't have the capacity to help the attendant stay aware of the developing patterns in the restorative world.
Lack of Equipment and Medication. As much as the medical attendants are ready to help these patients, without some vital supplies they can do little to offer assistance. This is obvious particularly in rustic parts of sub-Saharan Africa.
A large portion of the hospitals needs even the most essential medicinal gears. Prescription is likewise a huge issue, it's just in Sub-Saharan Africa where a doctor prescribes for your medication and you need to purchase them from a private pharmacy. This is unheard of in the rest of the world.
Inadequate Staff. The proportion of one medical attendant to patients in Sub-Saharan averages at around 1:23,000. Regardless of the possibility that this medical caretaker labored for 24 hours and seven days a week he/she couldn't even serve an eighth the patients. AIDS patients oblige more specific care so they will take up more time with the nurse.
This is also because with these patients, the nurse often doubles up as their counselor. Having this at the top of the priority list, what number of patients would an extremely persevering medical caregiver serve working on a normal shift.
Lack of safety assurance for the attendant. In most hospitals in Africa, medical nurses are not furnished with the essential defensive materials while taking care of these patients. HIV/AIDS can be transmitted through the interaction of the patients' blood and that of the attendant. In the event that accidentally the medical caretaker prick herself with a syringe utilized on an HIV/AIDS patient, her risks of getting tainted would be high.
This is common knowledge yet no one is by all accounts worried about it and in many circumstances, you find these nurses handling the patients so casually. This is on the grounds that they fail to offer the obliged surgical gloves. Even by any chance, all protective measurements are taken there is still a possibility of accidents. In the event that one happened, getting post-exposure medication in the required 72 hours might be a tall order. How many nurses in other parts of the world would be willing to take a chance with that?
Poverty. Neediness can be effectively reprimanded for all inconveniences in Africa however there are a few circumstances where it can be legitimate to do so. The larger number of individuals in Sub-Saharan Africa live beneath the poverty line. Nurses are not an exception to this since they are confronted by comparable financial hardships. Poverty has a negative influence on the way we perform at work.
Imagine having to go to work daily with your head full of basic needs problems like rent and bad living conditions. It would take extreme effort for you to concentrate on your work A medical caretaker would hope to take home anyplace in the middle of $10,000 and $12,000 every year which is small contrasted with more created nations.
Traditions. Notwithstanding it being the 21st Century numerous groups in Africa are still fastened to conventional convictions. HIV/AIDS is seen as a curse in most African social orders and ascribed to shrewdness. As an aftereffect of this, the vast majority who are infected would prefer not to come in the open for fear of criticism. The medical caretakers may be exceptionally eager and ready to help yet they can't help individuals who won't acknowledge their condition.
Despite the global goal of getting rid of the AIDS menace by the year 2030, more still needs to be done to improve the plight of Nurses in sub-Saharan Africa since they have the biggest role to play in the campaign against AIDS. Better remuneration and good working conditions would be a good starting point.
The relevant government institutions should also work to improve the training standards in medical training Institutions. With enough effort the possibility of removing this thorn in the flesh of humanity is very realistic.