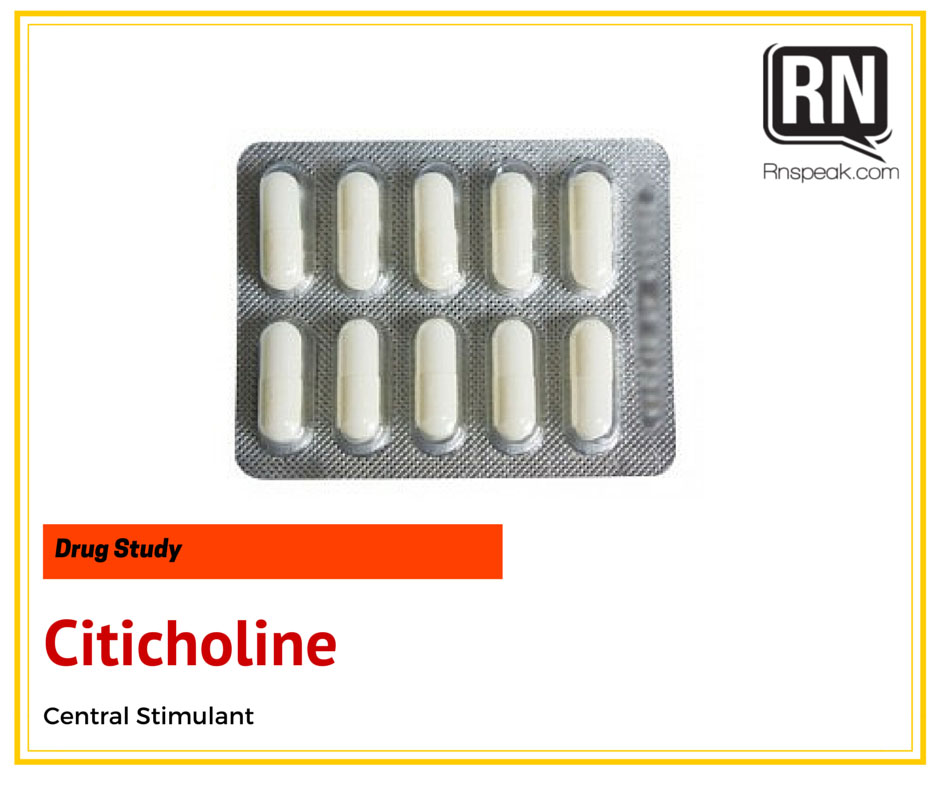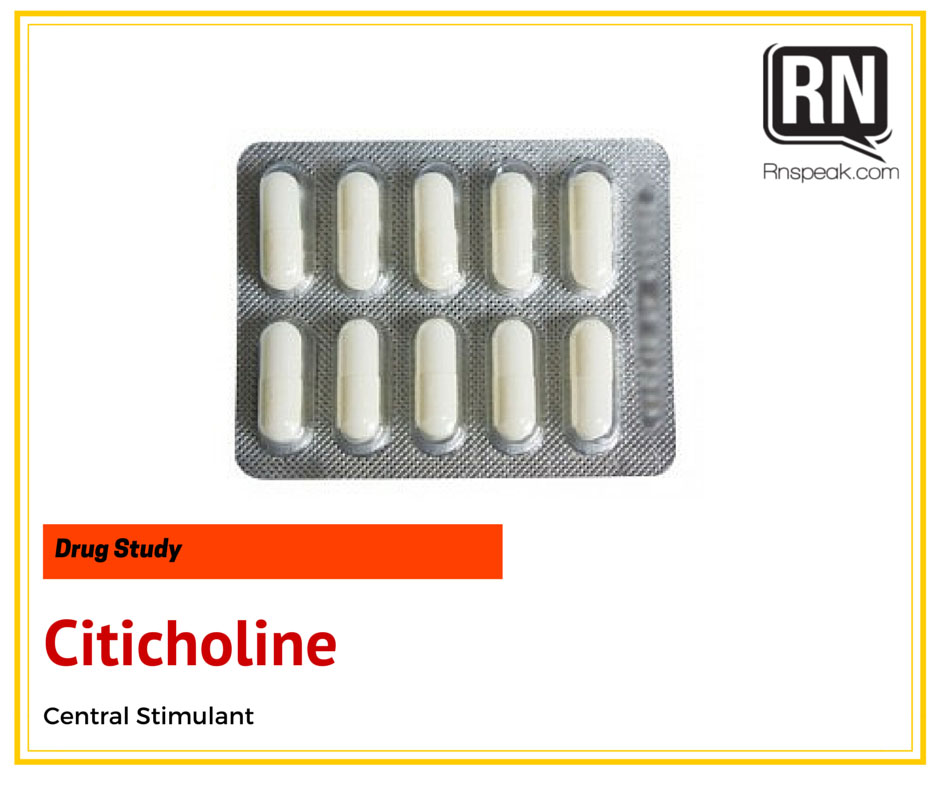 Citicoline, also known as Cytidine 5′- diphosphocholine and CDPCholine, is an endogenous nucleotide naturally found in the body where it is an essential intermediate in the synthesis of the major phospholipid of the cell membranes, phosphatidylcholine (Fioravanti &  Buckley, 2006).
The biological activity attributed to citicoline has suggested a possible role of citicoline on improving memory (McDaniel, 2003). Scientific studies have indicated that citicoline increases brain activity which can combat age-related changes in the brain and has found effective in maintaining normal cognitive function with aging
Generic Names
Citicoline
Citicolina
Citidoline
Cytidine diphosphate choline
Cytifin(5′)diphosphocholin
Citicoline Sodium
Brand names
Cognizin
Somazine
Recognan
Neurolin
Cholinerv 
Chemical Name
Cytidine 5′-(trihydrogen diphosphate), mono[2-(trimethylammonio)ethyl] ester, hydroxide, inner salt
Therapeutic Categories
Central stimulant, Nootropic agent
Mechanism of Action
Citicoline consumption promotes brain metabolism by restoring phospholipid content in the brain and regulation of neuronal membrane excitability. It also influences the mitochondria or energy factories of the brain cells and found to improve memory function. After several clinical trials, Citicoline has been shown to raise the amount of acetylcholine in the brain. 
Indications
Cerebrovascular diseases – e.g. from ischaemia due to stroke, where Citicoline accelerates the recovery of consciousness and overcoming motor deficit.
Head Trauma of varying severity: In a clinical trial, Citicoline accelerated the recovery from post-traumatic coma and the recuperation of walking ability, achieved a better final functional result and reduced hospital stay.
Cognitive disorders of diverse etiology – e.g. senile cognitive impairment which is secondary to degenerative diseases (e.g. Alzheimer's disease). Citicoline improves scores on cognitive evaluation scales and slowed the progression of Alzheimer's disease.
Parkinson's disease – Citicoline has also been shown to be effective as co-therapy for Parkinson's disease. Beneficial neuroendocrine, neuroimmunodulatory, and neurophysiological effects have been described.
Forms and Dosage
PO: The recommended dose is 200-600 mg/day in divided doses.
IV/IM – The recommended dose is up to 1 g/day.
Pharmacokinetics
Citicoline is metabolized to yield the free nucleotide uridine and choline. Both elements cross the blood-brain barrier, become incorporated into brain membrane phospholipids and increase the production of neurotransmitters in the central nervous system, including the synthesis of acetylcholine, noradrenaline and dopamine.
Bioavailability
More than 90%
Peak
Plasma levels peak one hour after oral ingestion.
Excretion
Majority of the citicoline is excreted as CO2 in respiration, and again 24 hours after ingestion, where the remaining citicoline is excreted through urine.
Drug Interactions
It increases the effects of Levodopa. It must not be used with medicines containing meclophenoxate or centrophenoxine.
Side Effects
Fleeting and discrete hypotension effect
Increased parasympathetic effects
Hypotension
Itching or hives
Swelling in face or hands
Chest tightness
Tingling in mouth and throat
Headache
Nausea
Diarrhea
Blurred Vision
Contraindications
Hypersensitivity
Patients with hypertonic of the parasympathetic.
Precautions
For patients with acute, severe and progressive disturbances of consciousness due to head injury and brain surgery.
In case of persistent intracranial hemorrhage, the very slow administration (30 drops/minute) is recommended because the administration of larger doses could provoke an increase of the cerebral blood flow.
Citicoline may cause hypotension and in case necessary the hypotensive effect can be treated with corticosteroids or sympathomimetics.
Pregnancy & Lactation
There are no adequate and well controlled studies of citicoline during pregnancy and lactation. Citicoline should be used during pregnancy only if the potential benefit justifies the potential risk to the fetus. Caution should be exercised during breast feeding because it is not known whether citicoline is excreted in human breast milk.
Nursing Responsibilities
Instruct patient to take the medication as prescribed.
Teach the patient that citicoline may be taken with or without food.
Monitor for adverse effects; instruct patient to report immediately if he/she develops chest tightness, tingling in mouth and throat, headache, diarrhea and blurring of vision.
References:
Citicoline (n.d.) Retrieved from http://www.drugs.com/international/citicoline.html.
Citicoline (Ceraxon) Drug Information – Indications, Dosage, Side Effects and Precautions (n.d.).Retrieved from http://www.medindia.net/doctors/drug_information/ citicoline.htm#ixzz378wmysaB .
Fioravanti, M. and Buckley, A. (2006). Citicoline (Cognizin) in the treatment of cognitive impairment. Retrieved from http://www.ncbi.nlm.nih.gov/pmc/articles/PMC2695184.
Kamiya, T. (n.d.). Citicoline: The Potential to Enhance Memory. Retrieved from http://cognizin.com/articles/citicoline-the-potential-to-enhance-memory.