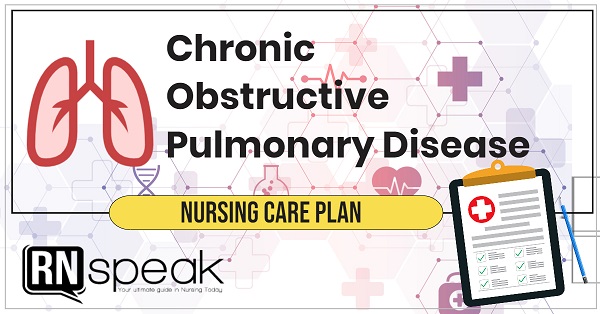 Let's take a different turn in figuring out how to manage patients with Chronic Obstructive Pulmonary Disease. This nursing care plan is not in table format so that you may learn the art of making a plan on your own. This is only a guide wherein you will be efficient in your nursing care.
Case History:
Z.G. has a 5-year history of chronic obstructive pulmonary disease. He has made multiple hospitalizations with several episodes of being intubated for mechanical ventilator support. He has a smoking history of 50 pack years.
Five days PTA, patient experienced intermittent headache located at the left occipital area and shortness of breath at rest. He took ibuprofen for his headache and had his oxygen supplementation at home and nebulization of salbutamol, minimal relief was obtained.
His shortness of breathing wasn't resolved with his oxygen supplementation for several days. Two days PTA, his eldest daughter noticed that he had non-productive cough accompanied by difficulty of breathing which was claimed by his father to be triggered by smoke from cooked barbeque.  He continued to be on oxygen supplementation and took 1 tablet of Prednisone in 20mg/tablet. He also took salbutamol expectorant with amount unrecalled.  His eldest daughter also claimed to have seen his father had two episodes of nebulizing 1 nebule of salbutamol with 30-minute interval.
The patient asked her daughter to bring him to the hospital due to his worsening symptoms, however, his eldest daughter didn't urgently brought him into the hospital due to financial constraints.
Four hours PTA, his difficulty of breathing worsened and he was eventually brought at the out-patient department but eventually advised for admission.
I. Nursing Assessment:
Note for the number of times the patient has experienced such exacerbation in a year. "The best predictor of having frequent exacerbation of two or more per year is a history of previous treat events." (Global Initiative for Chronic Obstructive Lung Disease –  2014 Update)
Assess for past medical history such as:
Cardiovascular diseases, osteoporosis, depression and anxiety, skeletal muscle dysfunction, metabolic syndrome and lung cancer. As these can affect the response to management of care and multi-disciplinary treatment.
Assess in the physical examination and review of systems:
Dyspnea –As it can be exhibit by progression over time and persistent.
Chronic cough – patients may claim of intermittent, sometimes non-productive cough may ensure
Chronic sputum production – Patients with COPD may complain of purulent sputum.
Other signs and symptoms:
Clubbing of nails
Cyanosis
Cold and clammy skin
Change in mental status
Air hunger or gasping
 4.  Assess for environmental/ lifestyle factors:
Smoking – This is the most common culprit of COPD
*however there are people who are non-smokers that can develop COPD in their adult life.
Exposure to smoke – This can be initially interpreted as allergic reaction, however its persistence may signal a present COPD.
Family history of COPD – Lung capacity can be related to each member of the family, if someone has a weak lung, assess for other members of the family.
Occupational history – exposure to dust, chemicals and pollution can affect the lung capacity
II. Nursing Diagnosis:
Ineffective airway clearance related to exposure to smoke.
Impaired gas exchange related to decreased oxygen supply.
Activity intolerance related to decreased oxygen capacity of the lungs.
III. Nursing Outcomes:
The patient will be able to achieve clear and patent airway.
The patient will be able to improve the oxygenation status as manifested by good oxygen perfusion on the tissues.
The patient will be able to tolerate daily activities without episodes of dyspnea or respiratory distress.
(COPD Care Plan) Nursing Care Plan Chronic Obstructive Pulmonary Disease 
IV. Nursing Care Plan / Nursing Intervention – Chronic Obstructive Pulmonary Disease
Independent nursing activities:
– Monitor the patient closely in your care.
– Assist the patient to perform daily activities with lesser energy expenditure.
– Note for signs of hypoxia such as air hunger, change in sensorium, use of accessory muscles in breathing, orthopneic breathing, cold and clammy extremities
– Counsel for the need of smoking cessation and assess for presence of knowledge gaps and eventual change of habits if the patient has trouble with smoking.
Dependent nursing activities:
– Follow proper timing for medications especially for antibiotics in order to achieve the maximal reduction effect of antibiotics if COPD is accompanied with infection as well as in giving bronchodilators, mucolytic agents and corticosteroids.
– Document the response of the patient to pharmacologic therapies
Collaborative nursing activities:
– Assist the patient during spirometry.
– Assess for knowledge about the procedures before the actual session.
– Coordinate the schedule of each member of the health care team in order to reduce the energy expenditure of the patient thus preventing undue fatigue.
V. Nursing Evaluation:
Daily monitoring of pulmonary function must be done. Patients with COPD may need much assistance as much as possible in terms of oxygenation, moving around and all basic needs a patient have.
Assess for sterility and cleanliness of the bedside in order to make sure control of infection or allergic reactions.
Patients who are intubated may need proper turning from time to time in order to prevent stasis and bed sores. If conscious, a bell or white board may be needed in order to communicate their needs to the folks and to the nurse on duty.
References
Global Initiative for Chronic Obstructive Lung Disease – 2014 Update

Lippincott's Review Series – Medical and Surgical Nursing