A 19-year-old woman, who was identified as Tashia James, was arrested for racially discriminating a Filipino nurse in Toronto, Canada.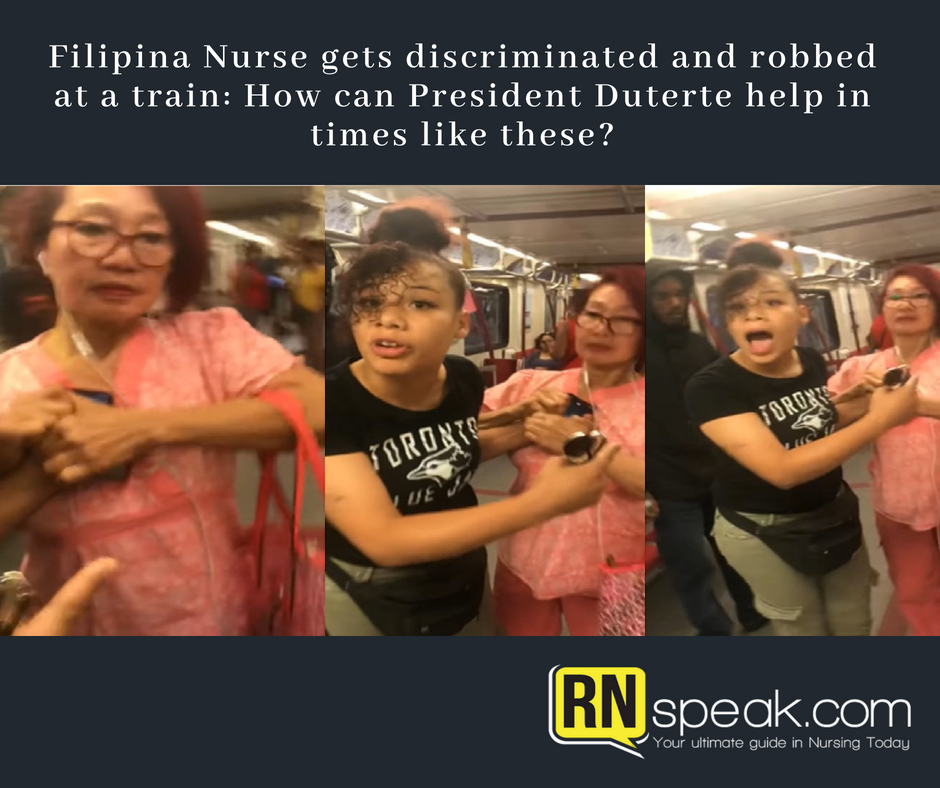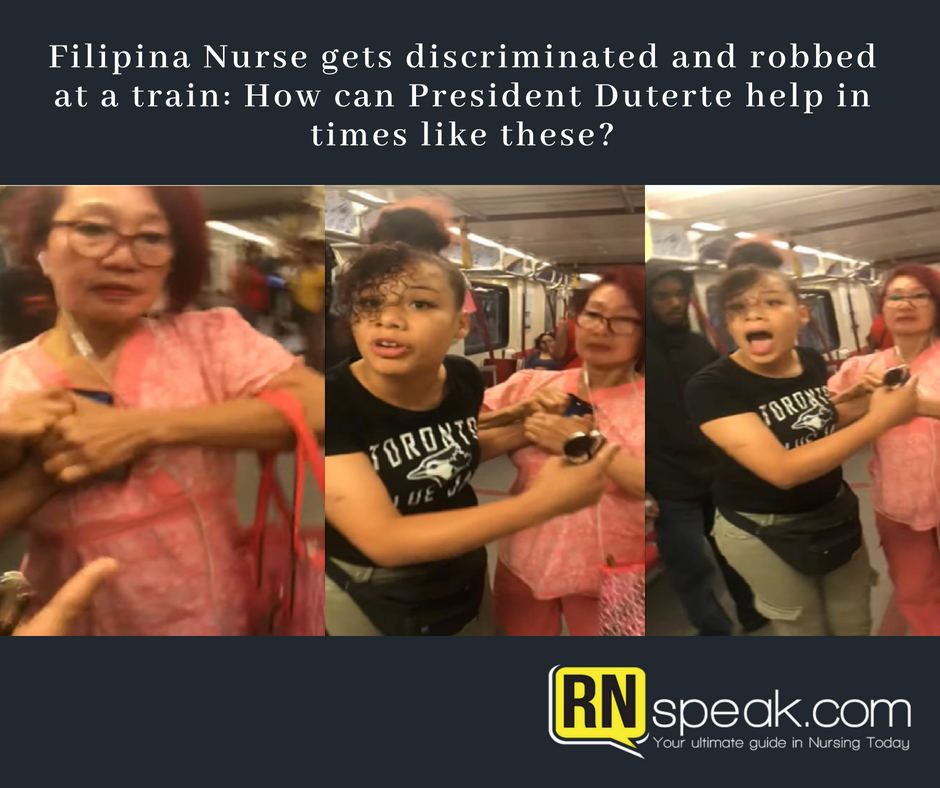 A video was taken by a fellow passenger who later on told CTV News Toronto that a woman in a black shirt argued with a woman in a pink scrub suit inside the subway car near Eglinton West Station.
According to the witness, the bickering started with the suspect asking two Filipino-Canadian women for a cigarette.
One of the Filipino-Canadian women, Marilyn Quijencio, said that the suspect became aggressive when she was denied of a cigarette.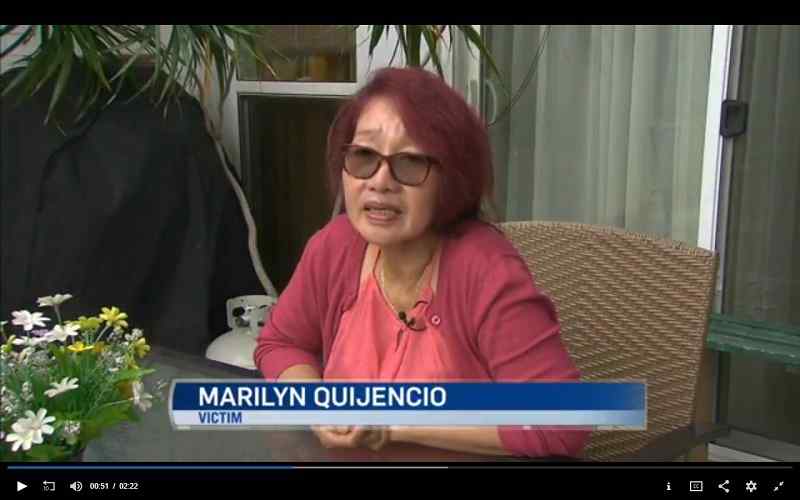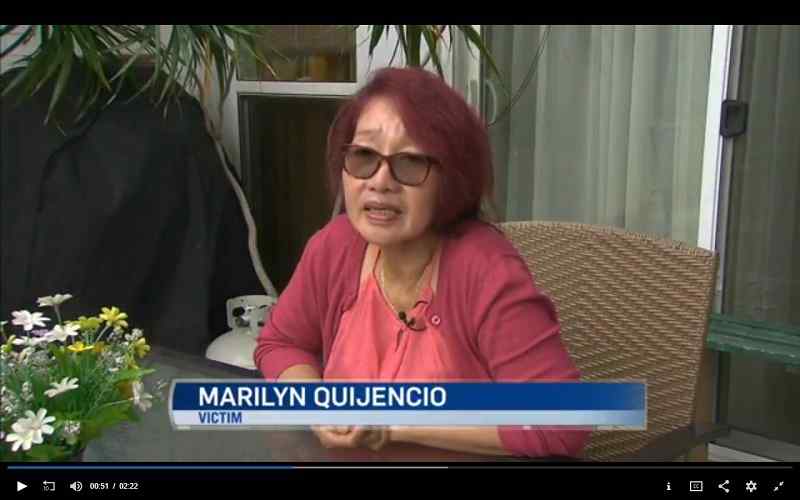 Quijencio even said to James, "Go to work, so that you have money."
This triggered James and made her utter racial spurs against the two women. James was heard calling Quijencio an immigrant and that she should go back to China.
Quijencio said that she was told, "You f*** immigrant, go back to China."
At one point, Quijencio took her phone close to her eyes as she was trying to switch the music she was listening to, so she had to hold her phone high.
This was when James thought that Quijencio was filming her so she grabbed the victim's phone and this was when the concerned passenger, Margaret Anthony, approached them.
"Where do you think you're going? Stop assaulting her (Quijencio)! Leave her alone! Don't touch her!" Anthony could be heard saying off-camera.
Anthony threatened to call the police but was ignored by James. This prompted Anthony to pull off the emergency alarm, however, when the doors opened, James ran onto the platform with Quijencio's phone.
"I just want her to delete the video," James said while directly looking at the video taken.
"You told her to go back to China? You're racist and that's wrong!" Anthony added.
The video was posted last July 29, 2018, and received various reactions from people.


Other comments even questioned James' being black who might not get reprimanded for what she did:


"She ran faster than me. After that, I never saw her again." Quijencio added.
The suspect on the incident surrendered to the police authorities last Wednesday. It was then known that Tashia James had no fixed address and she was charged with robbery and failure to comply with probation.
The police added that Quijencio's phone was thrown away after James could not figure out the password to access her [Quijencio's] phone.
Quijencio said that the phone is the least of her concerns and that she hopes for the best for the woman who attacked her.
"She has to learn from her mistake. She should take a look at herself and where she comes from. She's not a pure Canadian. She's also an immigrant like me." Quijencio told the CTV News in one interview.
At times like these, what could the Philippine government do to protect one of its own?
In one of President Duterte's speech for the 32nd ASEAN Summit, he said that the Filipino people are assured that they are working for the protection of OFWs like Marilyn Quijencio.
"Rest assured that your government will take every opportunity and use every available venue to uphold and protect the rights of our countrymen working abroad." President Duterte said.
On President Rodrigo Duterte's third State of the Nation Address (SONA) at the Batasang Pambansa Complex last July 23, he directly addressed the OFWs and promised to protect their welfare.
President Duterte even thanked the OFWs for their "selflessness and courage" in working on foreign lands which they are not familiar of, "day in and day out".
"We admire our Filipino migrant workers for their selflessness and courage in enduring the hardships of living away from home to provide for their families," Duterte said in his speech.
President Duterte even added, "I am a worker of government. And it is my vow to make sure that your (OFWs) well-being remains our foremost foreign policy concern."
But also in one of his speech in Iloilo, President Duterte also said that he would be extending his ban on sending workers, not just in Kuwait, but also in other countries. Banning OFW from going abroad may cut the only lifeline they have and even leave their families with an empty stomach.
"We are doing an audit now (to) find out the places where we deploy Filipinos and our countrymen suffer brutal treatment and human degradation." The President said in one of his speech in Iloilo.
This was the President's response to an OFW who was killed in Kuwait. There are over 2 million Filipinos working in Kuwait and other Middle East countries, but there are also many cases of abuse reported in other parts of the world.
A number of projects had been done by the administration for the OFWs such as an agreement between Kuwait and the Philippines, various livelihood programs, local job opportunities for those OFW who have returned to the country, one-stop-shop centers, an OFW Bank, OFW ID, but where are the programs for the protection of other OFWs, including nurses, in other parts of the world?
Filipino nurses are highly prized for their skills and compassion at work.
Filipino nurses are well trained in English, hardworking, and they come from a country with a culture of taking care of their sick family members.
Filipino nurses are being recruited and hired with various benefits starting from free airfare. Some are even offered thousands of dollars just to relocate to foreign lands.
Banning OFW may not just be the best solution to protect these workers. There must be other solutions that the current administration may come up with, to protect the welfare of Filipinos working abroad. We hope that these changes may not snatch the lifelines of the many families of the nurses. We hope that these changes, maybe felt already after 3 years under the administration and that the nurses abroad may be given enough protection against discrimination and untoward treatment against other nations.