It's been few days pass 2015, and people definitely had their resolutions. But have you wondered what New Year resolutions would nurses have this year?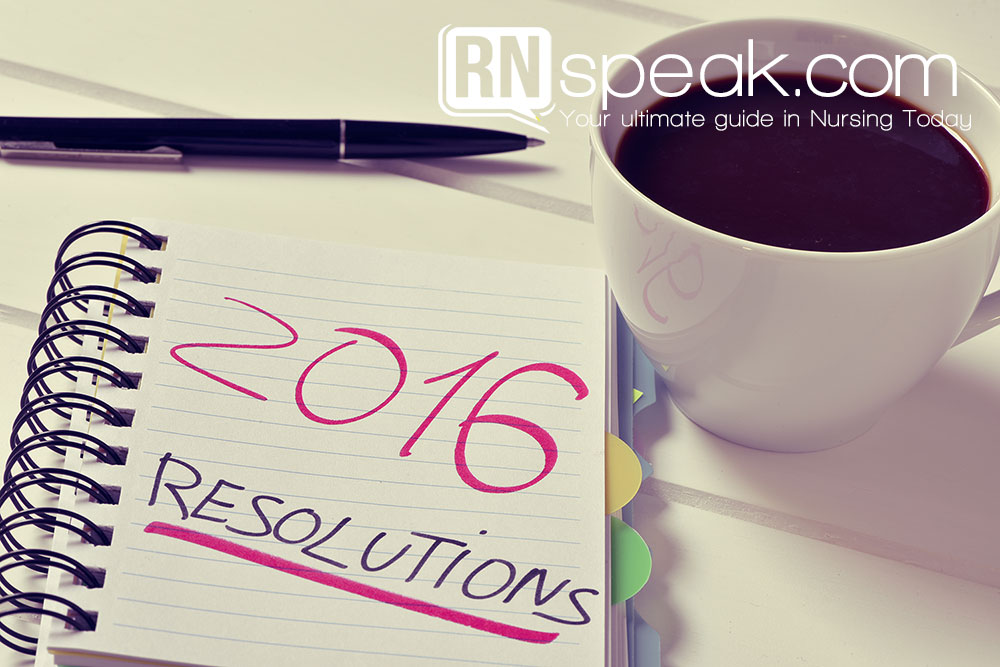 Here's a combination of simple and complex resolutions that nurses often wish to attain every year.
Start the year right, so start on time!
            There are limitless reasons we can use to explain why we are late. However, its 2016, clichés are no longer accepted. By this time, you definitely have a cellphone! So might as well set your alarm an hour earlier than your target wake-up time. And instead of just letting it snooze by its own, set the alarm repeatedly with a 5 minutes interval. This way, even though you've hit the alarm and accidentally fell asleep again, it will still wake you up until you realize that you need to feed yourself and pay your dues. A nurse's idea of "One-Time" should be "Before the Time" and not "After the Time".
Love your patient by becoming patient
            Having a good relationship is very important in health care industry, for this will facilitate teamwork. Therefore, try to lengthen your patience, especially among elder clients. We need to understand that these people are facing two important problems. First is their health condition and its symptoms that can be as worst as the previous. Therefore, you need to adjust and allow them to cope in order to avert conflicts. Second, not all patients can understand our language. Meaning, regardless of how good we try to explain their condition, they may not be able to completely understand what's going on in their body. Thus, its add ups to their frustration. These circumstances would profoundly need our patience and understanding.
Smile, even just for a while 
The number of muscles used for smiling and frowning haven't been confirmed until now. In fact, based on some studies, smiling actually requires 10 muscles while frowning requires only 6 muscles. Looking at these numbers, it looks like frowning requires less effort. However, before you dismiss this theory, you might want to consider "Law of Attraction". If we smile more during work, we tend to attract positive energy, which translates in to a lighter environment. Aside from this, our co-workers will likely feel the same way. Just like virus, it can also spread fast!
 Lend your ear more
            We've been doing a lot of explanation everyday, especially when our patients are clueless about what's happening in their body. But sometimes, it is helpful to listen to them more. Listening allows us to know them better. We may discover things that cannot be identified thru laboratory exams, or cannot be diagnosed by the most innovative machine. This could be a means for us to identify intangible factors that may be the actual a root cause of everything.
Now, it's time to dig deeper!
Our profession is life-long learning because of constant changes. This implies that we also need to contemplate about excelling in our profession. Here are resolutions you might want to consider.
Look for your teacher
            It is best to learn from experience, but this should not be limited to our own experiences. Looking for a mentor would help a lot because they can share experiences that may equip you to become better. In fact, during our novice years, senior nurses would offer help and check on us from time to time. Having a mentor even though we're already seasoned is also not a bad idea, but this time their approach is different. Mentors of seasoned nurses could be those you held high positions in the hospital. These people can teach and train us in becoming a great leader in the future.
Get involved and join nursing organizations   
            Joining professional nursing organizations is a great means to learn and expand our knowledge on the current needs of this industry. In addition, organizations such as American Nurses Association, can protect us by increasing our awareness on the rights and freedom we're entitled as health care professional. This can save us from being sued.
Promise to UPGRADE your SOFTWARE
If you wish to be promoted or get better opportunity, then do an upgrade on your education. Upgrade to Bachelor's, Master's, or Doctorate degree! This helps you widen your opportunity and gives you more options to choose from. In fact, you can also work in different setting, like the academe. Another way of upgrade is though enhancing your skills set. Today, specialties that are in demand are in intensive care, emergency nursing, operative nursing, telemetry, labor and delivery, neonatal intensive care, dialysis, and perioperative and operative nursing.
There are infinite resolutions we can do, but regardless of its number, the most important thing is to actually start doing it. A great plan will never be successful unless you start putting actions and let the experience hone you, as you become the most efficient nurse that you can be. Don't doubt yourself, you've already made it this far.