You can never find a career as rewarding as the Nursing career. Nurses are humans too, we get tired, waking up at 4am in the morning every single day, and getting called up in the middle of the night while we are sound asleep is already torture. We love our jobs, but the responsibilities that come with it is definitely heart wrenching and physically draining at times. Heart wrenching in the sense that we meet and encounter so many emotions and stresses everyday that we become almost always immune to it already. A multimillion quota for a salesman, or a thousand of employees under your leadership as a CEO does not come close with all the stresses that we face everyday.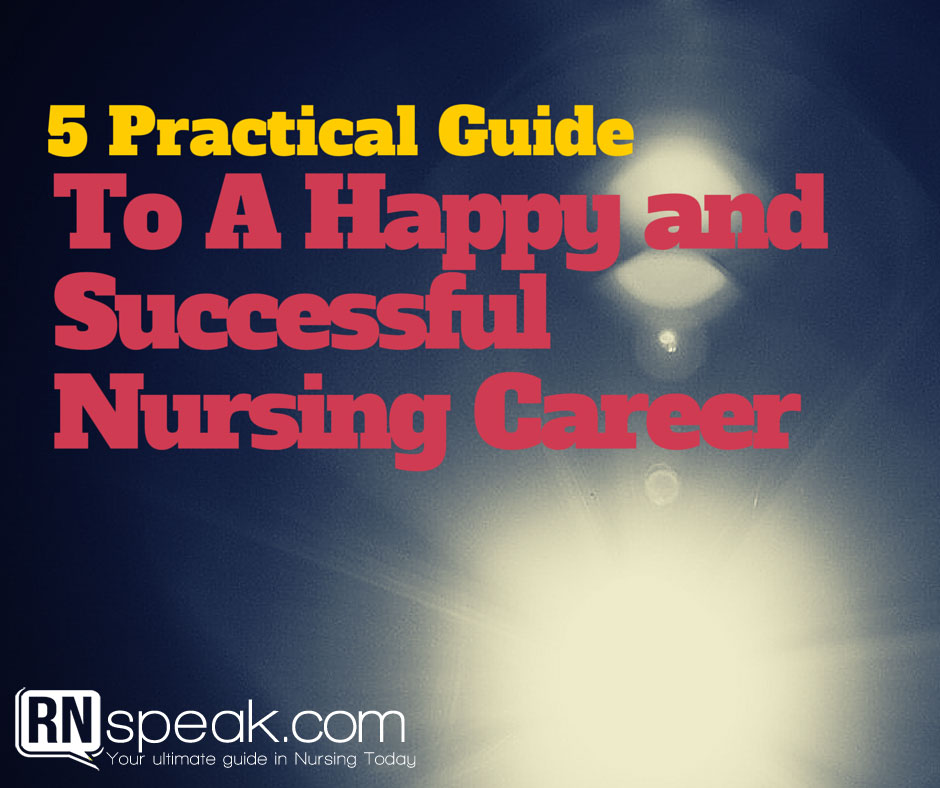 This might be very cliche, but my mother will always say, that at the end of every tunnel there will always be light, good thing, if you maintain to be positive and happy, that long tunnel will stay bright, and as we find the end, there will always be fireworks waiting for us. That light along the long way may become dimmer and dimmer everyday as we feel the exhaustion and the stress, so as we go through it, how do we really keep the light on shining bright? Here are some practical tips to make your nursing career happier.
Set Goals
Do not do anything without an end goal attached to it. As you finish reading this article. Get a time off, and think of what you really want. Do not get pressured of all your nurses friends who have gone abroad already, reaping all the efforts. Be focused on YOU and release all the distractions. Your everyday efforts will be useless if you don't have goals attached to it. Here are sample goals that might lead you in forming your own:
Before I am 30 years old, I should be a head nurse of this hospital already. In order to do that I should be assigned to at least 3 special areas and become an area head nurse at the age of 27.
I should be earning at least 100,000 pesos a month already at the age of 30 years old, in order to do that I should flawlessly finish my 5-year experience in this hospital and pass all the exams needed for my UK nurse career, or wherever place that offer the rate or better.
I should be travelling the world before I am 40, in order to do that I should be in the US, most preferably New York as a dialysis nurse by the age of 35, and save enough for investments and travel with my whole family.
Try to visualize what you want everyday by placing images in your room, or in your smartphone, so you will get that needed inspiration.
Look Forward to Something Every Week
Your goals are long term goals, so make sure that you know what to do in order to get to that goal. You have to identify your everyday activities in order to make sure that you are getting to that goal.
Here are samples that might help you.
In order for me to pass that prometric exam, I should be familiar with at least 2 nursing topics and 2 common diseases and their interventions this week.
I should get an all 7 score in IELTS so I should be enrolled by first week next month already after saving enough for the exams and the training.
These are specific activities or goals that you should have every week or every month, short term and precise but will definitely bring you to your long term goal.
Know What You are Worth
It is actually all about knowing what you are worth, and making sure that you are doing this for YOU alone and the other people around (Your patients and Family) will benefit from it because you know that they will be along the way. Know what is the limit of your capabilities as well. It is great that you are doing the best that you can to get to what you want. Take care of your health while doing all the things that you must do.
When Its time Off, It's Time Off
So, how do you really make sure that you are holistically healthy and emotionally sound while you are hammering your way to your goals? One word, BALANCE. make sure that you still have enough sleep and healthy activities when you are on a day off. Do not go to the hospital if its your rest day but get some needed rest, or any activity that will recharge your system again. Correct mindset is actually a big factor.
Correct Mindset: I should rest enough and recharge well for my goals next week.
Wrong Mindset: I wish I should have longer days off.
Always remember, one positive thought beats all the negativity inside you.
Travel and Relax
A local travelling period of at least 3 days off from a long 6 month work period will also definitely feed not only your soul, but also keep your heart and mind in sync with what you want. The places that you go to will give you peace that you don't actually find at work, it will make you look forward to another trip that you want to go to when you back to work, giving you that urge to just finish what you are doing and get to it as soon as possible. That is actually inspiration to get you getting up and work everyday.
Always remember that being a nurse is such a blessing, it is a calling that is not given to many, a privilege that is given to people who really have the heart for it. It does not really have to be a self sacrificing, and tiring work if you just know what you are really intended for.
My next article is all about nurses who made it already, and made life so much more colorful for them while they are making a great difference in the health care industry.