Overseas nurses are now able to work for the UK without having to run through all the tedious work.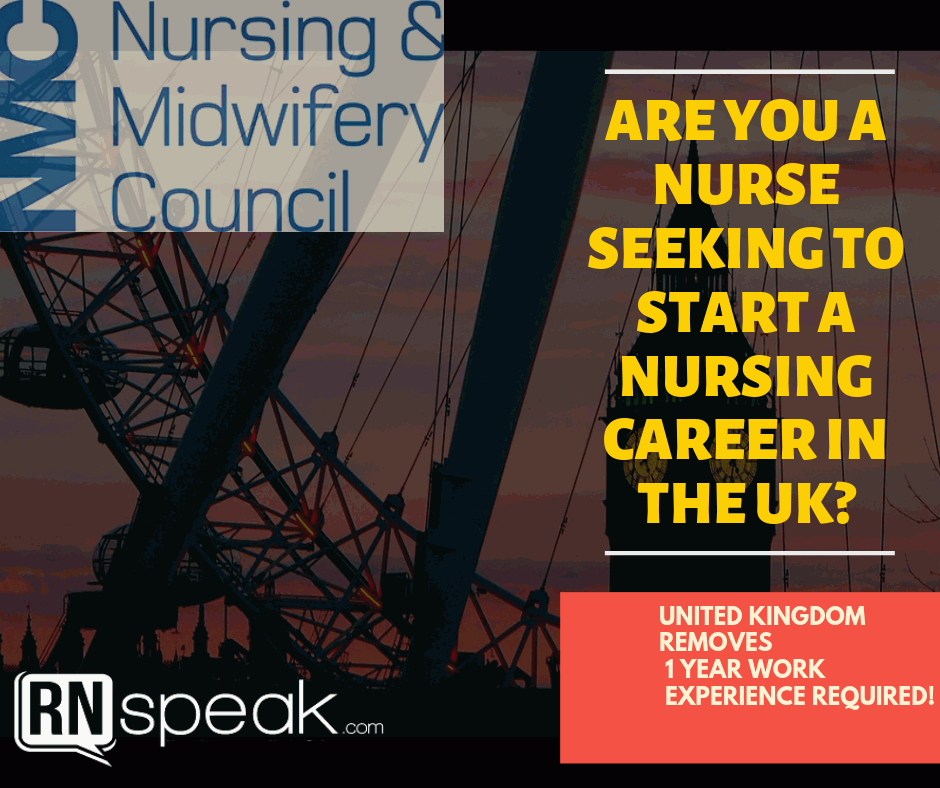 Any registered nurse wanting to work in the UK must abide by the procedures required by the Nursing and Midwifery Council (NMC). However, this year, NMC have removed one part of the process which makes it a lot faster to apply as a nurse in the UK.
For instance, NMC has introduced improved guidance and has given supporting materials for applicants so that they can prepare as intensively as possible to meet the NMC requirements.
Emma Broadbent, the Director of Registration and Revalidation at the NMC said:
More than 65,000 nurses and midwives from outside the EU deliver first-class care to millions of people across the UK every year and they are a vital part of our health and care workforce.
---
"This change will remove an unnecessary barrier, making it as simple and straightforward as possible for highly skilled nursing and midwifery staff to join the workforce."
---
A spike in the number of overseas nurses from outside the EU joining the UK register has been noted by the NMC. The latest data presented by the NMC was an increase in 86% of nurses and midwives joining the UK registry just last July.
An average of 440 applicants each month have joined UK registry compared to the 237 applicants for the previous months.
Are you interested working in the UK? Here is an overview on how to join the UK register:
Since October 2014 until recently, the only way to work for UK is through NMC's 2-part application process. The application for nursing (or midwifery) is £140.
Part one involves a computer-based multiple-choice examination that is accessible to many parts of the world for foreign applicants. This costs £130. Part two is a practical objective structured clinical examination (OSCE) which is always held in UK. This costs £992. An additional of £153 is for the admission into NMC's register. A total of £1415 must be prepared for applying.
These tests of competence require extensive preparation, hard work and study to make sure one is equipped with the right knowledge, understanding, and application of skills at the right level.
Here are the list of some Specific Exam Blueprints
General Nursing
Children's Nursing
Learning Disabilities Nursing
Mental Health Nursing
Midwifery
All nurses are expected to be able to show competency and professionalism when responding to the needs of their patients.
Example: A children's nurse must also be able to cater to the needs of a pregnant woman or someone who has physical disabilities. A children's nurse must be able to be versatile and competent when it comes to working.
Example: An ICU nurse must also be able to show care and respond to the needs of a patient with dementia or someone who needs help with mental health needs. An ICU nurse must be useful even outside the ICU and be available in times of need.
Once the application is eligible, they will now be asked to take the test of competence.
The Two-Part Application Process
Part one – Computer Based Multiple Question
As mentioned above, the first test (CBT), is a multiple-choice examination and can be taken anywhere in the world. Applicants will need to contact Pearson VUE, the test provider, in order to book and pay for the said examination.
For more information on the first part, please visit this link: https://www.nmc.org.uk/globalassets/sitedocuments/registration/candidate-information-guide-toc-part-1-pearson-vue.pdf.
Part two – Practical Objective Structured Clinical Examination (OSCE)
In the OSCE, nurses will act out scenarios in which nurses would assess, plan, carry out, and evaluate care. Each examination will have stations and applicants will visit each station at a designated time. There will be six stations, with a panel of examiners observing the candidates with a standardized set of criteria. The following universities are the currently approved OSCE centers:
University of Northampton
Oxford Brookes University
Ulster University
This two-step process is summarized as follows:
Applicants take the first part in the competence test which is CBT and can take this twice as part of one application but has to wait 28 working days in between retakes.
If the applicant is still unsuccessful in their second take, their application will be closed and will be required to wait for another six months before being eligible for another registration again.
For applicants who passed the CBT, they must then proceed to the second part, which is the OSCE. An applicant can retake OSCE up to three times in one application.
If he/she fails the first OSCE, they must wait for 10 working days in order to retake the test.
If he/she still fails on the second try, they must wait for a minimum of three months from the date of their second exam.
If by the third take, he/she still fails the OSCE, their application will close. The applicant must wait for a minimum of six months before taking the OSCE again.
Applicants are also required to undergo a face-to-face identification check on the day of the OSCE exam. NMC will make a final check on the applicant's registration as well as photographs for their records. This identity check is only done once NMC contacts the applicant.
Previously, this tedious process requires nurses to have a 12-month experience of work after qualifying before being able to apply to work in the UK. However, NMC have removed this step so that applicants can apply to join the register immediately after qualifying.
Under the new rules, applicants from outside UK will still be required to supply sufficient evidence that they have the necessary knowledge of the English language. Here are the number of evidence NMC will be accepting:
Achieving the required score of NMC in one of their English language tests. An applicant must reach the required score for each of the four skills: reading, writing, listening, and speaking.
A recent pre-registration qualification which was taught and examined in English.
Registration and practice of at least one year in a country where the English language is the first and native language.
All applicants are subject to these stringent tests in order to ensure a competent nurse or midwife in the UK.
Additionally, these changes done by the NMC provide a speedier registration time frame for a nurse or a midwife wanting to apply in the UK. As NMC removed the 12-month experience, ample time is given for an applicant to better prepare for necessary registration requirements.
There are several reasons to work as a nurse in the UK. Take note, UK has some of the world's leading hospitals and centers that offer great professional development opportunities. It would also be easy to fit in as their language is English. No one has to learn a new language just to be able to adapt!
Want to know more about UK's nursing application?
See Also
---
Do you have any concerns or suggestions regarding the process above? Don't hesitate to reach us!