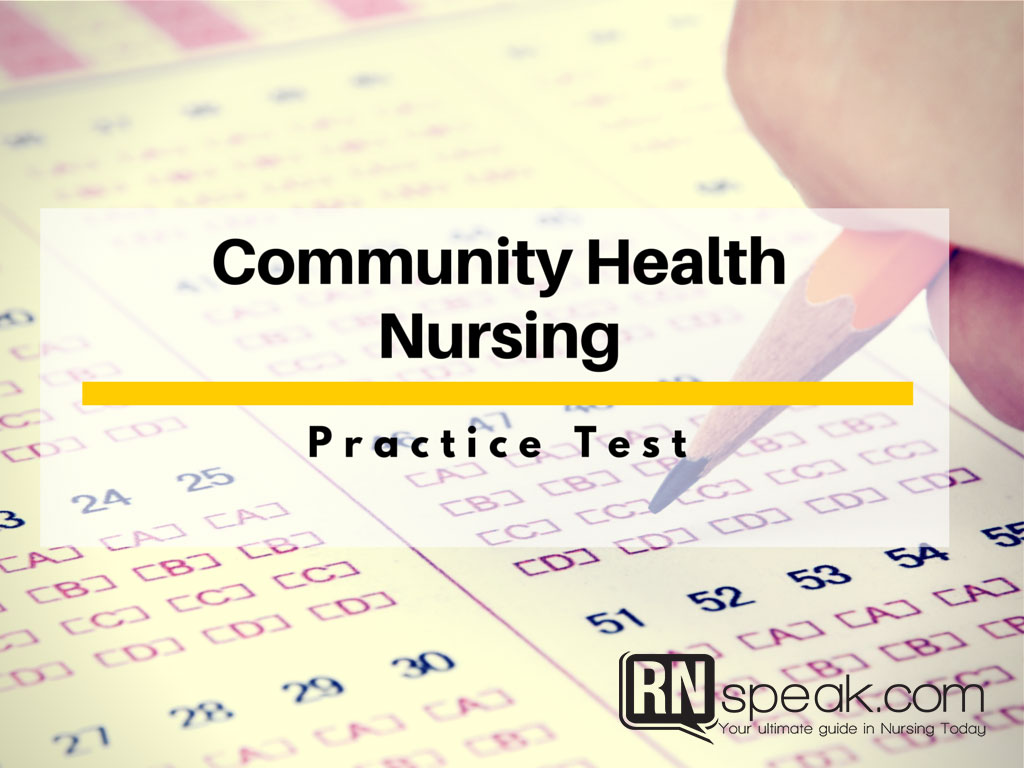 This is a practice test in preparation for the Comprehensive Board Examination for Nurses. The following topics were covered in this practice test.
Department of Health Plans and Policies
Home Delivery
Millennium Development Goals
RN Heals
Immunizations
Pulmonary Tuberculosis
The test set is randomly designed in such a way that it includes easy questions as well as difficult questions. Please choose the best answer.
Community Health Nursing Practice Questions
Situation 1: The Department of Health is strengthening its programs regarding maternal and child health nursing. As a newly appointed community health nurse in town, you are oriented and well versed on these.
1. With regards to the Women's Health and Safe Motherhood Project, the following strategies are included to prevent maternal mortality, except one:
a. Establishment of BEmoNC and CEmoNC networks
b. TBA facilitated home deliveries
c. Improved Family Planning counseling
d. Emphasis on Facility-based deliveries.
2. The following qualifications reflect possible delivery in the Rural Health Unit, except for one:
a. Cephalic presentation
b. Adequate pelvis
c. History of caesarian section delivery
d. Less than five pregnancies
3. You are assigned to provide baby care to the newly delivered healthy baby. What procedure are you going to do first?
a. Examine the newborn and check for defects, deformities and birth injuries.
b. Provide warmth to the newborn and have a quick check for breathing
c. Clamp and cut the cord after cord pulsations have stopped.
d. Facilitate the bonding between the mother and the newborn through early skin–to–skin contact.
4. The basis for the improvement in strategies in maternal and neonatal care is on Millennium Development Goals, which are:
a. MDGs 1 & 2
b. MDGs 2 & 4
c. MDGs 3 & 5
d. MDGs 4 & 5
5. The following are the intermediate results that can lower the risk for dying from pregnancy and childbirth with the integration of the MNCHN services in the community:
a. Every delivery is facility-based and managed by skilled birth attendants
b. Every pregnancy is adequately managed during pre and postpartum courses
c. Every pregnancy is wanted, planned, and supported
d. Only answers A & C.
Situation II: You have observed that there are reports of dengue hemorrhagic fever in the barangay. You are to perform a community awareness lecture about the said disease.
6. Which is the best preventive measure for dengue hemorrhagic fever?
a. Frequent fogging in the vicinity to kill mosquitoes
b. Use of mosquito nets and mosquito coils
c. Use of mosquito repellent lotions
d. Cleaning of surroundings and proper disposal of coconut shells, tires, and containers
7. What are the signs and symptoms of DHF assessed as Grade II?
a. Herman's signs, bone, and joint pains, fever with a headache, and abdominal pain
b. Hypotension, anorexia, nausea and vomiting, fever, and rapid weak pulse
c. Herman's signs, fever with a headache, epistaxis, and melena
d. Narrowing pulse pressure, restlessness, and cold clammy perspiration
8. For planning and implementation during the course of DHF, the following are the necessary nursing considerations:
a. Educate client to avoid dark-colored foods and the use of hard-bristled toothbrush, razor, and other sharp objects
b. Monitoring the intake and output of client
c. Encouraging client to increase fluid intake
d. All of the above
9. What diagnostic procedure will confirm that the client is having DHF?
a. Blood smear
b. Urine and Stool examinations
c. Cerebrospinal fluid examination
d. Sputum examination
10. Dengue hemorrhagic fever can be fatal. The following manifestations are present in DHF, except for one.
a. Thrombocytosis
b. Prolonged bleeding time
c. Thrombocytopenia
d. Positive Rumpel Leade test
Situation III: IMCI or the Integrated Management for Childhood Illnesses is an important tool for public health nurses for managing cases of children seeking health care.
11. What should you look for in assessing the child's condition?
a. Does the child vomit everything?
b. Is the child able to breastfeed or drink?
c. Is the child lethargic or unconscious?
d. Is the child having some breathing difficulties?
12. If the child is having fever for 9 days every day and has a stiff neck but without runny nose, what color health management will it suggest?
a. Green
b. Yellow
c. Pink
d. Violet
13. In a child reported to having diarrhea, assessment is an essential guide for knowing if the child is experiencing dehydration. What body part should you assess?
a. Buttocks
b. Abdomen
c. Eyelids
d. Arms
14. Child Isabel is already 12 weeks old. What immunizations should Isabel have received?
a. BCG, OPV-0, DPT+HIB-1, Hepatitis B1, and OPV-1
b. BCG, OPV-0, DPT+HIB-1, Hepatitis B1, DPT+HIB-2, Hepatitis B2, OPV-1 and OPV-2
c. BCG, OPV-0, DPT+HIB-1, Hepatitis B1, OPV-1, and Measles
d. BCG, OPV-0, DPT+HIB-1, and OPV-1
15. In preparing sugar water for the treatment of low blood sugar in a child, includes the following proportion:
a. 200 ml of clean water plus 2 level tbsp. of sugar
b. 400 ml of clean water plus 4 level tsp of sugar
c. 200 ml of clean water plus 4 level tsp of sugar
d. 200 ml of clean water plus 4 level tbsp of sugar
Situation IV: The Aquino Health Agenda (AHA) is focusing on the achievement of Universal Health Care for All Filipinos.
16. The AHA strategic thrusts are the keys for ensuring that all Filipinos especially the poor will receive the benefits of the health reform. These involve:
a. Attainment of Millennium Development Goals 2 and 3.
b. Financial risk protection through expansion in National Health Insurance Program enrolment and benefit
c. Improved service delivery for health care needs through upgraded quality health care facilities
d. B & C only
17. Last April 2011, the Department of Health together with the LGUs conducted a nationwide campaign on:
a. Reproductive Health Bill
b. Disaster and Preparedness
c. Measles-Rubella
d. Isang Milyong Sepilyo
18. Which is incorrect regarding the training and deployment of unemployed nurses as "RNHeals" to the rural area?
a. To supply the needs of poor Filipino people in far-flung areas
b. To contribute to the eradication of poverty and hunger
c. To assist in the promotion of gender and equality
d. To address the proliferation of "volunteer nurses"
19. According to the AHA, the following instruments are vital in implementing the three strategic thrusts. Which one refers to the access to professional health providers capable in the provision of their health needs at the appropriate level of care?
a. Service Delivery
b. Governance for Health
c. Human Resources for Health
d. Health Information
20. Encouragement of community integration and self-reliance enhancement in the community is valued, too in this health agenda. Which of these statements indicate the correct meaning of community health team?
a. It is a group of people composed of NGOs and private organizations
b. It is led by the midwife in the priority population areas
c. The rural health physician is the one who directly tracks the eligible population
d. None of the above
Communicable Diseases
21. It refers to the description of disease occurrence which is constantly present in a given area.
a. Pandemic
b. Sporadic
c. Endemic
d. Epidemic
22. Mang Ernie came to the RHU because he was bitten by their dog. What nursing consideration is your priority?
a. Administration of Anti- rabies vaccine
b. Provision of dim, quiet and non-stimulating room for the client
c. Assessment of the wound for classification, severity, and other signs and symptoms
d. Provision of isolation precautions
23. You are about to provide health teachings about pulmonary tuberculosis in your area of assignment. What diagnostic procedure is usually done early in the morning to confirm PTB?
a. Chest X-ray
b. Sputum Examination
c. Bronchoscopy
d. All of the above
24. Scarlet fever is a febrile contagious condition. Which laboratory procedure is not included in confirming scarlet fever?
a. ASO titer
b. Sputum Examination
c. Throat culture
d. Differential count of white blood cells
25. What skin manifestation can be observed to a child having the 3- day measle?
a. Generalized flushing of the skin
b. Rashes that appears on the chest spreading gradually upward and downward
c. Macupapular rashes on the cheeks (slightly elevated)
d. Rose-red papules on the face