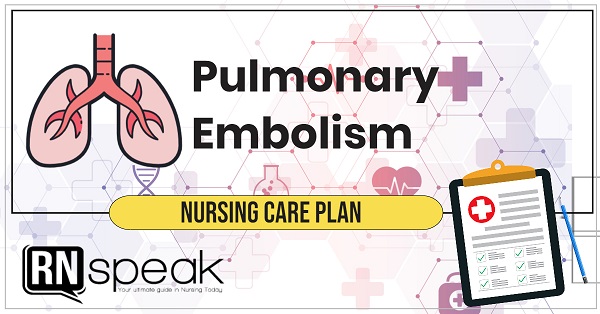 Pulmonary embolism is a condition caused by a thrombus formation that originates somewhere in the venous system that detaches and lodges at the branch of pulmonary artery. It is not a disease in and of itself. Rather, it is a complication of underlying venous thrombosis (Ouellette, 2014). If left untreated, about 30 percent of patients who have PE will die. Most of those who die do so within the first few hours of the event (NIH, 2011).
Risk Factors
Prolonged immobilization
Prolonged periods of sitting and standing
Varicose veins
Vascular disease
Thrombophlebitis
Surgery
Injury
Tumors
Trauma
Congestive heart failure
Diabetes mellitus
Advanced age
Pregnancy
Oral Contraceptive Use
Obesity
Clinical Manifestations
Dyspnea – accompanied by angina and plueritic pain; exacerbated by inspiration
Chest pain
Cough
Hemoptysis
Tachypnea
Tachycardia
Cyanosis
Distended neck veins
Hypotension
Shallow respirations
Anxiety
Syncope
Laboratory and Diagnostic Findings
Chest X-ray- infiltrates, atlectasis, and elevation of the diaphragm; nonspecific
Arterial blood gas- hypoxemia and hypocapnia
ECG changes- sinus tachycardia, PR-interval depression and non-specific T-wave changes
Pulmonary angiography- arterial obstruction and perfusion deficit
Duplex ultrasonography- noninvasive diagnosis of pulmonary embolism by demonstrating the presence of a DVT at any site
MRI- pulmonary emboli demonstrate increased signal intensity within the pulmonary artery
Pulmonary Embolism Nursing Care Plan
---
Nursing Problem with Cues
Subjective cues:
Client states, "It's difficult to breathe."
Objective cues:
Nasal flaring
Use of accessory muscles during inspiration
Pallor
Delayed capillary refill of more than 3 seconds
Vital Signs:
Temperature- 37.2
Pulse rate- 127 bpm
Respiratory rate- 35 cpm
BP- 90/50 mmhg
Laboratory results
Arterial blood gas result reveals hypoxemia and hypocapnia
Decreased oxygen saturation
Nursing Diagnosis with Rationale
Impaired gas exchange related to ventilation perfusion  imbalance secondary to embolism of the alveolar space
Rationale
In order for the blood to be reoxygenated, the heart pumps the blood into the lungs. Then, oxygen-rich blood is now carried into the system via the arteries. Once oxygen is utilized in the body, the veins carry unoxygenated blood back to the heart and lungs. A clot or thrombus formed in the veins can be detached and carried into the bloodstream and can lodge into the pulmonary artery in the lungs.  Once the emboli lodges into the alveolar space, there will be an increased alveolar dead space leading to impaired gas exchange.
 Objectives
Long term goal:
After 72 hours of nursing intervention, client will be able to:
Demonstrate absence of respiratory distress.
Maintain adequate ventilation and oxygenation.
Short term goals:
After 1 hour of health teaching, client will be able to:
Identify measures to prevent thrombus formation.
Participate in the treatment regimen.
Interventions
Conduct thorough assessment on the following:

Level of consciousness and changes in mentation.
Respiratory rate, depth, use of accessory muscles
Auscultation of breath sounds
Cyanosis and skin discoloration

Monitor pulse oximetry and arterial blood gasses. 
Independent:
Conduct health teaching on the following:
3. Teach the patient about disease, medications, procedures and how and when to seek help.
4. Instruct and encourage client to perform diaphragmatic breathing and effective coughing.
5. Teach client on measures to prent thrombus formation:
Early ambulation after surgery
Active and passive leg exercises
Avoid sitting or lying in bed for prlonged periods.
Avoid crossing of legs and wearing constrictive clothing. 
Dependent:
Administer oxygen therapy.
Administer analgesics as indicated, for chest pain.
Start paharmacologic therapy:

Anticoagulant therapy
Thrombolytic therapy
Collaborative:
9. Prepare client for possible surgical embolectomy
Rationale for Intervention
Data obtained from thorough assessment can indicate if the client is experiencing respiratory insufficiency.
Recognition of changes in the in oxygenation and acid-base balance will guide in correcting and preventing complications.
Teaching the patient about the condition is one of the most important aspect of care. It will help the patient cope with the condition and elicits participation in the treatment.
These techniques improve ventilation.
Preventing thrombus is a major nursing responsibility. Since thrombus formation is a primary cause of PE, preventive measures should be institute as soon as possible.
Oxygen administration helps correct hypoxemia.
Pain can interfere with breathing resulting to decreased lung expansion.

Anticoagulant therapy has traditionally been the primary method for managing DVT and PE.
Causes lysis of the thrombi or emboli which helps dissolve clots

Surgery is directed to evacuate the emboli. The nurse should provide perioperative care to the surgical patient.
Collaborative:
Prepare client for possible surgical embolectomy
References
---
Anderson, F. & Audet, A.M. (2010). Preventing Deep Vein Thrombosis and Pulmonary 

Embolism: A Practical Guide to Evaluation and Improvement. Retrieved from www.outcomes-umassmed.org.

Black, J., & Hawks, J. (2009). Medical-surgical nursing: clinical management for positive outcomes (8thed.).St. Louis, Mo.: Saunders/Elsevier Inc.

Doenges, M.E., Moorhouse, M.F., and Murr, A.C. (2010). Nurse's Pocket Guide. 

Philadelphia, Pennsylvania: F.A. Davis Company

Silvestri, L. A.(2005). Saunders Comprehensive review for the NCLEX-RN Examination. 

St. Louis, Mo.: Saunders/Elsevier Inc.

Smeltzer, S., Bare, B., Hinkle, J. Cheever, K. (2010). Brunner & Suddarth's Textbook of Medical Surgical Nursing.Wolter Kluwer Health/ Lippincott Williams & Wilkins.
This page was last edited on 8 June 2020