Once you hear community health nursing, what comes into your mind? Does it sound interesting? Or you find it boring?  A lot of nurses believe that working in the community as a nurse is a big No, No! Do they have valid reasons for their accusations?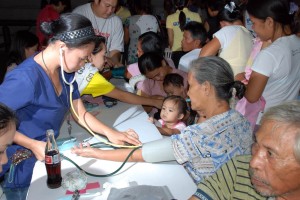 3 reasons why they don't like community health nursing:
Some thought that community health nursing is just a waste of time. "Aside from the fact that my experience will have no credits, I don't think I will survive working in rural areas. " I listened to this statement a year ago, from a nurse who wants to go abroad.
I heard a lot of hearsay's about community health nursing.  According to them, it will build stagnant skills and stocked up knowledge. Is it true or false?
Working in a community setting is relaxed and stress-free compared to a busy day in a hospital. In that way, you will become unproductive and sluggish. Aren't you?
If you're given a chance to choose where to practice your profession, what would you pick between the hospital and the community? Please weigh if where can you work happily? Can you picture out that one day you will work as a community health nurse? Or your decision is fixed eyeopening on hospital opportunities only? Although a lot of misconceptions come out regarding community health nursing, one day God might choose this path for you. You should be ready and prove that nurses are flexible.
MY PERSONAL INSIGHTS REGARDING COMMUNITY HEALTH NURSING
I believe there's something in community health nursing that other nursing fields can't offer. If you have tried working as a community health nurse and survived, BE PROUD! I salute you, you deserve a round of applause. Working in a community setting is not easy. It requires a lot of patience, dedication, and a big heart willing to serve. You need to listen, open your mind, and share what you have. In the community, you can appreciate how lucky you are. I will share with you something that's worth remembering.
During our prenatal schedule, a pregnant woman was hesitant to approach the midwife. So, I greeted her and asked her what services I can offer. She smiled at me and started talking. As we had our conversation, she mentioned that she's going to have her third baby. His husband is just a laborer with an unstable income of one hundred fifty pesos a day. That day, I don't have the cash to offer but I have imparted health teachings to her. Hey, she's just 22 years old but she can well define the word poverty. I can't imagine how will they make financial arrangements daily if they don't have enough income?
As I reflected on her situation, I can't thank God enough for the job he has given me. We always complain of low- income instead of being thankful for what we have. I have met people from different walks of life which taught me lessons that can never be read in nursing books. I have learned how to value time, people, and my job. I think that's something I can't forget about community health nursing. I love the feeling of touching the lives of others and at the same time learning from their life experiences.  CHN is more than interesting, it's life-changing!