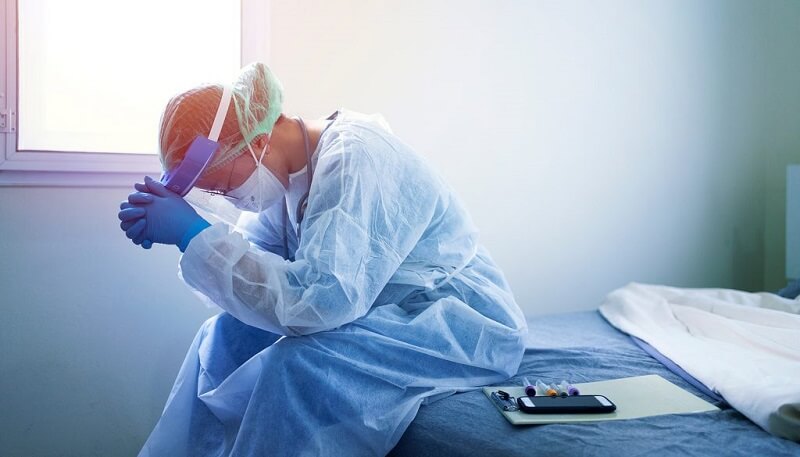 Over a year after the first recorded COVID19 case, nurses are still part of the professionals who sacrifice their time, comfort, and even health to fight the disease. From their selfless acts of compassion to their patients, innate ability to provide care to those who need it most and the courage to stare COVID19 in the face while they battle for the health and welfare of their patients and their own, nurses proved time and time again that there is hope in the midst of fear.
  Caring for patients with COVID19 is not an easy task. Along with the goal of stabilizing the patients and ensuring that all of their needs are met, nurses must also remember to protect themselves from contracting the infection. Personal protective equipment is made available for use. In countries such as the United States, other benefits and privileges are given to frontline health workers to let them know how much the society appreciates their sacrifices. However, not all of these are enough to protect nurses from having the disease, as the story of two brave frontline nurses working in the United States and the United Kingdom would show. 
Andrea*, NHS Facility in Essex, United Kingdom
It was a dream come true for the  27-year-old Andrea Soriano when she was informed by her agency in Manila that she will finally be flying to the United Kingdom to start her employment as a nurse at a National Health Services (NHS) facility. She left the country in July 2018 to start her 3-year employment contract. She thought that things were finally going her way after years of trying to find the best options for her and her family.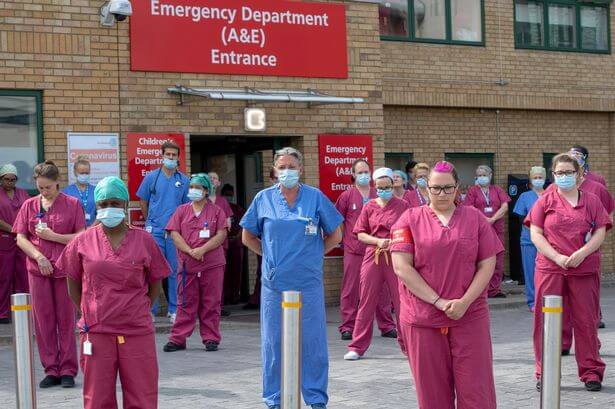 Andrea worked as an Emergency Room nurse at a government hospital in Rizal Province for four years prior to her employment in the United Kingdom. She vividly remembers the excitement she felt during training and certifications for her ER post, and the joy of being given a permanent position at a government facility. It was one of the most stable job opportunities for her because permanent government positions for nurses in the Philippines are not easy to come by. She was at the right place at the right time and was appointed to the position after a series of interviews and examinations. In four years, she has admitted that she has become comfortable in her role, but her friends who work in the UK encouraged her to try to apply for a position at an NHS facility, and she did. The rest, she said, is history.
         She is currently employed at the Princess Alexandra Hospital in Harlow, Essex, and works at the Emergency Room. This year is her second year working in the hospital, which she was under contract to work for three years. Her experiences working in the Emergency Rooms in the Philippines have helped her to move ahead and given the role of the Charge Nurse in less than 18 months into her employment. She has admitted to having the time of her life then and enjoying her work while exploring some of her dream destinations in Europe. She had plans to study further and advance her professional career, but in late 2019, the news broke out about COVID19 in China, and soon the World Health Organization confirmed that there is a pandemic and that countries all over the world are reeling from the impacts of the disease.
Andrea admitted that at first, she and her fellow nurses at the Princess Alexandra Hospital were not sure how to react to the news. The BBC and other major news channels all over the world were reporting the dire situations in countries such as Italy, France and Spain, but they are not seeing any patients with the symptoms yet. It was already before the end of 2019 when their first suspected case was recorded, and the reality that the pandemic has reached Essex became real to her.
---
"I remember feeling scared because we were the first ones to see the patients. And during the later parts of 2019, we were not yet sure what to do to the patients. There were still no fixed protocols for us to follow."  
---
These were the words Andrea said about knowing that they have a potential COVID19 case. However, because of her grit and determination she has to carry on with her work, she put on her PPEs and went to the floor to care for patients. This has become a routine for her and her other colleagues, as one by one, others fall ill due to contracting the virus. Still, she said her courage is undeterred. She knew that the shortage of staff and able bodies to care for patients would mean longer hours for her, but there was nothing she could do. So from that day on, her work routine consisted of coming in for her regular hours, donning her PPEs and working for 8-12 hours a day before going home.
She worked 5-6 days weekly during that time and lost a considerable amount of weight. She was no longer able to do her weekly meal preparations and exercise routines. She also did not eat well, because she would instead go to sleep after a whole day at work than cooking her meals. She believed that these have affected her immune system. On May 26, 2020, however, she reported to work with a slight fever and sore throat. She remembered that the symptoms occurred the same day she was tested and she felt panic. She knew from months of working that there are patients who have had a positive diagnosis but were asymptomatic.
She called her supervisor and told him about her fears. Because of her exposure to known COVID19 patients, she was not allowed to go on the ER floor and was tested and isolated immediately. She admits feeling scared, because a diagnosis of COVID19 for her is a life-or-death situation. She has cared for a few patients who sadly succumbed to the disease in a few days or weeks after getting the diagnosis.
On May 27th, she was given the news she feared for. She was positive for the COVID19 swab test. She cried when she was told of her diagnosis, knowing that there is a possibility that she can die from the disease. She called her mother back in the Philippines and told her that she has COVID19. Instead of her family crying with her, she said that her mother and the rest of her family cheered her up and told her to stay strong.
She remembered her father telling her to hold on to her faith, and pray that she will be strong enough to battle the disease. And so, for the next 18 days that she was in isolation in her facility's COVID19 ward, she makes it a point that she be allowed to go online and speak to her family back home. She said their support helped her to stay away from depression and focus on getting better. Her coworkers also rallied behind her, sending her notes, flowers and food she likes throughout her stay. There were also some groups who sent care packages to her and other frontline health care workers. She is thankful that there are so many people who want her to get better and their efforts did not go to waste.
Andrea also tried to be physically active while confined. She asked her physician for clearance to do some exercises and he allowed her to have 30 minutes of Zumba exercises daily. She believed that the exercise also helped her relax and think of herself not as a COVID19 patient, but as someone who is on a recovery path. She made sure that she ate better, adhere to all treatment protocols and try to be the best patient that a nurse like her would want to care for.
This mindset also helped her to be more straightforward to her colleagues, who were assigned to care for her. She told them of symptoms she felt, which interventions helped address one or more symptoms and what she is going through emotionally. She also became more appreciative of the efforts that each member of the health team exerts to help patients like her, and she gives them positive affirmations whenever she can. She thought that if she can provide them with insight into her own experiences, then they would better understand how to care for patients with the same diagnosis. Her resilience, faith, and the belief of people around her helped her to beat COVID19 and become a better person.
Throughout her 18-day ordeal, one of the things that she always prayed for was for her not to be intubated. She feared that once she is required to be hooked on a ventilator, it was a path that she can never get back from. She has seen far too many patients get intubated to die from the infection and she didn't want to be part of that dire statistics. She held on to her faith, and stuck with her routine as she was evaluated for her condition. On June 11th, she had her final swab test done and finally on June 13, she received the news that she is now negative for COVID19 and that she can finally be discharged from her confinement to continue her recovery at home. She has never been happier at that point. She said she felt like she was given another life to live and that she has a mission to fulfill.
Michael*, ICU Nurse, Chicago IL
Michael always had the American Dream. He entered nursing school to eventually graduate and earn his USRN. He has family in the United States who helped send him to school. His story is not unusual for most Filipino nurses working in the United States. He was sent to nursing school by his Aunt Norma* who is also a nurse in the US with the hopes of him paying it forward to his siblings and other cousins. And so, his story is not unique as compared to other nurses, but it was made more colorful by staring death in the eye as he fought for his life when he was infected with COVID19.
          Michael* Rivera graduated in 2009 from a nursing college in Southern Leyte in the Philippines. He belongs to a big family. In his native town, the term family includes not only the immediate family members but also aunts, uncles, cousins and grandparents until the second degree. In short, Michael belongs to a clan. It is a clan of medical professionals who are mostly working outside the country—some are in the US, others in the UK while some took their chances working in Saudi Arabia, UAE and Singapore.
Surprisingly, most of them are nurses and midwives. There are no doctors in his family yet. Michael wanted to be the first doctor in the clan, and so he agreed to the plans that his parents and aunt have for him and his future. He would study in the Philippines, take all examinations for him to be eventually licensed in the US and eventually fly there to work as a nurse. Finding an agency was not a problem for him. His Aunt Nora has even submitted his application to the facility she is working with, so they can hire him directly.
For Michael, the American Dream started when a few months after graduation, he took his NCLEX-RN review and exam and passed it the first time. He was elated, especially since he knew that his USRN license is one of the major requirements for the facility to process his application. In November 2010, he finally left the Philippines to live out his dreams. He was excited to land in the US, but he never expected Chicago to be colder than what he imagined it to be. So with a smile on his face, he met his Aunt Nora who was waiting for him at the airport and resolved that his time in the US would be the time for him to reach the dreams he has built with his family.
Michael started working as a staff nurse at the Medical Ward of the facility where he was hired. From there, he worked his way up the ranks. He took on certifications for AACN and his DNP so that he can be assigned to work at the critical care unit. Promotions and other benefits for him were just bonuses. It was the ICU that he wanted to work. He said that he always wanted to be working at the bedside and that administrative work is things that he wanted to finish earlier so he can still see his staff on how they are doing. He also volunteers himself when the unit is understaffed or when they needed more people during toxic situations.
Late 2019, when the news of COVID19 reaching the US shores from travelers coming from China, Michael braced his facility for what is to come. He believed that there is a need to prepare, especially since the battle is against a disease that not many people have studied in great depth. He also feared for the patients in the ICU who are immunocompromised and therefore at a greater risk for contracting the disease. He tried to keep himself updated, watching the news or reading them from his mobile phone whenever he has free time. His fears were proven right a few months later when New York became ground zero for COVID19 in the US.
He lost track of time since then. He worked long hours when needed and volunteered himself to other facilities in his area that needed extra hands. He spent his days off working as a volunteer to facilities that need him. Although he admits the pay is better than it would be if he worked in the Philippines, it was his calling as a nurse that urged him to continue working nonstop. He has no wife or children to come home to at night, and his parents are luckily back in the Philippines during the surge of the pandemic so he was not worried that he can pass on an infection to anyone back home. He was following all protocols, wearing PPEs as prescribed, taking his supplements and eating regularly. He thought that what he was doing is enough to protect him from the disease.
July 4th, when most of the people in the US are celebrating Independence Day, Michael found himself unable to stand up from his bed. He felt muscle aches and feverish for several days already but considered the symptoms as only signs of fatigue. He has volunteered to work for his facility's ER during the past few weeks that he feels tired each time he goes home from work because the ER never seems to run out of people needing care. Because he was confident in the things he does to keep himself healthy, Michael did not consider him to have a high probability of being infected with COVID19. When he felt the first symptoms, he took some analgesics and some antipyretic. He went to work as usual, but he was feeling sluggish already. This went on for three more days.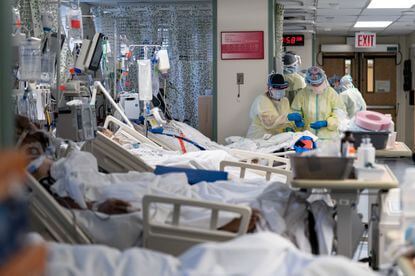 On July 7th, Michael collapsed while walking on the halls of the ICU. His code team picked him up and he was taken to an isolation room. He said he cannot remember what happened next but the next thing he knew, he woke up gasping for air. He got scared when it happened because he felt like each breath he took; he was getting closer to dying. The difficulty in breathing, fever, muscle aches and exposure to known and suspected COVID19 patients prompted Michael's physician to order him to undergo a swab test to confirm his diagnosis. The entire time he was waiting for the result, Michael's condition worsened, and he was hooked to a non-rebreather mask.
His positive diagnosis for COVID19 came after 48 hours and he felt like his world collapsed around him. Breathing difficultly, not being able to sit upright and take his meals, plus seeing how many people die each day due to the disease made Michael almost want to give up. He became sad and depressed, thinking when his last breath would be. His colleagues and distant family tried to uplift his spirits, calling him and sending him care packages, but he felt like he wanted to give up. What broke him was his mother crying, urging him to fight the disease in one video call.
He admits to never being a religious person but seeing his mother cry over him and prays for him during that video call made Michael utter a short prayer for recovery and healing because he wanted to get better. However, his prayers did not seem to have been answered right away as his difficulty of breathing worsened and he felt weaker by the day. He was told by his physician that he would be considered for intubation if his condition did not improve for the next 24 hours. This broke him again, bringing him to tears as he asked for him to be allowed to call his family back home and tell them his goodbyes while he still can. He knew he may die from the disease, but he also admitted that he is not yet ready to die.
After the 24 hour period, Michael felt his breathing gradually improving. His O2 saturation levels slowly improved as well as his ABGs and other parameters. Each time he was due for a lab test, he utters a prayer that may it be improved. He also started cooperating with his care. He stopped being too critical of the interventions of his colleagues and placed himself on the role of a patient. He thought that if he would not change how he behaves, his team would be useless in helping him. No one can help him but himself.
For almost a month since he was diagnosed positive for COVID19, Michael was admitted to the same ICU unit where he cares for his patients. He said that being on the receiving end of care was a humbling experience and that he learned that sometimes, he can be so insensitive as a nurse because he wanted to finish his tasks. He felt the same way as a patient, and he said that this is something he would like to improve as he cares for patients. He realized that sometimes, he forgets to see the totality of the patient and just sees them as another clinical case to be managed. It was not fun to be on the receiving end of such care.
Michael was discharged from the facility on August 10th, 5 weeks since he was diagnosed and admits that he has not yet fully recovered. He also admits that no amount of precautions can save people from the disease if there are others who would not follow health protocols, putting others at risk. He said that if there is a lesson that he has learned from COVID19, it is the importance of applying the Golden Rule. People have to be mindful and careful of actions directed to others so that people would also be more careful with them. COVID19 has taught him selflessness, and that is what he wants to share with others as well.
---
The experiences of Andrea and Michael as they responded to the COVID19 pandemic are not unusual to hear. There are other nurses and health workers who have faced tougher circumstances than they did. Some managed to survive and tell the tales of their ordeals while some have succumbed to the disease and became part of the dire statistics. One thing that their stories have in common is the presence of hope despite the frightening diagnosis of COVID19 and the uncertainty such diagnosis holds for them.
They fought the battle at the frontlines, caring for their patients and also fought for their lives as they recover slowly from the disease. They believed that they can beat the disease the same way they have been telling their patients how to handle their diagnoses. And both of them realized that nurses also have to look after themselves and ensure that they are well enough, because they can't care for their patients if they are not well.
In the battle against the pandemic, everyone is vulnerable. If there is anything that these two nurses would like to tell everyone, it is encapsulated in these two words that people around the world are using regularly: STAY SAFE.
*Names of Persons and Places are changed to maintain anonymity and confidentiality.