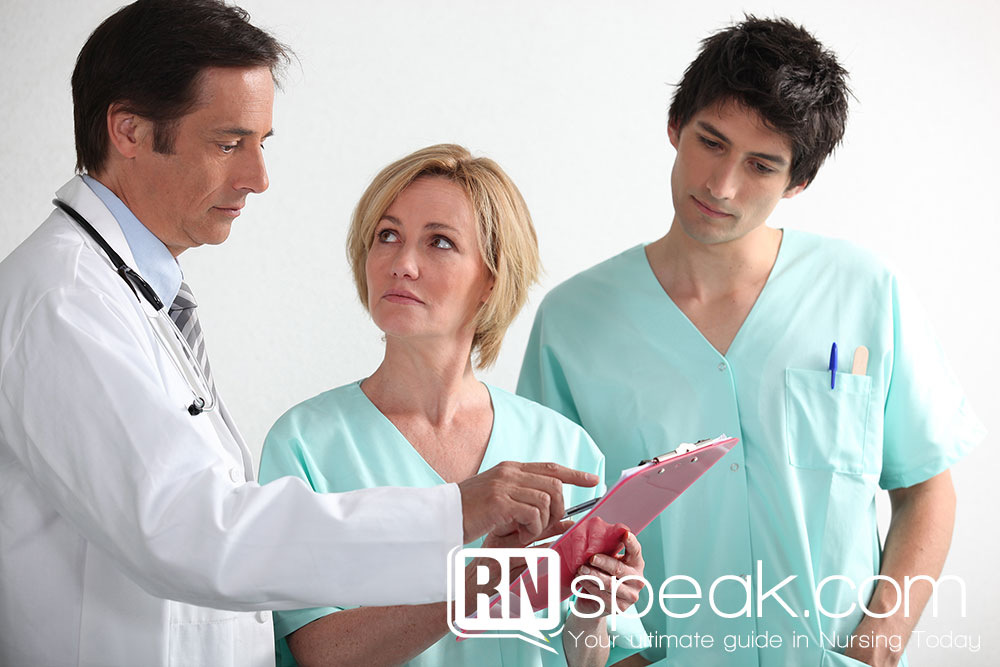 ---
I haven't pee, drink water, or eaten my lunch for the last 8 hours because of the busy shift. At long last, after finishing my charting, I grabbed my tumbler and started to drink. I haven't notice that the resident doctor made rounds… she was too lazy to get the patients' charts I guess… So she started yelling at me, "WHY ARE YOU JUST DRINKING AND STANDING THERE? MAKE YOURSELF USEFUL. GET ALL THE PEDIATRIC CHARTS AND GIVE IT TO ME!" From that moment, I realized that nothing is more toxic, not even the crazy 8-hour shift, than being verbally abused by your colleague.
---
When I was new at the hospital, I had encountered several bully doctors. Well, don't get me wrong. NOT ALL physicians are bully. MOST of THEM are our friends. We love to collaborate with physicians especially when they treat us as part of the health-care team. When friendly and approachable doctors made rounds, we, nurses will make ourselves available to accommodate them. However, when terrors and intoxicating doctors do, uhmmm… a tensed atmosphere takes place. And when there is tension, communication breaks down. So what are at stake when there is no communication? A lot! But let me ask first this important question:
What is workplace bullying?
The WBI defines workplace bullying as repeated, health-harming mistreatment of one or more persons by one or more perpetrators. It is abusive conduct that is threatening, humiliating, or intimidating and may include verbal abuse. It interferes with work, through sabotage.
Workplace bullying is not new… it is subtle in a very disturbing way.
How disturbing? Let me give you some straightforward facts. Intimidating and disruptive behaviors can lead to:
Medical errors, increase health care cost, patient's death
The laboratory results are back. The nurse's found some abnormal findings so he phoned the resident doctor on duty. The doctor answered with her drowsy voice, seems like she has woke up from her sleep. He started to make his referral and at the end of the call, the doctor asked, "What I am supposed to do with that?" The doctor started to question the nurse sarcastically and slammed the phone. When the attending physician made rounds, he started berating the nurses for not referring to his patient's laboratory results. 
Another instance, a terror doctor made rounds and wrote his orders. His handwriting was illegible making it too difficult for the nurse to carry-out. The nurse asks the doctor shyly regarding his orders. The doctor said, "Can't you see I'm busy? Are you not capable of reading?"
The Joint Commission has found that in health care organizations nationwide, 63 percent of cases resulting in patients' unanticipated death or permanent disability can be traced back to a communications failure. A 2004 survey by the Institute for Safe Medication Practices found that workplace bullying posed a critical problem for patient safety: rather than bring their questions about medication orders to a difficult doctor, almost half the health care personnel surveyed said they would rather keep silent. 7 percent of the respondents said that in the past year they had been involved in a medication error in which intimidation was at least partly responsible. The result is a rise in avoidable medical errors, the cause of perhaps 200,000 deaths a year.
Decrease job satisfaction, low productivity and high turnover of employees 
I was a new nurse at the hospital. I was standing at the nurse's station while plotting the vital signs of my patient on the table, when a resident made rounds. She said angrily, "Can you give me some space? Clear this table for me!", while she pushed me aside to the corner.
According to Investopedia , a report released by noworkplacebullies.com suggests that up to 30% of bullied employees will resign from their jobs, and 20% of those who witness bullying will also leave the organization.
Another study showed bullying causes a decline in morale; excessive absenteeism; turnover in affected units; work team disruption; recruitment problems; an increase in worker's compensation claims, disability claims, and discrimination complaints; and employee sabotage resulting in decreased productivity profitability.
Developing psychological side effects 
The patient was on hypovolemic shock. The doctor is starting to panic and started yelling at the ER nurses: Incompetent nurses! You don't know how to manage the patient? To those who don't know, please get out of this room!
A new study has found that up to 90 percent of nurses have witnessed or were the target of workplace bullying. According to the survey, nurses are primarily bullied by physicians. Nurses who are targets of bullying are prone in developing post-traumatic stress disorder, anxiety, depression or insomnia, all of which can lead to poor work performance.
Increase in managerial cost 
Workplace bullying can lead to economic pitfalls that include a reduction in the quality, negative impacts on the organization's reputation, the escalation of mistakes and absenteeism, and the corrosion of customer relationships due to a lack of attention paid to their objectives and commitments.
Despite the alarming effects of workplace bullying, the nurses remain silent, the cycle still continues, and the patients are still imperiled. Besides most hospitals are run by entrepreneur doctors! So how are you going to report the bullies, when the bullies are the doctors? Unless you wanted to get fired, or you're crazy enough, you won't probably have the guts to report any of it.
Up until the mid-20th century, nurses are considered mere helpers of doctors. But it has come to pass, to cease the policies of "nurses should bow down to doctors", "nurses should never question their orders", and "nurses have no right to suggest what's good for their patients".  Let us remember that we are registered nurses, qualified, and competent. Let no one degrade our profession.
Sometime or later, you will realize that workplace bullying has to end. Besides, one small act of ending workplace bullying can save thousands of patient's lives. And it all starts with three words: zero-tolerance policy. In 2004, the American Association of Critical-Care Nurses issued a public policy statement that serves as a clear mandate for facilities to adopt a policy to end abusive and disrespectful behavior.
Townsend from his article Break the bullying cycle emphasized that "Bullying and other abusive and disruptive behaviors in nursing must end. The destructive effects reach out in all directions to create unhealthy, unsatisfying work environments. Treating all members of the healthcare team with respect leads to collaboration, open communication, and teamwork and promotes the delivery of high-quality care we all strive for. We can break the cycle of bullying and abuse through individual accountability, a mentoring culture, and support for our nursing peers."
Have you experienced being bullied by your fellow nurse? Or maybe a colleague? Or a doctor? Share it with us… Write your story below! We are also happy to read your reactions, comments, and suggestions.
References
Workplace Bullying Institute (2015). The WBI Definition of Workplace Bullying. Retrieved from http://www.workplacebullying.org/individuals/problem/definition/

Robbins, A. (2015, April 29). Doctor throwing fits. The Slate Group, a Graham Holdings Company. 

Institute for Safe Medication Practices (2004, March 31) Survey Shows Workplace Intimidation Adversely Affects Patient Safety

The Joint Commission (2008, July 9) Sentinel Event Alert, Issue 40: Behaviors that undermine a culture of safety. Retrieved from http://www.jointcommission.org/sentinel_event_alert_issue_40_behaviors_that_undermine_a_culture_of_safety/

Fowler, J. (2012, July 8). Financial Impacts Of Workplace Bullying. Investopedia. Retrieved from http://www.investopedia.com/financial-edge/0712/financial-impacts-of-workplace-bullying.aspx#ixzz422LOvSj0

Fisher-Blando, J. (2008). Workplace Bullying: Aggressive Behavior and its Effects on Job Satisfaction and Productivity. University of Phoenix. Retrieved from http://www.workplaceviolence911.com/docs/20081215.pdf

Sounart, A. (2008). Study Finds Nurses Frequently Being Bullied at Work. Retrieved from http://www.nursezone.com/nursing-news-events/more-news/Study-Finds-Nurses-Frequently-Being-Bullied-at-Work_28830.aspx

Ariza-Montes, A., Muniz, N. M., Montero-Simó, M. J., & Araque-Padilla, R. A. (2013). Workplace Bullying among Healthcare Workers. International Journal of Environmental Research and Public Health, 10(8), 3121–3139. http://doi.org/10.3390/ijerph10083121

Townsend, T. (2012, Jan.). Break the bullying cycle. Retrieved from http://www.americannursetoday.com/break-the-bullying-cycle/